Can you make planning a vacation easy AND FUN? We think so! We compiled local advice and the tips we give to friends and family to help you plan your next adventure to Breckenridge!
When to visit
Breckenridge is loaded with a variety of things to do throughout the year and is a true 4-season destination. The type of trip you'll plan is completely dependent on the time of year you visit. We've highlighted the top things to do during each season to help you decide when to plan your trip.
Summer
There's no denying summer-time in Breckenridge is unlike anywhere else in the Rocky Mountains. With amazing access to endless outdoor adventures, summer festivals dotting the calendar and weather that's as close to perfect as you can imagine, Breckenridge summers are hard to beat. Whether you come for the trails, the brews, to get some sun or to get a little vertical distance from the real world, Breckenridge's breathtaking scenery and friendly local scene will keep you coming back. Explore the top summer activities and events.
Monthly Guides:  June, July and August
Not-to-Miss Events:  Wave: Light + Water + Sound, Independence Day Celebration, Breckenridge International Festival of Arts, Breck Epic
Fall
Fall is eye-candy season in Breckenridge, and it's filled with plenty of ways and reasons to head outside. Whether you're interested in our endless fall activities (hiking, mountain biking, fly fishing); taking part in a fall festival (Oktoberfest, Wine Classic, Film Festival); or simply enjoying the incredible fall foliage, fall in Breckenridge is an amazing time to discover everything Breckenridge has to offer. Discover the top things to do this fall in Breckenridge.
Monthly Guides: September and October
Not-to-Miss Events:  Breckenridge Oktoberfest, Breckenridge Wine Classic, Breckenridge Film Festival
Winter + Spring
From jumping in powder stashes, to zipping along miles of tracks, tackling the local sledding hill or just raising a glass to the day, we're happiest in the snow. And we're always looking for more. More thrills, more firsts, more best day evers, and more friends to join us this winter.  Late-season snow days mean many of your favorite winter activities (snowshoeing, sledding and snowmobile tours) are still going strong throughout the spring. Take advantage of spring events, end-of-season discounts and the reopening of patio season around town.  Find out what winter and spring in Breckenridge is all about.
Monthly  Winter Guides: November, December, January, February and March
Monthly Spring Guides: April and May
Not-to-Miss Events: Lighting of Breckenridge, Ullr Fest, Breck Pride
Lodging & Reservations
Majestic views, cozy fireplaces, soothing hot tubs and ski town charm make your lodging much more than a place to rest your head. Choose from quaint historic homes and B&Bs, ski-in/ski-out lodges or exclusive properties with luxury amenities.  Book early for the best rates and the best properties.
Trip Planning Tips
We want you to have the best vacation imaginable.  Use our trip planning guides for advice, local tips, and tricks to planning the perfect Breckenridge itinerary.
What to know before you arrive:
Things to do on your trip:
Any questions before coming to Breckenridge? Our FAQs page will put you in the right direction.
Leave No Trace
You love to be an adventurist – but are you a responsible one? You know: Give more than you take? Embrace Mother Nature? Now you can find out with this short interactive "tree-hugger" challenge. Learn stuff. Win stuff. And then brag about it to everyone! Take our Tree-Hugger Challenge to learn how to practice Leave No Trace while visiting Breckenridge.
Real ID Compliance
Beginning October 1, 2020, the U.S. Department of Homeland Security will officially begin enforcing the REAL ID Act of 2005. This means that a traditional driver's license will no longer be accepted through airport security and all Americans will be required to present REAL ID-compliant identification to go through airport security and enter federal facilities.  Learn more about Real ID Compliance.
Do I need a Real ID?
All Americans traveling by air will need a REAL ID or another accepted form of identification to board a flight within the U.S. on and after October 1, 2020. Learn more about Real ID Compliance.
Transportation & Parking
Getting to Breckenridge is easy and convenient, whether you choose to fly and shuttle-it to town, or opt to drive yourself from your hometown. Once you're here, you'll find it's easy to go carless with all the free transportation options and easily walk-able town.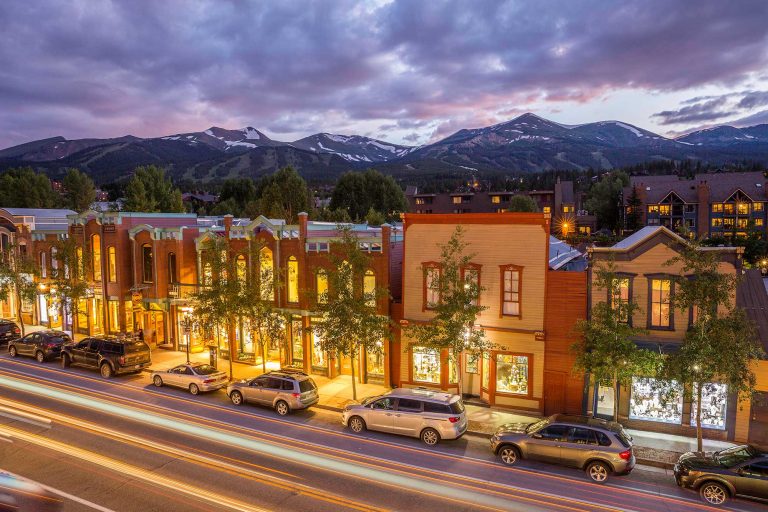 Embrace The Spirit
BLike Breckenridge™️ is a movement born of the spirit of our historic mountain town for those who call it home—whether for a weekend or a lifetime—to live by. It is a cause that connects us to each other, that we can all be a part of.