Going carless at 9,600 feet is a great way to get out from behind the wheel and tap into a mountain experience on foot, bike, shuttle or public transportation. The Town of Breckenridge has been hard at work increasing the walkability of our town with new LED lights, a re-designed Riverwalk pedestrian experience and heated sidewalks so that you can enjoy our beautiful town by foot.
Provided you are staying in town, on a bus/shuttle route, or with a lodging company that offers transportation, taking a shuttle to and from the airport simplifies your in-town experience. Not to mention, you won't have to worry about finding parking or driving in snowy conditions.
5 Ways To Get Around Breckenridge Without a Car
1. Walking & Biking
Getting around Breckenridge without a vehicle has never been easier. Once you get boots on the ground, the town can be conveniently explored by foot or bike. The majority of hotels, restaurants and shops are located in the downtown area, making Breckenridge an ideal destination for walkability and convenience. Sidewalks are on almost every street, and pedestrian-friendly crosswalks are available on most blocks. Technically, you can walk from one side of town to the other in roughly 15 minutes, but we're pretty sure our eclectic boutiques and delicious restaurants will entice you to slow your pace a bit.
If a leisurely stroll isn't your speed, cyclists will love Breckenridge's unique bike culture and ideal environment for every type of cycling. Whether the preference is to pedal pavement or roll down smooth singletrack, all cyclists can agree that the best way to explore Breckenridge is on two-wheels. Breckenridge's recreational trail and bike lanes have earned Breckenridge Gold-level Bicycle Friendly Community by the League of American Bicyclists. Bike rentals are available throughout town and year-round thanks to the popularity of fat-tire bikes.
2. Breckenridge's Free Bus Service
The Breck Free Ride bus system offers a year-round service through town's most popular neighborhoods, as well as a Main Street Trolley. The bus system is free to all users and is a convenient way to get around town. The Breck Free Ride bus also stops near many popular trailheads, and has 2 bike racks per bus, making it easy to hit the trails without a car.
Depending on the route, most buses run on a 30 min or 15 min schedule. The Free Ride now has an app that makes transportation through town seamless and stress-free. Download "My Free Ride" on your iPhone or Android to get real-time locations of all our buses and easily map out your trip from your lodging to activities. For those who don't have the app, you can check the bus schedule online and at each bus stop.
3. Lodging Shuttle Service
If you're staying in one of Breckenridge's many hotels or condominium complexes, you'll most likely have access to a complimentary hotel shuttle service. The hotel shuttles will take you to local attractions, shops, restaurants, events and most places within Breckenridge limits for free. Check with your lodging company to learn about available shuttle services.
4. Taxis & Ride Share Services
Breckenridge offers a wide range of taxi and rideshare programs including Uber, Lyft and Taxi services that will take you around town as well as neighboring towns throughout Summit County. These are perfect if you've hit the bars and are a little late to catch the bus route – keep in mind, rides are dependent on driver availability and prices can surge during peak hours and events so plan accordingly.
5. Summit Stage Bus
If you're looking to go further than Breckenridge or are coming in for the day, the Summit Stage offers free public bus service throughout Summit County. This public transportation system connects Breckenridge with neighboring resorts of Keystone, Arapahoe Basin and Copper Mountain, as well as the towns of Silverthorne, Frisco, and Dillon and Summit Cove.
Hiking in Breckenridge without a Car
With many miles of trails located within walking distance of downtown, you don't need a car to hike in Breckenridge. Free public transportation can whisk you to many popular trailheads to make hiking in Breckenridge without a car simple and easy. Hop on the Breck Free Ride, a community-wide free transit system complete with an easy app.
Breckenridge Transportation
The Breckenridge Tourism Office works to enhance and promote the unique character and experience of Breckenridge as a world-renowned destination resort and to represent, serve and perpetuate the common interest and character of its membership and community.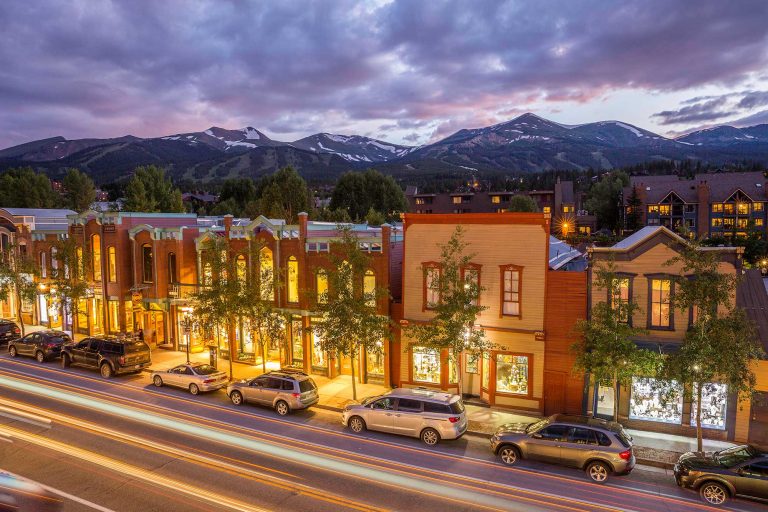 Embrace The Spirit
BLike Breckenridge™️ is a movement born of the spirit of our historic mountain town for those who call it home—whether for a weekend or a lifetime—to live by. It is a cause that connects us to each other, that we can all be a part of.