Staying warm doesn't mean you have to sacrifice style or comfort. There's no need to look like Ralphie's little brother from the movie, A Christmas Story.  The trick to always being perfectly dressed (and warm) on your ski vacation is layering.   If you're new to winter sports, our guide to winter layering will give you the 101 on how to dress.
Guide to Layering:
Long Underwear & Baselayers
What makes a good base layer? It should be comfortable, functional, and maybe even fashionable. The #1 rule in winter layering is to avoid cotton base layers. Instead, look for items made from polyesters and of course, wool. These pieces will be form fitting and can either be worn under your ski pants, jeans or by themselves out on the town.  Base layers come in not just bottoms, but tops as well. They should always be worn as the first layer right against the skin. They will be moisture wicking, meaning they will keep you dry while you're active, therefore keeping you warmer. These days there's no reason to compromise style for function, with options to that will not only keep you warm on the slopes but look cute enough to wear to après as well! In Breckenridge, finding your technical and stylish base layers is easy if you stop in Underground Snowboards, Patagonia, Mountain Wave or one of the many outdoor stores in town.
Mid-Layers
What's a mid-layer? A jacket, vest, or sweater that's main purpose is insulation. There are a lot of options when it comes to mid-layers.  Some people choose to wear vests, mirco-hoodies, light down jackets or merino sweaters.  Check the coat you are planning to wear in Breckenridge, some popular brands have a zip-in mid-layer that gives the coat more warmth.  Taken out, the jacket turns into a light shell (perfect for spring skiing!).  The mid-layer will give you the extra warmth if you need it and you can always ditch it in a backpack or open up a few zipper vents if you get toasty.  You'll find some of our favorite mid-layers at Slopestyle, Mountain Outfitters, and Mountain Goat Clothing.
Outer-Layers
Winter Jacket
A winter jacket is one of the most important winter layering items!  Make sure yours is designed for winter activities, like having a water-resistant outer layer if you'll be on the slopes.   A few features will let you know if your jacket is ready to hit the trails or is better suited to walk-arount town.
5 Features Every Ski Jacket Needs
Waterproof, breathable fabric – This will keep the snow from seeping into your other layers and help wick-away sweat.
High Collar – This will protect you from any wind and give extra face protection.  You'll love this feature on the chairlift and on powder days.
Hood – Provides extra warmth on the chairlift and is perfect for keeping your hair dry while walking around town.
Pit Zips – Zippers for your armpits that give you extra air circulation while snowshoeing, taking powder turns or breaking a sweat in the winter.
Snow-Cuffs – This stretchy inner liner loops around your thumbs ensuring your sleeves won't ride up if you dive into the snow.
Snow Pants
Your legs are important – make sure you pick a pair with leg vents so you are comfortable at any temperature.
Warm Winter Socks
Along the same lines as long underwear, keeping your feet warm is crucial. Avoid thick socks made of cotton. Instead, shop for socks made from the materials listed above that will be moisture wicking. Consider choosing a style designed specifically for the activity you'll be wearing them for. Whether it be skiing, snowboarding, lounging in the house, or out on the town peeked over high boots to compliment leggings, there's a sock designed specifically to meet your needs. Finding the right thickness, color and style is easy at many stores on Main Street like Columbia, Joy of Sox and SunLogic.
Winter Hat
Keep your head and ears properly covered with a winter hat.  If you don't have one, nearly every store in Breckenridge offers a stylish selection. Find one with a fleece lining for extra warmth.
Ski & Snowboard Helmet
If you're going to be sliding on the snow, a helmet is a must, especially for the kids. It'll keep your head significantly warmer than a hat and offers all kinds of safety benefits.  There are plenty of shops in Breckenridge that sell helmets.  However, if you are renting gear, you'll be able to save baggage space and money by renting a helmet as well.
Neck Gaiter or Balaclava
Your face will thank you, trust us.  These neck warmers can be pulled up to your nose, over your ears, and sometimes include a hood.  This thin micro-layer offers protection from the wind and snow but is light enough to offer breathability.  Pro Tip:  When it gets wet, rotate.
Winter Gloves
Knitted mittens might work in California, but think about waterproof fabrics and insulation when you pack for Breckenridge. Mittens tend to work best for the kiddos.
Ski & Snowboard Goggles
When it's dumping snow on the slopes, sunglasses just don't cut it. Use goggles for the snow and wind. They can also be helpful for dogsledding and snowmobiling.
Snow Boots
Bring something with good traction so you won't slip and slide around town. Don't have the best boots? Consider getting a set of Yak Trax for longer walks around town, but please be courteous to businesses and don't wear them indoors.
A Few Often Forgotten Items for your Winter Vacation:
Sunglasses & Sunscreen
Truth be told, we have more days of sunshine than San Diego and we are closer to the sun. Bring both sunglasses and sunscreen or buy them in Breckenridge. SunLogic has two location on Main Street with an amazing selection of shades at all price levels.
Swimsuit
Whether you've spent the day skiing, snowboarding or shopping, the sport of hot-tubbing is a welcome addition to any vacation. Make sure you bring a bathing suit for a hot tub at your condo or vacation home. Or, you can always check out the Breckenridge Recreation Center for a dip in the pool (indoors), a trip down the waterslide or their indoor hot hubs.
What to Wear For A Night Out On The Town
Breckenridge is a laid-back mountain community, which means you can save space and leave your fancy clothes (and your stilettos) at home. For the ladies, a nice scarf, a little lip gloss, and jewelry go a long way. Learn how to dress like a local and you'll realize that the clothing list can be pretty simple.
Forget a crucial item at home?
Take a stroll down Breckenridge Main Street and check out the many shops specializing in winter gear. We live for winter, so finding great gear is easy in town.
For more layering tips and tricks, check out our complete winter packing guide.
*Article originally submitted by Kelley Wren and edited for 2019 by the Breckenridge Tourism Office.
The Breckenridge Tourism Office works to enhance and promote the unique character and experience of Breckenridge as a world-renowned destination resort and to represent, serve and perpetuate the common interest and character of its membership and community.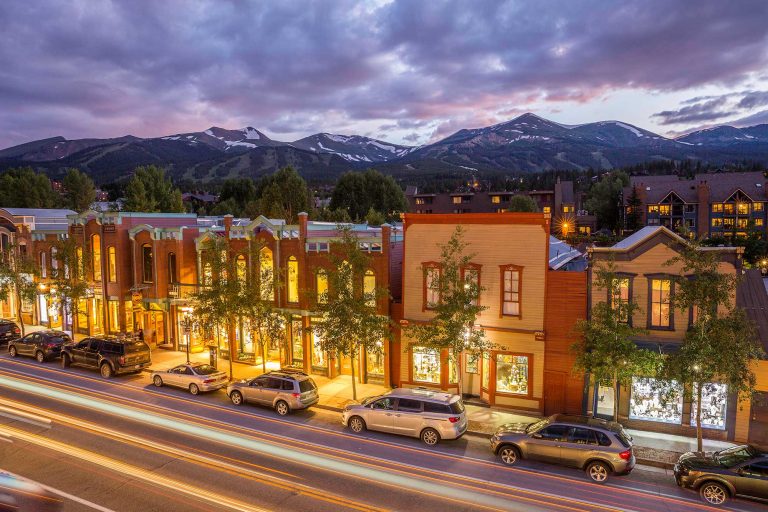 Embrace The Spirit
BLike Breckenridge™️ is a movement born of the spirit of our historic mountain town for those who call it home—whether for a weekend or a lifetime—to live by. It is a cause that connects us to each other, that we can all be a part of.