June kicks off summer in Breckenridge with endless outdoor activities and sunshine. With wildflowers blooming and rivers rushing, it's the perfect time to hit the trails, cool off on the river or check out Breckenridge's patio scene for some great happy hour deals. Swap the winter boots and skis for flip flops and mountain bikes- here's why you'll want to visit Breckenridge in June.
Breckenridge Weather in June
We'll let you in on a little secret. The weather in June is hard to beat. Temperatures range in the high 60s during the day, which means it's the perfect temperature for long hikes, bike rides and afternoons spent on your favorite restaurant's deck or patio. Thanks to our high altitude, it'll feel a lot warmer in the sun but without the humidity that's hitting the rest of the country, so you'll be basking in the sunshine instead of sweating in it. Just be sure to wear plenty of sunscreen and hydrate during your trip- our mountain sunshine can get pretty strong!
Summer Events Kick Off
All events are subject to change to comply with state and county public health orders. Check back frequently for updates or sign-up to receive event-specific email updates.
We pack June and the rest of our summer calendar full of not-to-miss festivals, competitions and events. It's part of what makes us the most social mountain town and, of course, the most fun!
FATHER'S DAY IN BRECKENRIDGE
Try one of our top 5 activities dad will love:
What is there to do in Breckenridge in June?
To ensure you get to do all the activities on your bucket list, start making activity reservations as soon as possible. This includes guided activities as well as gear rentals.
Early Season Hiking and Biking
It's no secret that Breckenridge is a great place to enjoy a ride or take a hike, and in June, you'll find that our endless sunshine, cooler temperatures and terrific views make it even better. Whether you're an experienced hiker or biker or are looking to rent and take a tour, Breckenridge is the perfect place for everyone in your group.
Hit the dirt trails by mountain bike or cruise along paved paths– lower trails are usually ready for exploring while those higher up might have a combination of dry, muddy and snowy spots. Check the town's Muddy Meter before heading out so you can pick one that is ready for use. If you're looking for snow-free trail suggestions, our early summer hiking trails will give you ideas on where to head out. While in town, check-out summer trail maps or stop by the Breckenridge Welcome Center on Main Street for up-to-date suggestions.
HOW TO FIND EARLY SUMMER HIKING AND BIKING TRAILS:
Curious if other trails in and around Breckenridge are suitable for early season hiking? Remember these tips:
Stick close to town – Sitting in the valley bottom, the Town of Breckenridge is as low as you can go elevation-wise.  Trails near town melt out the soonest.
Face south – Our powerful sun melts the south-facing hillsides the quickest. Trails on aspects that get the most sun will be ready before anywhere else.
Go lower- The farther north you go, the lower in elevation you drop. Head to nearby Frisco and Silverthorne for drier early season hiking trails.
Wildflower Viewing
You've heard the saying, "April showers bring May flowers," and in Breckenridge, that's just the case. Wildflowers start to bloom in May and June, and then usually stick around through July and early August. Breckenridge's combination of late snow-melt, 300+ days of sunshine and high-alpine terrain make Colorado the perfect place for wildflowers to grow.
View the wildflowers while strolling through downtown Breckenridge, take a hike on one of our hundreds of miles of trails in and around Breckenridge, or hop in the car and enjoy a short drive to an amazing display.
Check the town's Muddy Meter before you head out to see which trails are dry, and use our early summer hiking guide to get your boots on the ground!
Cool off on the Water
June in Breckenridge means the start of rafting season! From wild Class V rapids to family-friendly "milk runs," Breckenridge is your home base for river fun. Rafting in Colorado is an unforgettable experience filled with views, canyons, wildlife and some serious thrills. As our heavy winter snowfall starts to melt, that means high waters and perfect conditions in June. And if you're curious, we always recommend wearing the wet suit and splash jacket- that water was snow not long ago!
Rafting isn't the only way to hit the water in June. Try a guided fly fishing tour complete with lessons, licenses, transportation and equipment, or take in views of Peak 8 during a stand-up paddle board (SUP) yoga class on the Maggie pond right in town.
Tips for Visiting Breckenridge in June
MAKE RESERVATIONS BEFORE YOU ARRIVE
To ensure you get to do all the activities on your bucket list, start making activity reservations as soon as possible. This includes guided activities as well as gear rentals.
In addition to activities, restaurant and lodging reservations are highly recommended due to limited capacities. Be sure to call, reserve online and don't miss Breckenridge's best patios. If you're planning a date night, be sure to hire a babysitter ahead of time. ResortSitters, Care.com, ski resort daycare and Kids Night Out will ensure your little ones are having just as much fun as you are.
WHAT SHOULD I PACK?
Because Colorado is home to 300+ days of sunshine and a high altitude, that means you can get dehydrated quicker and a sunburn faster. But don't worry- just remember to bring along sunscreen, sunglasses, and a re-usable water bottle with you on all your adventures, and remember to dress in layers for quick changes in weather.
Check out our Summer Packing Guide to make sure you've got all the essentials for your Breckenridge summer vacation.
IS THERE SNOW IN BRECKENRIDGE IN JUNE?
Throughout early June you can expect warm and sunny days in the 60s, with an occasional snow dusting that typically melts by the next day. Depending on winter snowfall, some hiking and biking trails may still be snowy, so it's best to head to the lower trails, which are usually ready for exploring come June. Higher elevation alpine trails might have a combination of dry, muddy and snowy spots, so check the town's Muddy Meter before heading out so you can pick one that is ready for use. If you're looking for snow-free trail suggestions our early summer hiking trails will give you ideas on where to head out.
WHAT DO PEOPLE WEAR IN BRECKENRIDGE IN JUNE?
Breckenridge prides itself in its laid-back, casual mountain atmosphere. For a stroll along Main Street or a night on the town, there's no need to be fancy. Leave the heels and dress clothes at home. Most locals run errands in their hiking clothes, and go out for drinks, dinner or live music in what they wore to work. Mornings can be chilly, and evenings can get cold quickly when the sun dips behind the mountains. Be sure to bring a light jacket and closed-toed shoes for the evenings and mornings. Casual dress is even suitable for Breckenridge's higher-end restaurants.
KNOW BEFORE YOU GO
If you're hiking or biking, be sure to head out early and check the weather before you go- parking at popular trailheads can get crowded and fill up by mid-morning, and lightning and thunderstorms are no fun to be in at the top of a mountain. Colorado storms typically pass through in the afternoons, and although they are usually quick, they can come in an instant. If you're planning to hike on trails above the tree line, make sure you head out early, check weather conditions before you head out and get off the peaks before storms roll in.
As always, be sure to practice responsible tourism and Leave No Trace ethics while you're here!
DO I NEED A CAR?
No Car? No problem! It's easy to get to and around Breckenridge without a car. The Breckenridge FreeRide offers free bus transportation throughout the day with multiple shuttle systems running throughout Breckenridge, including the Main Street Trolley. Most likely, the place you are staying is near a bus stop or offers its own free shuttle transportation to and from town. Once you are here, you'll find it's easy to get around town on foot or on bike and that everything is just a few blocks away. If you do have a car, we recommend parking it at your hotel or lodging property for the duration of your stay, and take free transportation to and from town.
Looking for more to do in June? Check out our 100 Things to do this Summer, and Summer Activities the whole family can enjoy!
The Breckenridge Tourism Office works to enhance and promote the unique character and experience of Breckenridge as a world-renowned destination resort and to represent, serve and perpetuate the common interest and character of its membership and community.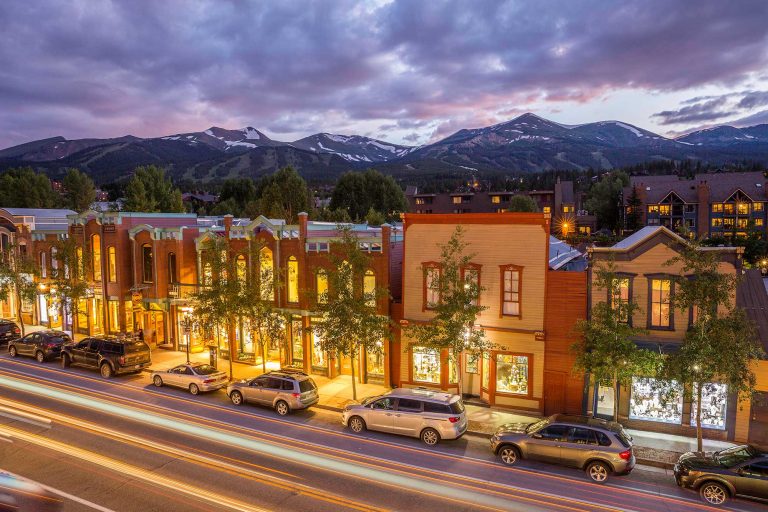 Embrace The Spirit
BLike Breckenridge™️ is a movement born of the spirit of our historic mountain town for those who call it home—whether for a weekend or a lifetime—to live by. It is a cause that connects us to each other, that we can all be a part of.