What is there to do in Breckenridge in July?
The summer season starts with a bang right around the 4th of July holiday weekend in Breckenridge. The warm weather is back, patio and wildflower season is in full swing, and the trails are snow-free and ready for hiking and biking (but double-check before you go). With great weather that never gets too hot, summer activities abound and amazing festivals throughout the month, July in Breckenridge is a hard one to top.
Weather
There's a saying you'll hear from many of the locals in Breckenridge (or anywhere in the Colorado Rockies, really)- "I came for the winter, but stayed for the summers." July in Breckenridge is why. With an average high of 70.2 degrees and average low of 37.3 degrees, it's a cool break with little to no humidity. While the sweltering heat is taking over the rest of the United States, the Rocky Mountains stay at a nearly perfect temperature- ideal for outdoor sports, activities and just hanging out by the river or on the patio at some of our favorite restaurants.
July Tips
MAKE RESERVATIONS BEFORE YOU ARRIVE
To ensure you get to do everything on your bucket list, start making activity, lodging and dining reservations as soon as possible. Indoor and outdoor dining is currently at limited capacity. Please make reservations in advance and be sure to brush up on current protocols before you head out.
What should I pack?
Because Colorado is home to 300+ days of sunshine and a high altitude, that means you can get dehydrated quicker and a sunburn faster. But don't worry- just remember to bring along sunscreen, sunglasses, and a re-usable water bottle with you on all your adventures, and remember to dress in layers for quick changes in weather.
Check out our Summer Packing Guide to make sure you've got all the essentials for your Breckenridge summer vacation.
What do people wear in Breckenridge in July?
Breckenridge prides itself in its laid-back, casual mountain atmosphere. For a stroll along Main Street or a night on the town, there's no need to be fancy. Leave the heels and dress clothes at home. Most locals run errands in their hiking clothes, and go out for drinks, dinner or live music in what they wore to work. Mornings can be chilly, and evenings can get cold quickly when the sun dips behind the mountains. Be sure to bring a light jacket and closed-toed shoes for the evenings and mornings. Casual dress is even suitable for Breckenridge's higher-end restaurants.
Know Before You Go
If you're hiking or biking, be sure to head out early and check the weather before you go- parking at popular trailheads can get crowded and fill up by mid-morning, and lightning and thunderstorms are no fun to be in at the top of a mountain. Colorado storms typically pass through in the afternoons, and although they are usually quick, they can come in an instant. If you're planning to hike on trails above the tree line, make sure you head out early, check weather conditions before you head out and get off the peaks before storms roll in.
As always, be sure to practice responsible tourism and Leave No Trace ethics while you're here!

Do I Need a Car?
No Car? No problem! It's easy to get to and around Breckenridge without a car. The Breckenridge FreeRide offers free bus transportation throughout the day with multiple shuttle systems running throughout Breckenridge, including the Main Street Trolley. Most likely, the place you are staying is near a bus stop or offers its own free shuttle transportation to and from town. Once you are here, you'll find it's easy to get around town on foot or on bike and that everything is just a few blocks away. If you do have a car, we recommend parking it at your hotel or lodging property for the duration of your stay, and take free transportation to and from town.
Events
Check back frequently for updates or sign-up to receive event-specific email updates.
We pack July and the rest of our summer calendar full of not-to-miss festivals, competitions and events. It's part of what makes us the most social mountain town and, of course, the most fun!
Breckenridge Independence Day Celebration
Every Independence Day, Breckenridge comes alive with patriotism, parties and the annual Main Street Parade.  It's a day of celebration that includes athletic competitions, live music, art festivals, family activities and a few of our favorite small-town traditions.
Breckenridge Food and Wine Festival
The Breckenridge Food and Wine Festival brings you a unique, wine-tasting experience. Main Street Station Plaza and The Village at Breckenridge, (at the base of Peak Nine), transform into a beautiful, mountain-side vineyard starring an array of varietals created by top wineries. From the soft and smooth to the unabashedly bold, guests will get more than their fair share of delicious sips.
Activities to do in July in Breckenridge
To ensure you get to do all the activities on your bucket list, start making activity reservations as soon as possible. This includes guided activities as well as gear rentals.
Fly-Fishing 
In Breckenridge, year-round trout fishing options abound. Here, you're at the top of the mountain from which major waters flow, including the headwaters of the Colorado, South Platte, and Arkansas rivers and the tail-waters of the Blue and the South Platte rivers. This means that in addition to offering amazing skiing, Breckenridge is also a destination for world-class fly fishing. Book a guided tour for the whole family or rent gear at one of the many fly fishing shops in town!
Hiking and Biking 
Warm, sunny days mean it's a perfect time to get outside and explore Breckenridge's hundreds of miles of trails. A hike or bike on one of Breckenridge's national forest trails has the powerful ability to change one's perspective of nature and environment. The views are breathtaking, and the memories are everlasting. Try a trail that leads to stunning wildflower fields or gorgeous waterfalls. If you are seeking convenience, check out the many hikes in Breckenridge that don't require a car. Mountain and road bike rentals are available all over town, as well as hiking and biking equipment stores in case you forgot to pack a few necessities.
If you're looking to take it easy, take the Blue River paved rec path from town as far as you'd like, or try Boreas Pass road and stroll or ride along the easy dirt road while taking in views of the Tenmile mountain range.
Rafting 
Whitewater rafting is one of the best things to do in July as winter snowmelt is still running into Breckenridge's surrounding rivers. Trips can be customized by age, ability level, and sense of adventure. From adrenaline junkies looking for huge waves and pounding hearts to those looking for a relaxing float trip that showcases scenery, solitude, wildlife, and history; there's a rafting experience that's perfect for your group! Check with rafting companies early season for updates on river flow and availability.
Golfing
The Breckenridge Golf Course is situated in the breathtaking, glacier-sculpted Upper Blue River Valley. The only town in the world to maintain a Jack Nicklaus-designed 27-hole golf course, the clubhouse sits at an elevation of 9,324 feet. Visiting golfers get an immediate confidence boost as the golf ball flies farther and straighter than at lower elevations due to less air resistance. What was once a tent city of miners seeking fortunes of gold, the landscape now is a challenging golf course with players seeking pars and birdies. The challenges for today's golfer are quite similar to yesterday's miners – nothing comes easy.
Learn more about Golf in Breckenridge
Epic Discovery
Discover a side of the mountain you've never seen, an experience revealed but once a year. It's an uncharted season, where roaming through treetops, riding the horizon, and stretching the bounds of nature allow you to reach your peak. Welcome to Epic Discovery at Breckenridge Resort. It's a mountain of possibilities that enable you to discover nature through fun in ways you'd never imagined. Explore the mountain with a variety of activities that highlight the stunningly beautiful and rich environment.
Stand-Up Paddle Boarding and Kayaking 
With rental locations throughout Breckenridge, stand-up paddleboard (SUP) and kayakers flock to areas like Maggie Pond in Breckenridge or nearby Lake Dillon to feed their need for floating freely among the mountains. The calm water at Maggie Pond makes it an ideal place for families and first-timers to try paddleboarding, and not to mention, the views are incredible. Maggie Pond is located at the base of Peak 9 near Main Street Station, and is a continuation of the Upper Blue River as it begins its flow through downtown Breckenridge. It is an easy walk from Main Street and a perfect way to spend an hour (or two, or three) of your day. Try a SUP yoga class with Meta Yoga Studios, Bhava Yoga or the Breckenridge Recreation Center to test your balance and spend the day cooling off on the water.
Lake Dillon is another popular SUP and kayaking location with several beach access points, including from the Frisco and Dillon Marinas. Both Marinas offer paddleboard and kayak rentals and include a demonstration of paddleboarding technique if needed.  If you have your own paddleboard, kayak or canoe, you can launch at either marina or one of the many beach access points around the lake.
Horseback Riding 
Horseback riding is a great way to explore Breckenridge's backcountry from a new perspective! Trail rides are provided through Breckenridge Stables, last 1.5 hours and explore the beautiful scenery between Peaks 9 and 10 on the Ten Mile Range above Breckenridge Ski Resort. You will experience river crossings, beaver ponds and breathtaking panoramic views of the continental divide. With more than 100 horses, guides are able to match each rider to a horse based on ability and experience. This is also a great trip for younger children in the group. Breakfast and dinner rides are also available on weekends.
Summer Dog Sledding 
A tired dog is a happy dog, hence the creation of Summer Dog Sledding. Those same adorable sled dogs need to be exercised just as much during the summer as the winter. Swap the winter sleds with carts and scooters, and let these highly trained furry athletes show you around the backcountry trails of their stomping grounds.
The dogs at Snow Cap Sled Dogs require year-round training and exercise which is the company's owner, Orion Paiement, created TugNTow.  The TugNTow is a high strength line recoil and it can hold up to 2,000 lbs and can use any type of rope so it has many applications.  Snow Cap Sled Dogs uses the TugNTow to create the safest summer dog sledding experience available.
Walking History and Ghost Tours 
Prepare to be haunted by Breckenridge's mining ghosts of the past, or walk through Breckenridge's nationally recognized Historic District on a guided tour. History lovers will enjoy visiting original cabins and stately homes to learn about the people who lived here over 100 years ago.  Kids and kids at heart will love mine tours, panning for gold and hiking amid historic relics.  Experience history come to life on one of Breckenridge's historic tours.
Looking for more to do this summer? Check out our Top 100 Things to do in Breckenridge This Summer!
The Breckenridge Tourism Office works to enhance and promote the unique character and experience of Breckenridge as a world-renowned destination resort and to represent, serve and perpetuate the common interest and character of its membership and community.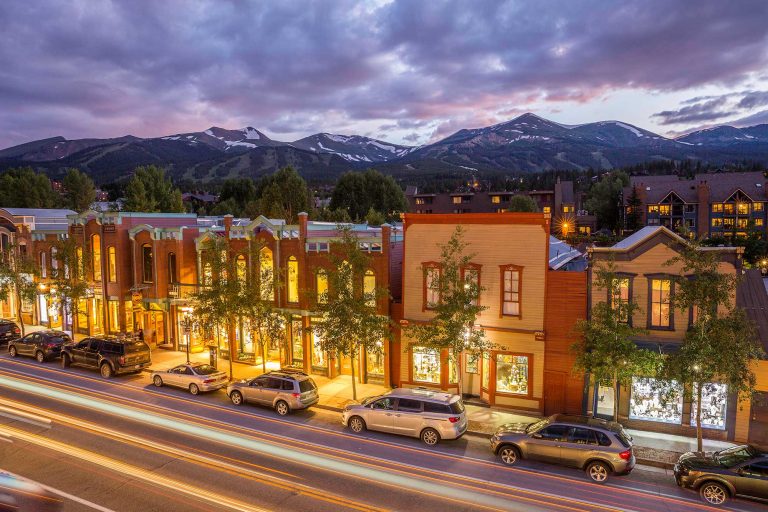 Embrace The Spirit
BLike Breckenridge™️ is a movement born of the spirit of our historic mountain town for those who call it home—whether for a weekend or a lifetime—to live by. It is a cause that connects us to each other, that we can all be a part of.