Breckenridge boasts one of the longest ski seasons in the US, opening early November and now staying open until mid-to-late May. April is one of the best times to visit Breckenridge because days are filled with live music, events and the traditional spring break crowds are gone. The temperatures are much warmer in April, but it is still one of the snowiest months, making it perfect for powder turns and Apres drinks on the patio.
April Weather in Breckenridge
The average high temperature in April is a balmy 44.3 degrees, perfect for those winter activities that were just too cold to do before! Snow conditions in April are typically harder in the morning and slushy in the afternoons. For the best experience, start your ski/ride day mid-morning and plan to be off the hill in time to grab a spot on a deck or patio.
Does it Snow in Breckenridge in April?
Don't let all that sunshine fool you! April is still a pretty snowy month, so be prepared for snow, cold, sun and warmth.  Dress in layers, wear the right gear and pack snacks, water and sunscreen. Sunglasses and soaked-through base-layers are no fun in a snow-storm, and a goggle burn is not fun to show up with at work the next day. You'll thank us later.
Events
March and April are widely known for having the best snow in Colorado, along with sunny bluebird days, special events, and great deals for guests from around the world. There's no better way to send off the season than with Breckenridge's Spring Events!
Can you Ski in Breckenridge in April?
Yes! April is one of the best times to ski in Breckenridge. Conditions this time of year are soft and forgiving, which makes it more fun for beginners and experts alike. Thanks to late season snowfall, it's easy to enjoy Breckenridge's groomers, bowls, parks and high alpine terrain. Add in the fact that the days are warmer and longer, and you can plan to ski until the lifts close and still have enough daylight for an afternoon on the town to check out Breckenridge's Apres Scene!
What is there to do in Breckenridge in April?
Boasting over 300+ days of sunshine, Breckenridge in the spring is hard to beat. Head outdoors to enjoy your favorite activity or try something new. Lessons and guided tours are available to help you get outdoors and enjoy each new adventure. Try snowshoeing, dogsledding, snowmobiling and more!  Explore 100+ things to do in Breckenridge this spring.
Top Spring Activities in Breckenridge, CO
Many spring activities are snow-dependent.  Call ahead for reservations and availability.
April Tips
Check Conditions
Check conditions and closing dates for Breckenridge Resort to start planning your trip around the Spring festivities! April is the locals' time to ski and ride, meaning lodging, dining and shopping are typically less expensive.
WEAR SUNSCREEN AND DRESS IN LAYERS
Spring skiing in Breckenridge is known for sunny days on the slopes followed by afternoons on the patio enjoying apres.  At 9,600′ the sun is more powerful than at any beach so be sure to wear sunscreen and reapply often to avoid the dreaded goggle tan.  But don't let all that sunshine fool you! March and April are some of the snowiest months in Breckenridge, so be prepared for snow, cold, sun and warmth. Dress in layers, wear the right gear and pack snacks, water and sunscreen. Sunglasses and soaked-through base-layers are no fun in a snow-storm, and a goggle burn is not fun to show up with at work the next day. You'll thank us later.
MAKE RESERVATIONS BEFORE YOU ARRIVE
To ensure you get to do all the activities on your bucket list (did we hear dogsledding?), start making activity reservations as soon as possible. This includes guided activities as well as gear rentals. Our list of 100 things to do this winter will give you plenty of ideas but our favorite reservation free activities include snowshoe hikes, visiting museums, sledding or riding the trolley.
In addition to activities, restaurant and lodging reservations are highly recommended due to limited capacities. Be sure to call, reserve online and don't miss Breckenridge's outdoor dining scene, offering a new way to safely dive into a culinary adventure. If you're planning a date night, be sure to hire a babysitter ahead of time. ResortSitters, Care.com, ski resort daycare and Kids Night Out will ensure your little ones are having just as much fun as you are.
Local's Tip: Skiing reservations are required for season pass holders and lift ticket holders. Reservations and more info can be found at Breckenridge.com.  Remember, masks are required in base areas, lift lines and all indoor facilities while you are skiing.
LEAVE THE CAR AT HOME
Direct shuttles from nearby airports to your vacation rental make it easy to get to Breckenridge without renting a car.  Once you are here, the best way to explore Breckenridge's quaint historic streets is on foot. Breckenridge is remarkably walkable, even with kids in tow.  Most of our lodging is in walking distance to town or a Breck Free Ride bus stop which will take you to town after a short drive.  Many lodges also offer free hotel shuttle transportation around town.  Regardless of where you booked, your lodging company should be able to assist you in figuring out easy transportation from your rental.
The Breckenridge Tourism Office works to enhance and promote the unique character and experience of Breckenridge as a world-renowned destination resort and to represent, serve and perpetuate the common interest and character of its membership and community.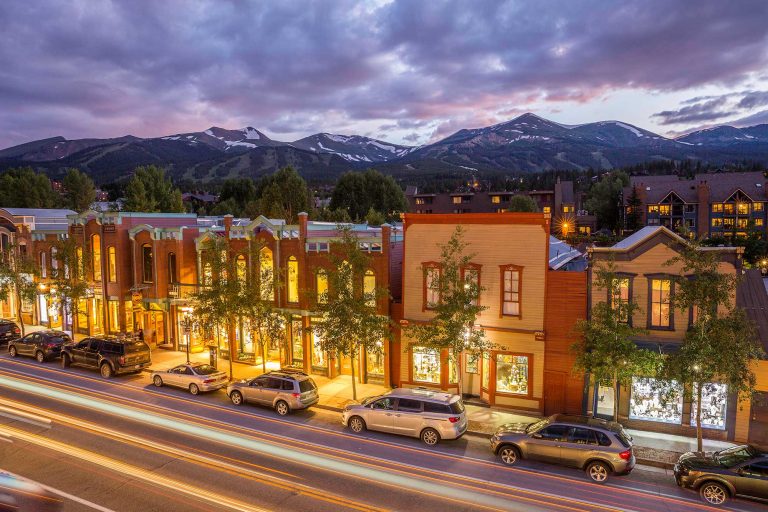 Embrace The Spirit
BLike Breckenridge™️ is a movement born of the spirit of our historic mountain town for those who call it home—whether for a weekend or a lifetime—to live by. It is a cause that connects us to each other, that we can all be a part of.