If you visit Breckenridge in November, you'll notice there's a distinctive hum in the air. It's the tingle of excitement for the start of the ski and snowboard season and all things winter– hot chocolate, snowball fights, cozy sweaters- you name it! Take a closer look at all the best reasons to visit Breckenridge in November and what to do while you're here.
Weather in Breckenridge in November
November is the beginning of winter in Breckenridge, which means it starts to get chilly! Average high temperatures are around 38 °F, while average lows reach the low teens. But don't let that deter you- there is still plenty of sunshine in November and the ski resorts are on their way to opening up more and more terrain as the snow falls. Après on the patio anyone?
Breckenridge Events that Welcome Winter
Breckenridge Ski Resort Opening Day – Nov. 11th, 2022
Breckenridge's locals and visitors alike come together for one of the most exciting days of the year- opening day! Breckenridge Ski Resort typically opens early to mid-November but it is entirely dependent on weather. Get in line early for the pre-opening party filled with breakfast treats, music, giveaways and some serious bragging rights. The resort typically opens with Peak 8 as their first base area and starts expanding from there.
What you need to know about the 22/23 ski season
Winter Premiers
Breckenridge in November is filled with ski and snowboard movie premiers to get the stoke high, winter kick-off parties, live music and concerts. Pick up the Summit Daily Newspaper, check out Breckenridge's Community Calendar, or visit Breck Insider for nightlife, music and happy hour deals.
Thanksgiving – Nov. 24th, 2022
It's easy to be thankful when you're spending Thanksgiving in Breckenridge. Grab the whole family and create your own holiday trot outdoors by going snowshoeing, skiing, snowmobiling or taking a historic walking tour. Love to shop? Stroll historic Main Street- nearly every store, guided tour, activity and restaurant will be open Thanksgiving Day. Be sure to make reservations for dinners and guided tours well in advance and get ready to experience the most stress-free Thanksgiving you've ever had.
Things To Do in Breckenridge in November
Most of Breckenridge's classic winter activities will start running in November.
Expected Opening Dates for 2022-23 Winter Activities
Nov. 11 – Breckenridge Ski Resort Opening Day
Nov. 12 – Breckenridge Nordic Center – cross-country skiing, snowshoeing and snowcat adventures
Nov. 24 – Frisco Adventure Park snow tubing
Nov. 26 – Golden Horseshoe Sleigh Rides, Dinner Theater Sleigh Rides
Dec. 3 – Gold Run Nordic Center – cross-country skiing, snowshoeing, fat-biking and sleigh rides
Dec. 10 – Good Times Adventures – snowmobiling and dog sledding
Hiking and Snowshoeing in November
Breckenridge's hundreds of miles of trails are always open and are perfect for winter hiking. This time of year, you'll want to check the muddy meter to see which trails are ready to explore and which ones you'll want to avoid. Trails with higher elevations will typically have more snow accumulation, while those closer to town my get muddy due to sunshine and melting snow. Get trail recommendations by stopping by the Breckenridge Welcome Center for updated trail conditions. If you're looking to snowshoe, rentals are available around town and at both Nordic Centers.
Guided Tours
Because snowfall in November is unpredictable, it's the perfect time to take advantage of guided tours that don't rely heavily on snowfall. Get ready to soak up some sun and get all of the winter feels going!
Fat Bike Beer & Distillery Tours
Biking doesn't have to stop just because the snow is here! Take a casual winter ride on snow-covered trails by fat tire bike. The bike's wide tires give them plenty of grip in the snow, meaning you can bike in almost any weather condition. Rent your own to explore town and historic Main Street, or try a guided fat-bike beer and distillery tour along the Blue River Rec Path to Broken Compass Brewery and the world's highest distillery, Breckenridge Distillery.
Guided Fly Fishing
The gorgeous rivers, streams and lakes of Summit County make it an incredible destination for fly-fishing in any season. Outdoor enthusiasts of all ages and abilities can discover the best spots, learn to cast, get your license and find out where the fish are biting with the help of our local outfitters and guides at Breckenridge Outfitters and Mountain Angler.
Historical Walking Tours
Breckenridge is rooted in its past and boasts one of the largest historic districts in Colorado. Create memories with affordable guided historic tours and hikes, and enjoy free, family-friendly museums operated by the Breckenridge Heritage Alliance and Breckenridge Tours. Prepare to be haunted by Breckenridge's mining ghosts of the past, or walk through Breckenridge's nationally recognized Historic District. History lovers will enjoy visiting the original cabins of gold prospectors and stately homes of the Victorian era to learn about the people who lived here over 100 years ago.
Snowcat and UTV Tours
Experience Breckenridge's scenic trails from the comfort of a heated snowcat!  The Breckenridge Nordic Center's scenic cat tour offers guided tours through forested trails of the Peak 8 Nordic Center that are surrounded by wildlife and mountain views. Tours stop at a historic mining cabin to fill guests up on s'mores and hot cocoa and tell tales of Breckenridge's mining history. This tour is perfect for families with small children or guests who'd like to explore mountain trails and scenery in comfort.
Stay toasty while hitting the trails in an all-weather, all-terrain vehicle (ATV).  These adventure mobiles are perfect for November as they tour on dirt or snow and take you to 13,000′ without breaking a sweat. The Sunset Wine Tour is almost guaranteed to give you breathtaking views worth toasting to. Explore the old mining roads and camps, forested trails, meadows, lakes, and the high alpine of Summit County and the surrounding areas with a guided ATV tour. Tours are available in the winter, summer and are a great activity to do with small children and grandparents.
Ziplining
If you're ready for some serious thrills and serious views, bundle up and get ready for fun. Colorado Adventure Center Ziplines in Breckenridge are open through Thanksgiving, and nearby Top of the Rockies Zip Line offers year-round experiences. Relax and enjoy the views in cozy comfort as their powerful Snow Coach climbs almost 1,000 vertical feet to the first zip line departure deck.
Country Boy Mine Tours 
Head just 2 miles outside town to the historic restored Country Boy Mine, which offers underground mine tours and even gold panning! In the midst of the majestic Rocky Mountains, the Country Boy Mine was one of the largest and most famous gold mines in Breckenridge, Colorado. Today, enjoy the many activities the mine has to offer. Gold pan, slide down the 55 foot ore chute, explore the authentic mine site, view the exhibits and equipment that were used in the mine and visit the general store.
View more Guided Tours in Breckenridge
Self-Guided experiences with Breckenridge Heritage Alliance
Indoor Activities
BreckCreate
Get artsy and try something new with BreckCreate. Bring the whole family and try throwing your own pottery, making candles, glass blowing and more! Check the schedule for the lineup of activities and classes. Don't miss their other events like concerts, open studios and shows too!
Escape Rooms
Seek clues, solve unique puzzles, answer questions and work together to try to escape from Escape Room Breckenridge and Mountain Time Escape Rooms. These all-age friendly rooms consist of stories, decorations and technology to immerse you in a fun game for all. You'll have 60-minutes to complete each of your adventures! This is a great bonding activity for families, friends, date nights, bachelorette, bachelor or birthday parties, co-workers and teammates.
View more Indoor Activities in Breckenridge
Eclipse Theater
Visit Breckenridge's only movie theater, the Eclipse Theater (formerly the Speakeasy) to catch a flick year round! The Eclipse offers a variety of blockbuster, indie, classic, foreign, and outdoor films. Don't forget to stock up on fresh popcorn and snacks, plus the adults can enjoy local beer and wine on tap.
Breckenridge Backstage Theater 
The award-winning Backstage Theatre has been around since 1974, and it just keeps getting better and better. It has physically expanded with more seating and a larger lobby in which to mingle with cocktails (yes, they even sell specialty drinks to match various productions) before the show and during intermission. That means the Backstage can produce more complex musicals, comedies and dramas, with stunning sets and larger casts. Spacious, cushy seats allow guests to sit back and enjoy the shows in luxury. Check the schedule for upcoming productions.
Dining
Before you head out to the local restaurants, stores or coffee shops, check with the Breckenridge Welcome Center to see what's open, what's closed and where to get the best deals in Breckenridge in November!
The Breckenridge Tourism Office works to enhance and promote the unique character and experience of Breckenridge as a world-renowned destination resort and to represent, serve and perpetuate the common interest and character of its membership and community.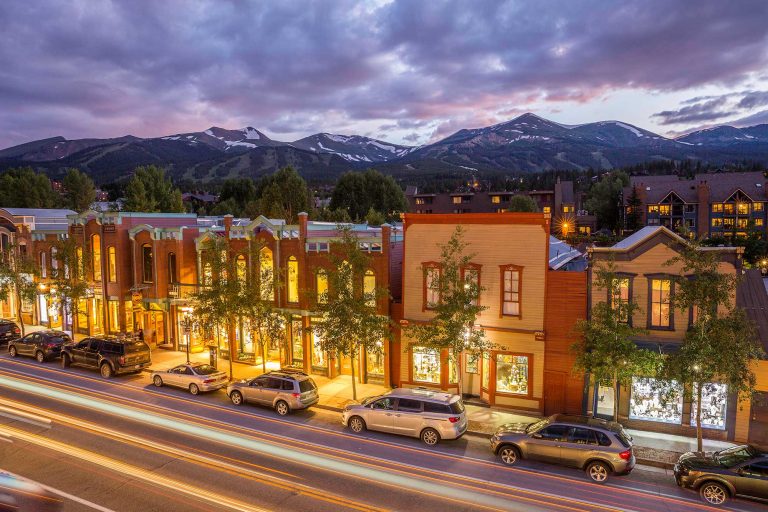 Embrace The Spirit
BLike Breckenridge™️ is a movement born of the spirit of our historic mountain town for those who call it home—whether for a weekend or a lifetime—to live by. It is a cause that connects us to each other, that we can all be a part of.