What is there to do in Breckenridge in August?
With great events, warm weather and tons of activities, summer is still kicking throughout August in Breckenridge. Take advantage of the endless Colorado sunshine and try zip-lining, rafting and hiking, and be sure not to miss out on great events and a fun-filled Labor Day weekend. Breckenridge in August is one of our favorite times of the year- here's why!
Weather
July and August typically top the charts as the warmest months of the year in Breckenridge at around 70 degrees Fahrenheit on average. While these are our warmest months, it still never usually gets above 80 degrees, so many flock here to escape the summer heat hitting the rest of the county. That also means it's the perfect time to log some solid hours outdoor on the trails or on some of Breckenridge's best patios and decks. Combine that with our dry climate, and you won't have to worrying about overheating during your favorite summer activities. But be careful, our dryness and strong sun means hydrating and sun protection is a must.
Similar to July, you can expect quick afternoon thunderstorms, so be sure to start hiking and biking early in the day, keep an eye on the weather, and always pack extra layers. Here's our summer packing guide so you can be sure you have all the essentials.
August Events
Breckenridge International Festival of Arts (BIFA) – Aug. 11-20, 2023
BreckCreate is proud to present the return of the annual Breckenridge International Festival of Arts (BIFA), a celebration of adventure, creativity and play. From on-trail environmental art installations to the exciting emergence of the Revolution Music Series in partnership with the National Repertory Orchestra, BIFA offers an exhilarating program of extraordinary talent in spectacular spaces across Breckenridge, Colo.
Breck Epic – August 13-18, 2023

The Breck Epic is composed of 6 BIG backcountry loops (3 loops for the 3-day Epic-curious events), each between 35 and 50 miles long. The event is unique in that it employs a cloverleaf format; each loop starts and finishes within a mile from downtown Breckenridge and utilizes the sprawling network of trails in both Summit and Park Counties. The six stages that compose the Epic are a well-rounded rider's dream. Long middle-ring climbs and endless big-ring mashing descents. The race has been described as a rad vibe with a mid-90s mayhem feel.
Breckenridge Wine Classic – August 24-26, 2023
Located in the heart of the Rocky Mountains, the Breckenridge Wine Classic is a three-day festival anchored by the two-day Grand Tasting in addition to unique seminars such as a guided hike and wine pairing lunch with master winemakers, wine dinners planned by world-class sommeliers, and more than 100 wineries, breweries, distilleries, and epicurean purveyors at this ultimate food, wine, and sensory experience.
Breckenridge Hogfest: Bacon and Bourbon – Aug. 25-27, 2023

Bacon is the most loved food in the universe and the route to all things swine and divine.  Add in the quintessential American liquor, bourbon; mind blown. These indulgences come together for Breckenridge Hogfest: Bacon & Bourbon. Meat connoisseurs will be able to taste their way through a spectrum of pork samples, premium whiskeys, single malt scotches and barrel-aged spirits while enjoying live music and mixology below Peak Nine.
Labor Day Weekend – September 2-4, 2023

Enjoy beautiful autumn temperatures and exciting events like the Summit Foundation's Rubber Duck Race supporting the Summit Foundation, the annual Sidewalk Sale featuring over 74 shops around Breckenridge, and the Great Divide Arts Festival featuring over 100 artists with a wide range of mediums including photography, wood, glass, jewelry and pottery. Bring the whole family and watch as hundreds of ducks race down the Blue River at the Riverwalk Center, participate in free activities, stroll and shop along Main Street and the Art Festival and snack on yummy food throughout town.
Breckenridge Music – Throughout the summer
What started in 1981 as a 10-day festival dubbed "Bach, Beethoven & Breckenridge" has since evolved into a full-on locally coveted institute serving the community year-round performances, from funk bands to folk artists and more. Search the Breck Create event calendar to sort by classical, popular, festival and social performances and gatherings. Watch for national jazz, rock, folk, bluegrass and country acts playing at the Riverwalk Center throughout the summer.
Activities to do in Breckenridge in August
Hiking and Biking 
Warm, sunny days mean it's a perfect time to get outside and explore Breckenridge's hundreds of miles of trails. Try a trail that leads to stunning wildflower fields or gorgeous waterfalls. If you're seeking convenience, check out the many hikes in Breckenridge that don't require a car. Mountain and road bike rentals are available all over town, as well as hiking and biking equipment stores in case you forgot to pack a few necessities.
If you're looking to take it easy, take the Blue River paved rec path from town as far as you'd like, or try Boreas Pass road and stroll or ride along the easy dirt road while taking in views of the Tenmile mountain range.
Local's Tip: August is one of the busiest months to hit the trails in Breckenridge. We suggest carpooling or taking the free bus to trailheads and saving the most popular trails for a mid-week visit or early morning.
As always, practice Leave No Trace principles while in Breckenridge to help care for Colorado.
Rafting 
Whitewater rafting is one of the best things to do late summer as winter snowmelt is still running into Breckenridge's surrounding rivers. From adrenaline junkies looking for huge waves and pounding hearts to those looking for a relaxing float trip that showcases scenery, solitude, wildlife and history, there's a rafting experience that's perfect for your group!
Local's Tip: Trips can be customized by age, ability level, and sense of adventure. Ask your rafting company for suggestions when calling to reserve.
Stand-Up Paddle Boarding and Kayaking 
With rental locations throughout Breckenridge, paddle boarders and kayakers flock to areas like the Maggie Pond in Breckenridge or nearby Lake Dillon to feed their need for floating freely among the mountains. The calm water at Maggie Pond and easy walk from Main Street makes it an ideal place for families and first-timers to try stand-up paddle boarding (SUP), and not to mention, the views are incredible. Try a SUP yoga class with Meta Yoga Studios, Bhava Yoga or the Breckenridge Recreation Center to test your balance and spend the day cooling off on the water.
Lake Dillon is another popular SUP and kayaking location with several beach access points, including from the Frisco and Dillon Marinas. Both Marinas offer paddle board and kayak rentals and include a demonstration of technique if needed.  If you have your own paddle board, kayak or canoe, you can launch at either marina or one of the many beach access points around the lake.
Golf 
The Breckenridge Golf Course is situated in the breathtaking, glacier-sculpted Upper Blue River Valley. The only town in the world to maintain a Jack Nicklaus-designed 27-hole golf course, the clubhouse sits at an elevation of 9,324 feet. Visiting golfers get an immediate confidence boost as the golf ball flies farther and straighter than at lower elevations due to less air resistance. What was once a tent city of miners seeking fortunes of gold, the landscape now is a challenging golf course with players seeking pars and birdies. The challenges for today's golfer are quite similar to yesterday's miners – nothing comes easy.
Learn more about Golf in Breckenridge
Fly-Fishing 
In Breckenridge, year-round trout fishing options abound. Here, you're at the top of the mountain from which major waters flow, including the headwaters of the Colorado, South Platte, Arkansas rivers and the tail-waters of the Blue and the South Platte rivers. This means that in addition to offering amazing skiing, Breckenridge is also a destination for world-class fly fishing. Book a guided tour for the whole family or rent gear at one of the many fly fishing shops in town!
Local's Tip: Purchase a fishing license at one of the many fly-fishing shops around Breckenridge!
Epic Discovery
Discover a side of the mountain you've never seen, an experience revealed but once a year. It's an uncharted season, where roaming through treetops, riding the horizon, and stretching the bounds of nature allow you to reach your peak. Welcome to Epic Discovery at Breckenridge Resort. It's a mountain of possibilities that enable you to discover nature through fun in ways you'd never imagined. Explore the mountain with a variety of activities that highlight the stunningly beautiful and rich environment.
Walking History or Ghost Tours 
Prepare to be haunted by Breckenridge's mining ghosts of the past, tour Breckenridge's free museums or walk through our nationally recognized Historic District. History lovers will enjoy visiting original cabins and stately homes to learn about the people who lived here over 100 years ago.
Looking for more to do this summer? Check out our Top 100 Things to do in Breckenridge This Summer and the Best Summer Hikes in Breckenridge.
No Car, No Problem!
Once you're here, it's easy to get around Breckenridge without a car. There are plenty of transportation options for those who are going carless in Breckenridge. The Breckenridge FreeRide offers free bus transportation throughout the day with multiple shuttle systems running throughout Breckenridge. Most likely, the place you are staying is right next to a bus stop or offers its own FREE shuttle transportation to town. Once you are here, you'll find it's easy to get around town on foot or on bike and that everything is just a few blocks away.
While going carless is the easiest way to go, if you do need a car this August in Breckenridge, we recommend parking outside of town in-town and taking the bus in. The Breckenridge FreeRide bus system will service the Satellite Lot and Ice Rink lot on regular scheduling. Paid lots within town will be available for guest parking (F-Lot, Tiger Dredge, East Sawmill, and Wellington lots), but will fill up quickly. For free overflow parking, guests can park at Colorado Community College on the north end of town with the FreeRide bus servicing this lot every 20 minutes throughout the day.
The Breckenridge Tourism Office works to enhance and promote the unique character and experience of Breckenridge as a world-renowned destination resort and to represent, serve and perpetuate the common interest and character of its membership and community.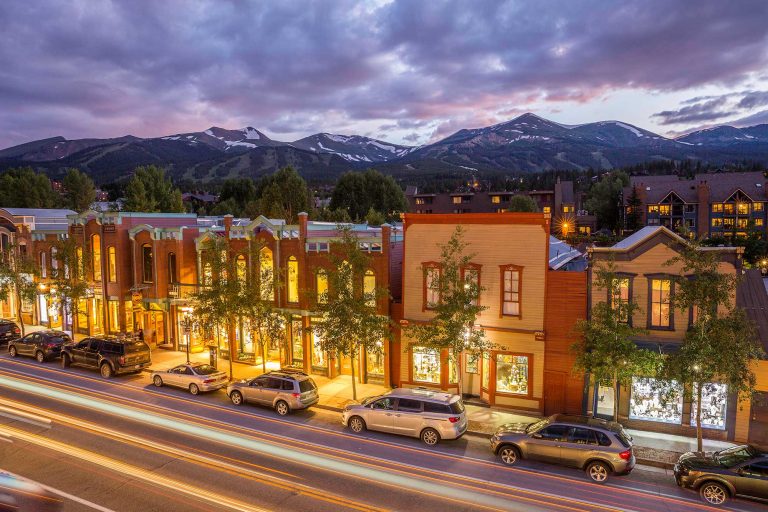 Embrace The Spirit
BLike Breckenridge™️ is a movement born of the spirit of our historic mountain town for those who call it home—whether for a weekend or a lifetime—to live by. It is a cause that connects us to each other, that we can all be a part of.