Breckenridge in October signals a major transition in the Rocky Mountains. It's that precious sliver of time between summer and winter when visitors visitors can experience fall leaves, cool temperatures and solitude on Breckenridge's trails and around town. If you're looking to experience Breckenridge like a local, October is the time to do it.
Weather
Does it snow in Breckenridge in October?
Breckenridge in October combines the best of both worlds. The summer heat is gone, but you can still hit the trails and the stoke is high for the upcoming ski and snowboard season. Temperatures in October range in the 50s, sometimes dropping into the 40s with an occasional snowfall, and sometimes reaching the 60s.
What should I wear in Breckenridge in October?
During the daytime, it's the perfect weather for cozy fall attire. Sweaters, boots, chunky scarves and light jackets are the norm, and fall-flavored lattes and spiced ciders are readily available at Breckenridge's local coffee shops.
October Events & Festivals
Craft Spirits Festival
The Breckenridge Craft Spirits Festival is Colorado's premier craft spirits festival, bringing together some of the finest distillers to share their talents, fun times, artisan snacks and the quality spirits. The Breckenridge community turns into a distilling-mecca with one-of-a-kind experiences planned throughout the weekend.
The Still on the Hill Grand Tasting is the festival's premier event and most sought after ticket of the weekend.
Dia De Los Muertos Celebration
Dia De Los Muertos, or "Day of the Dead," is a  traditional Mexican holiday celebrating ancestors and loved ones who've passed. Join BreckCreate for a two-day commemoration of featuring hands-on workshops, art installations, and performances on the Arts District campus.
Spooky Season Activities & Halloween in Breckenridge
Ghost & Historic Tours
Ready to get spooked? Explore the darker side of our wild west past with chilling tales of the ghosts that remain here on a ghost or cemetery walking tour. Check out Breckenridge Tours' Ghostly Tales tour, or the Voices from the Grave tour which starts at the site of the original cemetery of Breckenridge.  Learn about Breckenridge's rich history by taking a guided historic tour, hike or mining tour with Breckenridge Heritage Alliance. Don't miss out on Breckenridge's free museums around town, too!
The Haunting at Breck Theater
Join BreckCreate and Breckenridge Backstage Theater's brand new fantastical live event that combines the haunted tales of Edgar Allan Poe's Halloween with a spirited interactive haunted house, engaging activities, live storytellers, riddles, puzzles, and quests, photo opportunities, and spooky cocktails and treats.
Pumpkin Patch Wagon Rides
Hitch a ride on a horse drawn, amish-hand made wagon with Breckenridge Stables! Enjoy views of the majestic Ten Mile Range and Mt. Baldy while riding approximately 20 minutes to a scenic destination. Hop off the wagon and go find a pumpkin included in your experience. Enjoy good company, take pictures, and maybe see wildlife next to a pond while picking the perfect pumpkin to take home. Once the selection of pumpkin has been made, hop back in the wagon to enjoy another approximately 20 minutes back to the Clubhouse. Warm blankets will be provided.
What is there to do in Breckenridge in October?
Hit The Trails
The temperatures have cooled off and the trails aren't as crowded, meaning it's the perfect time to hike or bike the hundreds of miles of trails in and around Breckenridge. Enjoy solitude on some of our most popular trails as all the summer visitors have gone. Start checking off the list from our favorite Breckenridge hikes and be sure to Leave No Trace while you're out!
For the most part, trails are dry during this time of year (although an occasional snow or sleet may occur). Always pack extra layers for changing mountain conditions and check the weather before you head out. Stick to dry trails as to not ruin them for other explorers!
BreckCreate
Get artsy and try something new with BreckCreate. Bring the whole family and try throwing your own pottery, making candles, glass blowing and more! Check the schedule for the lineup of activities and classes. Don't miss their other events like concerts, open studios and shows too!
Country Boy Mine Tours 
Head just 2 miles outside town to the historic and restored Country Boy Mine, which offers underground mine tours and even gold panning! In the midst of the majestic Rocky Mountains, the Country Boy Mine was one of the largest and most famous gold mines in Breckenridge, Colorado. Today, enjoy the many activities the mine has to offer. Gold pan, pet the burros, slide down the 55 foot ore chute, explore the authentic mine site, view the exhibits and equipment that were used in the mine and visit the general store.
Treat Yourself
October is the perfect time to catch up on self care and get ready for ski season. Treat yourself and explore many of the massage and spa deals around town during the transition time or head to a yoga class during your stay. Take it one step farther and head to the Breckenridge Recreation Center to soak in the hot tub or sweat in the sauna.
Escape Rooms 
Seek clues, solve unique puzzles, answer questions and work together to try to escape! These all-age friendly Breckenridge-themed rooms consist of stories, decorations and technology to immerse you in a fun game for all. You'll have 60-minutes to complete each of your adventures! This is a great bonding activity for families, friends, date nights, bachelorette, bachelor or birthday parties, co-workers and teammates.
Eclipse Movie Theater
Visit Breckenridge's only movie theater, the Eclipse Theater, to catch a flick year round! The Eclipse offers a variety of blockbuster, indie, classic, foreign, and outdoor films. Don't forget to stock up on fresh popcorn and snacks, plus the adults can enjoy local beer and wine on tap.
Looking for more activities? Check out or list of 100 Things to do this Fall in Breckenridge, and additional Indoor Activities in Breckenridge.
Tips for Traveling to Breckenridge in October
Before you head out to the local restaurants, stores or coffee shops, check with the Breckenridge Welcome Center to see what's open, what's closed and where to get the best deals.
If you have a winter gear wish list and a hankering for good food, head to Breckenridge in October to take advantage of all the great pre-season deals.  Many clothing and gear stores heavily discount in the fall to make room for this winter's newest models and styles.
No car? No Problem. Breckenridge's easily walkable town and a trail network accessible just blocks from Main Street, most activities–including skiing, hiking, biking, shopping, eating, live music and more–are just a short stroll away once you reach downtown Breckenridge. Take advantage of our free bus system, free hotel shuttles, bike rentals and ride-share apps.
The Breckenridge Tourism Office works to enhance and promote the unique character and experience of Breckenridge as a world-renowned destination resort and to represent, serve and perpetuate the common interest and character of its membership and community.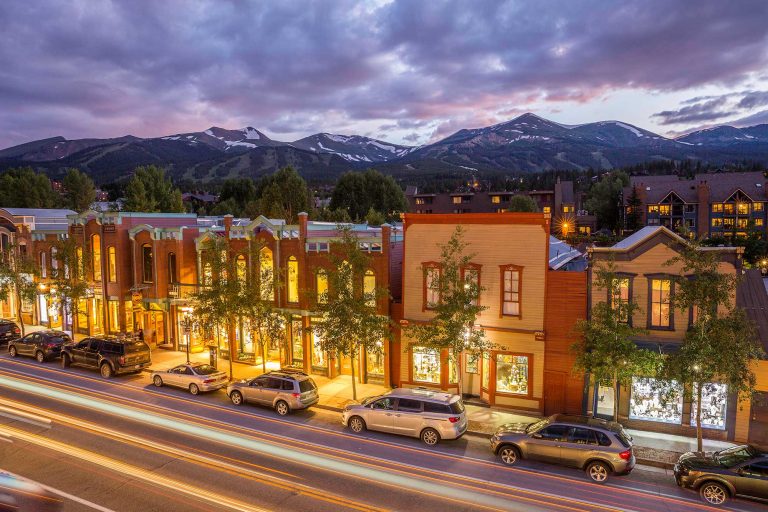 Embrace The Spirit
BLike Breckenridge™️ is a movement born of the spirit of our historic mountain town for those who call it home—whether for a weekend or a lifetime—to live by. It is a cause that connects us to each other, that we can all be a part of.