Hurray! Your trip to Breckenridge is just around the corner! You're going to have SO MUCH FUN!  Here in Breckenridge, we want you to have the best vacation possible so we compiled a few of our favorite Breckenridge tips to ensure you have a good time!
Breckenridge Tips Before Your Visit
Book Your Bucket List
You make have booked your lodging but you shouldn't stop there.  To make sure you get to do everything on your bucket list, we recommend making reservations for any activities you would like to do (outside of skiing and snowboarding).  Many of the most popular activities will sell out and booking early ensures your spot.
Get Ready For High Altitude Environment
Breckenridge is higher than most Colorado resort areas and towns. At an elevation of 9,600 feet (2,900 meters) above sea level, it's one of the reason we enjoy 300+ inches of snow in the winter and mild 70-degree temperatures in the summer. However, the elevation can affect people in different ways and visitors should take high altitude precautions. According to research from Dr. Paul Anderson from the Mayo Clinic, only 20 percent of people who visit a high-altitude location (4,291 – 11,483 feet) are affected by some form of altitude illness.  However, with a little preparation before traveling and hydration (2-3 liters of water per day before your trip), symptoms can be avoided. "Knowledge is the best prevention for altitude illness," recommends Dr. Anderson. Learn about the three tips for adjusting to elevation. If you develop symptoms and continue to feel unwell after your first day or two, please visit one of our local medical facilities for evaluation. Getting prompt treatment could help you enjoy the remainder of your vacation more fully.
Know What To Pack
Breckenridge prides itself in its laid back, casual mountain atmosphere. You can dress casually (jeans or cotton pants, sweater or fleece jacket are the norm) for any occasion.  Layers always stay stylish in the mountains and will easily transition from keeping you warm on your afternoon hike to keeping you cozy at happy hour.
Sunscreen
At this higher elevation, the sun is much stronger than at lower elevations. Please be sure to wear an SPF of at least 25 or 30 for protection, and reapply throughout the day so that you are prepared for fully enjoy your Breckenridge ski vacation.
Getting Here
Most travelers fly into Denver International Airport (DEN) and the Colorado Springs Airport (COS). Both DIA and Colorado Springs Airport are an easy shuttle ride or drive up the mountain to Breckenridge.   While some guests rent a car, the more popular option is to take an airport shuttle up to Breckenridge.  Most visitors find little use for a car once they arrive in Breckenridge, making shuttles a convenient and stress-free option.
Colorado Road Conditions
If you do drive, stay up to date on Colorado's road and weather conditions by calling 303.639.1111 or visiting the Colorado Department of Transportation.
Transportation Around Town
You won't need a car while you're in Breckenridge. Many lodging properties are within walking distance to Historic Main Street or the mountain so you can easily walk-around town.  Many lodges also offer a free guest shuttle that will pick you up and drop you off around town.  The Town of Breckenridge offers a free bus transportation system throughout the town. Breckenridge  Free Ride picks up riders at each stop every 20 minutes to an hour depending on location.  You can also get around Breckenridge using local taxi services, Uber and Lift.  If you are looking to catch a ride to one of our neighboring towns, The Summit Stage offers a free transit system that's convenient and easy to use.
Once You Are Here
Visit The Breckenridge Welcome Center
Once you arrive, visit our resourceful information center for various maps and fantastic information: Breckenridge Welcome Center, 203 S. Main St.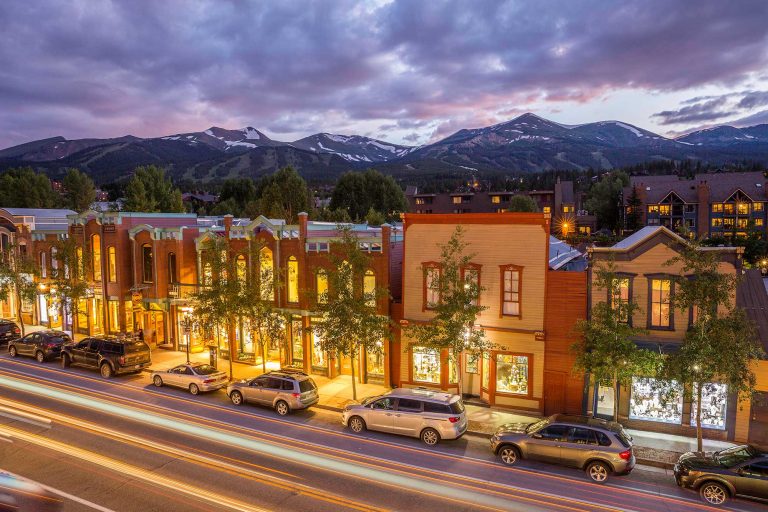 Embrace The Spirit
BLike Breckenridge™️ is a movement born of the spirit of our historic mountain town for those who call it home—whether for a weekend or a lifetime—to live by. It is a cause that connects us to each other, that we can all be a part of.