You don't have to ride singletrack to enjoy the Breckenridge biking scene, but there's 100s of miles of it if you do. From technical trails to family-friendly paths, you'll love taking in the views on two wheels.
Biking the Rec Path
The Blue River paved recreation path offers seemingly endless Rocky Mountain scenery.  Riders will love the miles and miles of the paved, mild path that follows the Blue River through town limits and beyond to the rest of Summit County. The Rec Path sits in the shadow of the Ten Mile Range and is open to runners, hikers, dog walkers and bikers of all type. It's the perfect route for a family cruise.
Rec path Resources
Explore the following resources to learn more about the Recpath, including pathway locations, rules, regulations, etiquette guidelines and ADA accessibility.
E-Bike Use in Summit County
The use of electric bikes varies by type as well as location. Summit County, CO has authorized Class 1 E-Bikes on pedestrian and/or bike paths where regular bicycles are allowed. However, all Class 2, Class 3 and unclassified e-bikes remain prohibited on the Recpath. E-bikes are not permitted on natural surface trails dedicated as non-motorized.
Road Biking
Road biking on Boreas Pass Road provides stunning views of the Mosquito Range.  Breckenridge is a road biking mecca in the summertime, as bicyclists from all over Colorado and beyond travel to our mountain town to experience the miles of roads and breathtaking views of the Mosquito and Tenmile Range.
In 2011, the Pro Cycling Challenge laid out its inaugural course throughout Colorado. Breckenridge placed its historical stamp on the stage 5 finish with racers jetting like bolts of lightening up the closed Highway 9 to the Main Street sprint finish and the screaming fans. Ever since, Breckenridge's leg crushing climbs, including the notorious Moonstone climb — and the subsequent thrilling descents down have been the talk of the professional road biking community. However, road bikers of all abilities will enjoy Breckenridge's breathtaking views and variety of terrain and technical challenges.
Mountain Biking
Breckenridge transforms into a biking mecca during the summer. Mountain and road cyclists from all around the world converge onto our beautiful mountain town to experience some of the best riding available in the Rocky Mountains.
Mountain biking truly is a culture of its own here in Breckenridge, and it's the perfect mountain activity to try during the summer and fall seasons. As always, Breckenridge stands behind the Colorado Tourism Office's Leave No Trace – Care for Colorado Principles to help maintain the natural beauty of our trails and forests.
New to mountain biking but want to learn?
Breckenridge is a great place to learn a new skill thanks to our expert guides.
Fat Biking in Winter + Spring
Fat biking has rapidly grown into one of the most popular winter sports in Breckenridge. These bikes with massive snow tires allow for Breckenridge's trails to be explored on two wheels 365 days a year.  Similar to regular biking, fat biking is easy to get into and riders can enjoy trails for every ability level.  In Breckenridge, local shops can provide gear, lessons and anything else you need to hit the trails for the first time.
Fat Biking in Breckenridge
Rent a fat bike (a few ski shops in town rent them) and hit the rec path or local trails
Rent a Fat Bike at the Gold Run Nordic Center where you can fat bike on any of their groomed snowshoe trails
Take a guided fat bike tour that lets you visit a distillery or brewery along the way
Use our Fat Biking Guide to learn about trail etiquette as well as everything you need to know before you go.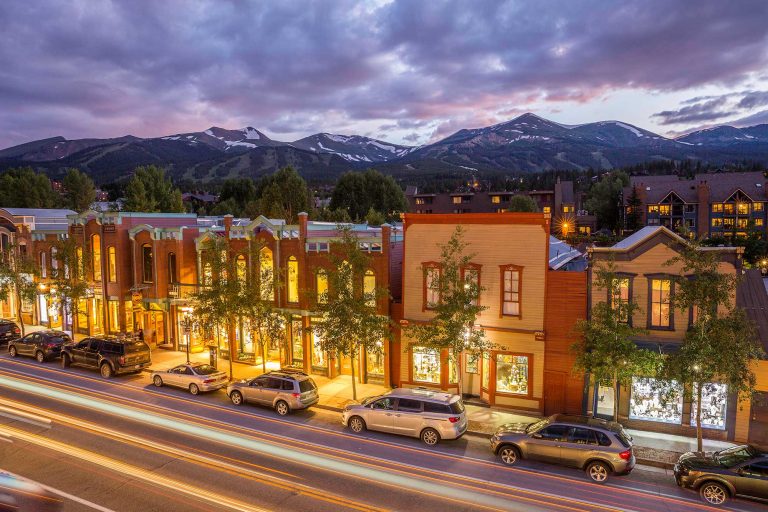 Embrace The Spirit
BLike Breckenridge™️ is a movement born of the spirit of our historic mountain town for those who call it home—whether for a weekend or a lifetime—to live by. It is a cause that connects us to each other, that we can all be a part of.