Main Street Breckenridge is known for it's incredible shopping and dining scene but it also serves as the central hub of everything Breckenridge with fun events, festivals, music, an abundance of activities for all ages and interests happening all year long. The best part is once you park the car or take the shuttle in for your trip you can walk anywhere, which means more time outside enjoying the mountains and enjoying the views.

Take a peek at a few of our favorite Main Street Adventures and customize your own itinerary for the perfect mountain getaway.
Adventures on Main Street
Stand Up Paddle Boarding
Stand UP Paddle Board (SUP) rentals are available on Maggie Pond with the gorgeous slopes of Breckenridge Ski Resort as your back drop. The crew at Charter Sports can set up with one of their awesome Colorado made Sol Paddle Boards for a paddle on the pond.
Enjoy SUP yoga classes on Maggie pond all summer too through Meta Yoga Studios. On Sundays, you'll want to stroll around the Farmers Market after you're done SUPing.
Fly Fishing
Outdoor enthusiasts of all ages enjoy fly fishing from the shores of the Blue River just steps away from Main Street. You can learn to cast, get your license and find out where the fish are biting with the help of our local outfitters and guides at Breckenridge Outfitters and Mountain Angler.
Enjoy Drinks on a patio
There truly is something special about our fresh mountain water and the craft spirits, brewery and wine making scene are creating lots of buzz with their innovative creations. Our local distillery, Breckenridge Distillery, has a tasting room on Main Street or you can check out two new wineries on Main Street too; Continental Divide and Carboy Winery. If beer is your beverage of choice, head for lunch and a beer at Breckenridge Brewery, the fourth oldest brewery in the state or head out on Ridden Bike & Brew Tour with a Fat Bike tour of downtown and visits to the Breckenridge Distillery and Broken Compass Brewing on Airport Road.
VISIT A MUSEUM OR TAKE A HISTORIC TOUR
The Breckenridge Heritage Alliance offers signature tours recounting the history and mystery of our quaint mountain town's past. There is a tour for everyone with expert local guides sharing stories of old miners to bawdy saloons, Victorian ladies, lingering spirits to haunted houses. The Walk through History, Haunted Breckenridge, Swinging Doors Saloon Tour all meet at the Breckenridge Welcome Center and run most days of the week.
History buffs can learn even more about the mining days, railroads and captivating ski history of Breckenridge with a visit one of our historical museums and exhibits curated by the Breckenridge Heritage Alliance.
Explore the Art District
There is always something fun and creative happening in the Arts District with live performances, public art, outdoor and drive-in movies, classes and workshops to get your creative juices flowing. Breckenridge Creative Arts also offers interactive docent-led tours to showcase the Town's public art collection, the Arts District campus and highlight art and culture in our community. Breck Create describes the tours are conversational, interactive and appropriate for all ages.
Book an Escape Room
Try an Escape Room and seek clues, solve unique puzzles, answer questions and work together to try to escape! These all-age friendly Breckenridge-themed rooms consist of stories, decorations and technology to immerse you in a fun game for all. You'll have 60-minutes to complete each of your adventures!
TAKE A FREE PUBLIC ART TOUR
Breckenridge boasts an impressive open-air art collection with dozens of 
public art
 displays strategically placed around town.  You can tour the collection anytime through a 
self-guided public art tour
 on your smartphone.  If you're in the market for new decor, we encourage you to tour a few of the 
art galleries around town
.
Hangout at a PLAYGROUND
Breckenridge offers playgrounds throughout the town, each easily accessible from lodging and recreational locations. Breckenridge playgrounds have unique offerings and themes, with elements suitable for kids of all ages. The young ones will love climbing and playing at mining-inspired Prospector Park on North Main Street and the Highline Railroad Park on Boreas Pass Road where a real Engine No. 9 train and boxcars are displayed.
Relax in Blue River Plaza
The Blue River Plaza is a great central location where older kids can splash in the shallows of the Blue River and toddler's can play sandbox and mini play area. Stop by the Welcome Center to grab a map of town or pick up a scavenger hunt ($10) to uncover more fun on your own. Head across the bridge to enjoy the grass on the Riverwalk lawn or walk upstream to the dredge pond for a chance to feed the fish below.
Attend an Event
We like to celebrate year round in Breckenridge and the calendar is fully stocked with festivals, big events and lots of fun all year long. Main Street comes alive during the many parades, Beer Festivals, Art Festivals, Sunday Farmers Markets, WAVE festival, BIFA – Breckenridge International Festival of the Arts, Breckenridge Film Fest, Ullr Fest, the International Snow Sculpture Championships and so many more. There are wonderful opportunities to catch live music at the Riverwalk Center and live theatre at the Breckenridge Backstage Theatre all year long too.
Check out the event calendar and plan you trip around one of these awesome events for a mountain town party you will not soon forget!
The Breckenridge Tourism Office works to enhance and promote the unique character and experience of Breckenridge as a world-renowned destination resort and to represent, serve and perpetuate the common interest and character of its membership and community.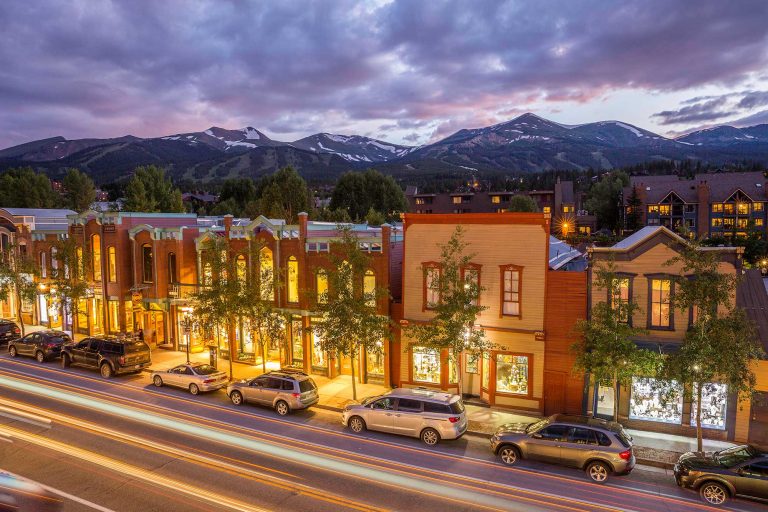 Embrace The Spirit
BLike Breckenridge™️ is a movement born of the spirit of our historic mountain town for those who call it home—whether for a weekend or a lifetime—to live by. It is a cause that connects us to each other, that we can all be a part of.