Winter in Breckenridge is like nothing you've ever experienced. It's a place where visitors feel like locals, and locals have one heck of a good time, all season long. Stroll our charming Main Street, zip along miles of trails, tackle the local sledding hill,  enjoy amazing dining and après and partake in the endless events we have going on all season long. This winter, make Breckenridge your place in the mountains.
Experience winter in Breckenridge in 60 secs
Top Winter Activities in Breckenridge, CO
Winter Activities
In most parts of the country, winter's cooler temps is an excuse to stay inside. But here, a fresh blanket of snow provides breathtaking scenery and lights a passion to get outside. Experience our legendary slopes, embark on a majestic snowshoe outing, guided snowmobile tour or dog-sled excursion. You can even explore the seemingly endless trails on cross-country skis or on a charming sleigh ride. Don't miss our favorite nostalgic sledding hill offering up endless family fun, before dedicating some warm up play time in your hot tub at the lodge.
Top 10 Winter Activities in Breckenridge
There are five peaks to explore in Breckenridge filled with a variety of groomers, parks, glades and bowls. Explore each peak and discover 2,908 acres of ride-able terrain, perfect for every skill and age level.
2. Nordic Skiing & Snowshoeing
Breckenridge is home to two nordic centers (Gold Run Nordic Center & Breckenridge Nordic Center) which boast more than 30 miles of perfectly manicured cross-country skiing and snowshoeing trails. Both nordic centers offer daily use of their groomed trails, lessons and rentals. Aside from the nordic centers, Breckenridge's interconnected trail system offers countless miles of trails to be explored on Nordic skis, touring skis or snowshoes.
3. Sledding
Sledding is the perfect activity for kids (and kids at heart).  You'll have to earn your runs by walking up the hill but you'll be treated to a beautiful view and an exhilarating ride! Pick-up a sled at one of the in-town grocery stores.
4. Dog Sledding
Looking to try something new?  Mush your own team of Siberian Huskies through the Rocky Mountains! This unforgettable experience will take you on a six mile tour along the gorgeous winding trails of the Swan River Valley.
5. Snowmobiling
Sign-up for a guided snowmobile tour to explore miles of beautiful trails and learn about Breckenridge's mining history and local wildlife. Tours range from family friendly to full throttle at Good Times Adventures.
6. Fat Biking
For those looking to keep up with their favorite sport or are just looking for a new and fun way to get around town, Breckenridge's winter biking options continue to expand. Rent a fat bike to explore the trails or Main Street, or sign-up for a fat bike distillery and brewery tour and head to the World's highest distillery and one of Breckenridge's favorite breweries, Broken Compass.
7. Sleigh Rides
There are plenty of ways to dash through the snow, but one of the most nostalgic involves horses and a sleigh. In Breckenridge, you can choose from scenic sleigh rides, dinner sleigh rides and even a sleigh ride that features dinner and a show.
Experience Breckenridge's scenic trails from the comfort of a heated snowcat! The Breckenridge Nordic Center scenic cat tour offers guided tours through forested trails to a historic mining cabin to fill up on s'mores, hot cocoa and tales of Breckenridge's mining families.
9. Shopping Historic Main Street
Hit the streets of Breckenridge and discover over 200 unique boutiques and shops in town! Window shop and enjoy quaint storefronts featuring bookstores, chic boutiques, jewelry, antiques, housewares & home furnishings to art galleries, sporting goods & clothing. Stroll through twinkling Holiday lights by night lining the streets all winter long after the official Lighting of Breckenridge.
10. Historic, Mine & Ghost Tours
Breckenridge is rooted in its past and boasts one of the largest historic districts in Colorado. Create memories with affordable guided historic tours and hikes, and enjoy free, family-friendly museums operated by the Breckenridge Heritage Alliance and Breckenridge Tours.
What is there to do in Breckenridge in winter?
Breckenridge is an outdoor paradise in the winter. The ample amounts of snow that our town receives (more than almost any other place in Colorado) provides the perfect playground for an endless list of great activities. With over 100+ winter activities, events and experiences to offer, there is truly something for everyone in Breckenridge, Colorado.
What to do in early winter or late spring in Breckenridge?
Many of our favorite activities in Breckenridge are snow dependent. This means opening and closing dates shift from year-to-year depending on how much snow we've recently received.  If you are booking November/December or April we recommend calling the businesses you're interested in booking with to receive a guestimate on opening/closing dates.  Some of our most popular activities (like dog sledding) book-up well in advance, so we always recommend advance reservations.  You can also reach out to a vacation specialist at the Breckenridge Welcome Center for recommendations on available activities.
View our November, December and April Vacation Guides for help planning your trip.
Explore More Things To Do
Top Festivals & Events in Breckenridge, CO
Festivals & Events
In Breckenridge, we know things are more fun when you do them together.  That's why we've packed our event calendar full of competitions, concerts, celebrations, parades and week-long special events.  Because, bigger is better doesn't just apply to the snowfall.
Top Winter Festivals and Events in Breckenridge, CO
Dining Experiences & Culinary Delights
Dining and Nightlife
Warm welcomes, cozy fireplaces and a unique craft food scene make Breckenridge's culinary scene come alive each winter.  Plus, the evenings don't end at dessert. Bars and tastings rooms throughout Breckenridge host daily happy hours, local music, late-night dance parties and award-winning artists at the Riverwalk Center. Raise a glass to the day's adventures or warm up with a hot toddy at one of Breckenridge's 100+ bars and restaurants.
Recommendations on where to eat in Breckenridge
Explore Dining and Nightlife
Seasonal exhibits, musical performances, visual arts, and drop-in classes and workshops make it easy to experience the arts or create your own.  If you prefer to step back in time, experience Breckenridge's rich history with historic tours, museums and creative experiences in the arts district.
Ways to experience arts, culture, and history in Breckenridge
Find tips, guides and itineraries
Trip Planning Tips
Use our planning resources to find hiking trails, activities, and entertainment for your trip.  We've also added our favorite planning resources and tips to help trip planning go as smoothly as possible.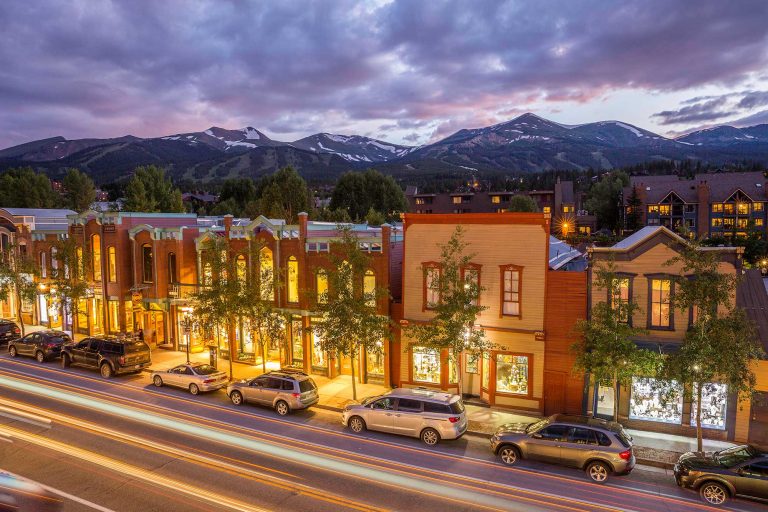 Embrace The Spirit
BLike Breckenridge™️ is a movement born of the spirit of our historic mountain town for those who call it home—whether for a weekend or a lifetime—to live by. It is a cause that connects us to each other, that we can all be a part of.