Winter travel over Breckenridge's trails is unlike anything you've ever experienced. The crisp, clean air and pillowy snow makes hiking that much more magical. Even if you are familiar with our renowned network of hiking and biking trails in the summer, winter weather and snow create a whole new dimension to enjoying Breckenridge trails in the snowy season. Although it may seem daunting, it's easy to be an awesome winter trail user as long as you have the right information and tips about preparedness, gear, etiquette, weather and wildlife.
Winter Gear and Planning Ahead
Proper footwear is the most important piece of your winter gear, according to Tony Overlock, Open Space and Trails Specialist for the Town of Breckenridge. Adequate footwear will provide protection, traction and warmth. What you put on your feet will depend on your activity: snowshoeing, cross country skiing, winter walking, or bike riding. When renting your gear, check with the provider for footwear tips.
Moving up from your feet, Overlock recommends dressing in layers to accommodate Colorado's changing weather and your own exertion. Synthetics and wool near your skin better allow the body to adjust to temperature changes, whether from your own activity level or the weather. Avoid cotton in winter as it isn't very warm and stays wet. An appropriate hat and warm gloves or mittens are a must, and don't forget the scarf or neck gaiter; much heat loss comes from the neck and shoulder area.
Protect your eyes with dark lenses on a sunny day, and don't forget to bring snacks, sunscreen, plenty of water and an extra layer in case the weather shifts.
If your lucky dog accompanies you, treats, a leash, poop bags, and a way to share your water are important considerations; eating snow does not provide enough hydration. Some dogs will require a jacket and booties or paw wax.  Keep control of your pets at all times whether they are on leash where required or under voice control. And please, "pack it out" and pick up after yourself and your pets. Find out more ways to include Fido in the Breckenridge experience.
Finding the Route
The same trails that are so great for hiking and biking are also excellent for snow fun in the winter. Don't know which trail to choose? Resources including the Summit County trail map and Breckenridge trail map can help you plan where to head next! Already have a sport in mind? Check out our Nordic Ski and Snowshoe and Winter Hiking guides.
Rules of the Trail
There is a "yield" triangle for winter activities, similar to the summer etiquette rules. Fat bikes yield to snow-shoers and skiers, and snow-shoers also yield to cross country skiers. An even more important consideration is the impacts to the snow inherent in each activity. Snow is a precious resource, as evidenced by the multi-billion dollar ski industry. You can only cross country ski and snowshoe when there is snow on the ground. Snowshoes and cross country skis have buoyancy: they are able to float on or near the top of the snow level, making them efficient modes of winter travel. Fat biking and winter hiking require a well-packed trail, and those users require that someone else broke the trail and tamped it down for them.  For these reasons, winter etiquette calls for not leaving a rut from a bicycle tread and not leaving holes from walking on the trail surface. Where possible, keep tracks separate and avoid traveling on ski tracks.
One of the greatest challenges on Breckenridge's winter trails is educating fat bikers, according to Tony Overlock.  Fat bikes need compacted snow, which usually doesn't happen until 3-4 days after a snowfall. For these reasons, Fat Bike Etiquette signs are posted at trailheads throughout the Breckenridge trail system. If a fat biker is leaving a rut, or has to get off the bike to push, the Etiquette signs ask that the cyclist turn around and use another trail more suitable to the activity. "It's important that fat bikers be good ambassadors for their new sport," Overlock stated.
Fat bikers are also advised that wheels of any kind are not allowed on any US Forest Service winter trails, so fat bikers need to stick with authorized trails. For more information on trail conditions and places suitable for fat biking, check out the Winter Trail Conditions.
Another thing to think about is that although it's winter in Breckenridge, it can still get warm and sunny in the afternoons. When it's warmer, the snow can turn wet, soft and slushy. Bikers and snowshoers should try to stay off the trail or to the side because they can cause huge ruts that will freeze once the weather drops again.
Wildlife
With Colorado's growing moose population, these massive members of the deer family can be encountered anytime around Breckenridge. Because of their weight and gangly limbs, moose seem to prefer the same packed winter trails that we humans use. Moose can be aggressive if triggered, particularly when protecting young, so give them plenty of room and be prepared to turn around if a moose is blocking your trail. Because moose are experts at camouflage, wildlife officers recommend avoiding the use of earbuds when traveling in the back country; you will often hear a moose thrashing around in the woods long before you see one. They aren't the most graceful animals.
Elk and deer may also be encountered around Breckenridge in the winter, more commonly on the trails near the Gold Run Nordic Center at the Breckenridge Golf Course. While not usually dangerous to humans, we can be dangerous to elk and deer. Our presence can startle the animals, causing them to flee and burn precious energy evading us. As with moose, give elk and deer plenty of space if you encounter them on the trails.
Coyotes pose a potential danger to our pets, as they can be especially hungry in the winter. Keep your pup under visual and voice control while hiking this winter to avoid any unwanted predators.
Breckenridge's miles and miles of excellent trail systems are just as fun in the winter as in the summer. Whether it be walking, snowshoeing, cross-country skiing, skinning or fat-biking, you're sure to have a blast- and with a little forethought and preparedness, you can enjoy Breckenridge trails all year long.
Want more? Check out additional Winter Activities in Breckenridge and 100 Things to do in Breckenridge this Winter!
NOTE: This article is not intended to cover more extreme activities where back country route finding and avalanche awareness skills are required.
The Breckenridge Tourism Office works to enhance and promote the unique character and experience of Breckenridge as a world-renowned destination resort and to represent, serve and perpetuate the common interest and character of its membership and community.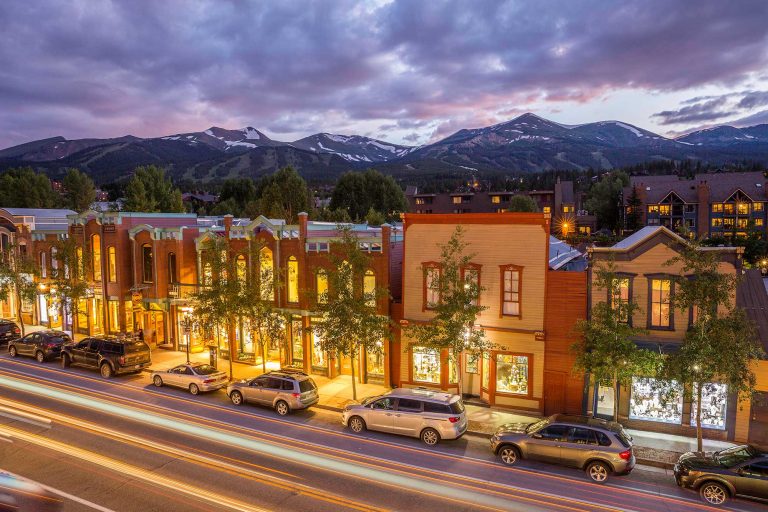 Embrace The Spirit
BLike Breckenridge™️ is a movement born of the spirit of our historic mountain town for those who call it home—whether for a weekend or a lifetime—to live by. It is a cause that connects us to each other, that we can all be a part of.