Dining out with kids or on vacation can be a challenge. Road blocks like long waits, tired and impatient children and limited menus up the family's anxiety factor. We did the heavy lifting for you and found all the places in Breckenridge where it's easy to please the whole crew—we're home to more than 70 family-welcomed restaurants that host even the pickiest of eaters with a smile… and sometimes even an ice cream cone.
Ask the tykes what they're craving and pick your delicious destination below.
4 EASY ON-THE-GO GRABS
BREAKFAST
109 S. Main St.
This reliable go-to cooks up a hefty menu that will satisfy your entire brood. Belgian waffles, egg scrambles, toad in a hole and some of the best biscuits and gravy in town—it's all here. Columbine is one of the most popular restaurants for breakfast and therefore often has a wait-list.  Be prepared to put your name on the list and do a lap around the block.
540 S. Main St.
This busting cash-only breakfast joint on the south-side of town is known hometown breakfast and loves families. The eggs are farm fresh, the benedicts perfected and the pancakes fluffy. Spring for the real deal pure Vermont maple syrup. Try to arrive early as this is a hot-spot in the mornings – first table is welcomed at 7:00 a.m.
131 S. Main St.
Head downstairs for made-to-order bagel and croissant breakfast sandwiches or snag fresh-baked goodies upstairs. The blueberry buckle bars and banana bread are excellent treats. Clint's also offers kid-sized hot cocoa and steamers, as well as gluten-free and many vegan options too! Take it to-go and dine at Blue River Plaza just down the street.
305 N. Main St.
Affordable with a no-frills dining room, guests point and pick from a wall of donuts, bear claws, donut holes and sausage rolls. Heartier appetites order the egg burrito topped with housemade green chile or the Daylight Special for eggs, bacon or sausage and a sizable buttermilk flapjack. Bring cash or use the onsite ATM.
Off The Beaten Path Breakfast Locations
"Good things come to those that wait" might have originated as a breakfast saying.  We love the restaurants listed above but on weekends you should expect a wait time.  These off the beaten path locations offer delicious food, to-go options and little to no wait time so you can get up on the mountain early!
BoLD
Bold's breakfast and brunch menu offers elevated takes on American classics.  Plenty of Gluten Free options as well.
Cool River Coffee House
Tucked just off Main Street, this breakfast gem serves up mild or spicy breakfast burritos and a delectable collection of baked goods.
BURGERS
208 N. Main St.
The roomy and always welcoming Canteen serves up American comfort food with fun twists—like the gooey four-cheese mac topped with Cheez-Its. Steer the kids toward the lil' shredders menu while you indulge in the honeydew burger with fire-roasted chiles, cream cheese, honey and yellow mustard.
500 S. Main St.
Empire Burger is widely known to have one of the biggest varieties of dipping sauces in Breckenridge. Empire is a family tradition because once you eat here, you'll crave it regularly. Kids love the bacon cheeseburgers and loaded dogs and adults cherry-pick from a refreshing beer list and margarita menu while dipping fried mushrooms and Parmesan zucchini chips. Everyone has their favorite sauce—discover yours from a made-daily list of 20. The curry ketchup and sweet mango chutney are flavorful bests (in our opinion).
320 S. Main St.
This multi-level chef-driven burger and shake concept adds gourmet spins to premium grass-fed beef (topping hits include crispy shitakes, goat cheese and Gouda and wildly tasty charred balsamic vinegar red onions). Reward clean-plate-clubbers with a treat from the shake menu—the blueberry pie with locally sourced vanilla bean ice cream is a sure crowd-pleaser.
PIZZA, WINGS, ETC.
111 S. Main St.
The monarch of Breckenridge family dining, Downstairs at Eric's draws groups large and small with an arcade, photo booth, ginormous menu and eclectic tap brews. The supreme Garbage Pizza is a fan favorite, along with Eric's famous baked wings. You might even spot Eric himself, the Mayor of Breckenridge.
100 N. Main St.
Visitors return year after year for Giam's authentic Italian eats. Build your own monster calzones or go with a traditional saucy pie and fresh salads. The line for a table can get crazy, so come early or order from the family-style to-go menu.
106 S. Ridge St.
Another local love, Fatty's boasts a terrific patio and ample space inside for groups; an expansive menu spanning pizza, pasta, sandwiches and seafood, plus plenty of flat-screens to catch the big game. Look for house specialties noted with a red fat man on the menu.
301 S. Main St.
Kenosha offers one of the best decks in Breck, along with horseshoes and other outdoor games perfect for a sunny day.  Plus, there are 31 beers on tap to placate the beer connoisseur in the family.
103 S. Main St.
Motherloaded provides the comfort food that takes us all back to our childhood. We love the disco tots and haystack fires to share. For great family bonding try s'mores on the personal hibachi, there's nothing better to start the conversation.
411 S. Main St.
Swing into Luigi's pizzeria for a cozy, laid-back, family friendly spot right along the Blue River. Sit outside on their patio in the summer, or catch all the big games indoors.  Try their specialty pizza pies, firecracker wings, pizza rolls, and yes, even deep-fried Oreos.
GLOBAL FLAVORS
Mexican
600 S. Park Ave.
Mi Casa welcomes kids with crayons, homemade chips and salsa and all of their favorite tacos and quesadillas. Quick service, stiff margs and stellar mountain views off the back patio keep the grown-ups smiling.
224 S. Main St.
Fiesta Jalisco offers authentic Mexican cuisine and speedy service.  It's tucked just off Main Street and offers delicious food and booth seating.
Asian
110 S. Park Ave.
For special occasions, book a hibachi grill-side table at Asobi and share in the shrimp-tossing, flame-flying fanfare. Happy hour bites are delicious and affordable and Chinese noodle and Thai curry classics are covered. Kids will love the exciting experience.
112 Lincoln Ave.
The Blue Fish serves up the finest sushi, sashimi, and rolls with an array of Asian-inspired hot dishes, salads, and artisan desserts. Complement your meal with uniquely crafted cocktails or with a selection of fine wine, sake, and beer. Check out happy hour for drink and food specials- the perfect après!
Mount Golian Grill is Breckenridge's newest addition to Main St! This family-owned restaurant brings a taste of Mongolia to Colorado's Rocky Mountains, featuring fresh and flavorful dishes sure to satisfy any taste. Mongolian cuisine consists of an array of extraordinary ingredients that are cooked to perfection on a meng gu kao rou, a.k.a Mongolian grill. Stop in for the local's lunch special or happy hour, complete with both appetizer and drink deals.
Italian
326 S. Main St.
Creamy pasta creations, cheesy bread, antipasto, wine and tiramisu in a comfortable warm space are the draw at this family-run restaurant.
Hawaiian
100 S. Park Ave.
This hidden gem under River Mountain Lodge makes dining out a luau party with beachy vibes and inventive bites that include poke bowls and Jamaican Jerk pork.
Mediterranean
505 S. Main St.
Spanakopita, impressive cheese and meat boards and an incredible lamb BLT are complemented by a corner stocked with toddler toys and books. BoLD is also a fantastic brunch spot for large families and moms who like mimosas.
Need more advice on what to do with family? Discover more fun activities for your pint-sized adventurers in our Breckenridge Winter Family Guide.
Need More Inspiration?
Build your own itinerary:
The Breckenridge Tourism Office works to enhance and promote the unique character and experience of Breckenridge as a world-renowned destination resort and to represent, serve and perpetuate the common interest and character of its membership and community. Lisa Blake is a regular contributor. The Breckenridge-based freelance writer, editor and mom enjoys researching and sharing stories on health, wellness, dining and the outdoors. Find her work in Breckenridge Magazine, The Purist, 5280.com, and at lisablakecreative.com.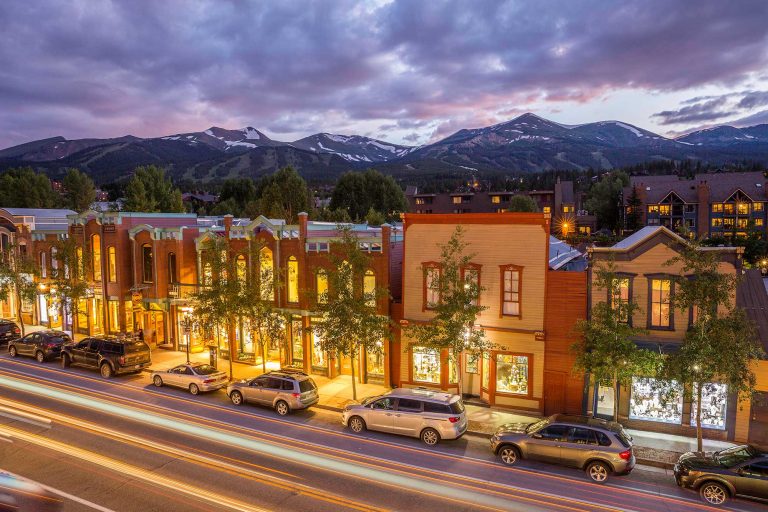 Embrace The Spirit
BLike Breckenridge™️ is a movement born of the spirit of our historic mountain town for those who call it home—whether for a weekend or a lifetime—to live by. It is a cause that connects us to each other, that we can all be a part of.