Farm to table is a hot buzzword in the restaurant industry. Diners are taking interest in where their food comes from and, more importantly, how it's grown. When it comes to creative, field- and ranch-sourced menus, Breckenridge chefs go above and beyond to craft conscientious cuisine. Here's where to sample the best of Colorado's harvest around Breckenridge.
Aurum
Steamboat Springs original Aurum Food & Wine is all about honest local food. The seasonally shaped menu is rich with Colorado-sourced goods that include Uncle John's Farm Stand corn and tomatoes, Western Slope apples and peaches, Corner Post Ranch pasture-raised pork, and microgreens from the modest garden down the street at Hearthstone. Look to the shared plates for Colorado pork, lamb and beef meatballs and a strawberry and roasted beet salad. Save space for the Western Slope-sourced apple bread pudding with salted caramel and bourbon butterscotch ice cream.
Modis
Contemporary gem Modis prides itself on top-notch ingredients and a smart wine and cocktail list. Innovation is the vibe here and staff refer to the humming bar and kitchen as science labs. Ask about the creative process and peruse menu darlings like mussels with fresh-plucked herbs, smoked bacon and fennel; the Colorado-style ribs with house barbecue sauce; and generous lasagna layers of zucchini, summer squash and housemade ricotta.
Twist
Twist serves up Colorado spins on American comfort food in a cozy mountain cottage perfect for lingering happy hours. Owner and chef Matt Fackler is a restaurant vet with a heavy finger on the Western Slope's autumn crops. Mixed greens are peppered with grilled Palisade peaches while the Caesar's baby romaine mingles with Palisade squash noodles. Try the smoked trout sliders and a side of Olathe sweet corn with goat chevre and chives. Check out Twists' older sister, 60-seat Relish, a few blocks away for more seasonal and regional offerings from Fackler and team.
Ember
Ember chef and owner Scotty Boshaw dazzles and delights with an ever changing and always inspired poetic dinner menu. His artful approach pulls from cultures and traditions across the map, delivering seasonal eats that include pig ear French fries, lamb cheeks, shrimp corn dogs, lobster biscuits and gravy, and salt and lime cured crickets. Expect global dishes, gastronomic experimentation and unheard of texture marriages. Don't miss Boshaw's hearty pumpkin and red curry tamale with lemongrass rice grits, gailan, coconut-creamed lentils and persimmon brown butter.
Blue River Bistro
Modern, sleek and comfortable, The Blue River Bistro is a longtime locals' go-to for consistently delicious seasonal fare. Professional servers will help you pair your eclectic American dish with a precisely built cocktail or special bottle of wine. Order the panzanella singing with pickled golden beets, pancetta, heirloom tomatoes and sweet-pea vinaigrette or enjoy the sustainable Colorado striped bass with happy rice and shaved Brussels.
Traverse
Head up the hill to The Traverse at The Lodge at Breckenridge for fine dining with jaw-dropping mountain and town views. Begin with a drink from the globetrotting wine list or Colorado-brewed taps and head outside to the gorgeous wraparound deck for a peek at the rambling Summit County landscape. Dig into local and sustainable ingredients via appetizers like the artisan Colorado sausages with housemade sauerkraut. Find garden inspiration next to the New York strip in the form of truffle potatoes, glazed asparagus and caramelized wild mushrooms.
Hearthstone
Settle in for a classic Breckenridge treat at Hearthstone in the warmly decorated 125-year-old Victorian Kaiser home. Chef Michael Halpin has earned a dedicated following for sourcing the finest naturally raised beef and game, sustainably caught seafood and in-season Colorado produce. Rocky Mountain menu highlights span roasted quail with Palisade peach stuffing and a plum and fig gastrique to a popular blackberry elk filet with Colorado's Jumpin' Good Goat cheese farro risotto. Vegetarians swoon for the organic quinoa and grilled Olathe corn dish with Palisade peaches, arugula, radishes and pistachios.
*Please note: Restaurant menu items mentioned in this article are seasonal. Menus are subject to change.
Looking for more delicious eats in Breckenridge? Check out the top 10 restaurants bringing dining to the next level and our top 12 Breckenridge foodie favorites.
About the Author
Lisa Blake is a regular contributor. The Breckenridge-based freelance writer and editor enjoys researching and sharing stories on wellness, dining and the outdoors. Find her work in Breckenridge Magazine, YOGA + Life Magazine, 5280.com, and at lisablakecreative.com.
The Breckenridge Tourism Office works to enhance and promote the unique character and experience of Breckenridge as a world-renowned destination resort and to represent, serve and perpetuate the common interest and character of its membership and community.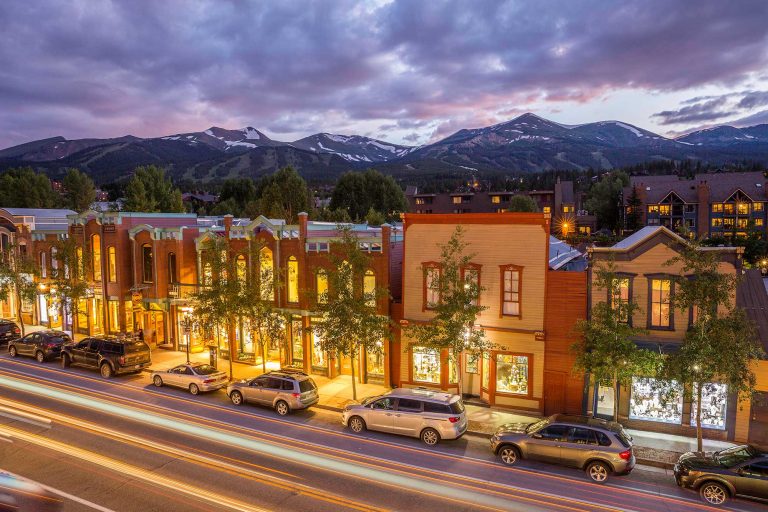 Embrace The Spirit
BLike Breckenridge™️ is a movement born of the spirit of our historic mountain town for those who call it home—whether for a weekend or a lifetime—to live by. It is a cause that connects us to each other, that we can all be a part of.