Nordic Skiing dates back more than five millennia ago, when Scandinavians strapped on skinny skis as their main form of transportation during the winter. This type of skiing wasn't designed for the rush of the downhill, but a practical way to travel across the country over snow (hence, Cross-Country Skiing). Today, Nordic skiing, or Cross Country skiing, is one of the most popular winter activities in Breckenridge.
To experience this winter hiking tradition firsthand, visit one of Breckenridge's two Nordic centers, take a guided tour, or take on the trails yourself! Each Breckenridge Nordic Skiing center showcases breathtaking terrain and provides lessons and rentals for those who want to try a little touring.
Breckenridge boasts more than 50 kilometers (30 miles) of perfectly manicured cross-country skiing and snowshoeing trails between the town's two Nordic Centers. If exploring some historic mining ruins on your own is more your style, the Breckenridge trail system offers hundreds of miles of ungroomed trails to explore.
Where to go cross country skiing in Breckenridge?
Gold Run Nordic Center
With 27 km of impeccably groomed classic and skate cross-country ski trails, the Gold Run Nordic Center is a great place for the beginner and experienced outdoor enthusiast.  The Gold Run Nordic Center offers on-site rentals for easy trail access as well as daily lessons for all ability levels.  Cross country skiers will need a day pass to hit the trails at the Gold Run Nordic Center.
The Gold Run Nordic Center also offers guided snowshoe tours and rentals, fat bike rentals and partners with Breckenridge Stables to offer horse-drawn carriage rides .  Warm up after a day on the trails with a cup of hot cocoa or boozy beverage in the cozy lodge next to the fireplace.
Breckenridge Nordic Center
More than 40 kilometers of wonderfully groomed Breckenridge Nordic ski trails await all abilities at this Nordic Center nestled below the ski resort. At the base of the Ten Mile Range, a half-mile from Main Street on Ski Hill Road, idyllic trails weave through the gorgeous Cucumber Gulch Nature Preserve for great views, wildlife viewing and peaceful quiet in the surrounding National Forest.
Breckenridge Nordic Center offers equipment rentals, lessons, snow cat tours, a snack bar and a professional staff are on hand to get you on your way. Take in the mountain views and be sure to swing into the Hallelujah Hut for a  chance to warm up by the wood-burning fireplace.
Free Groomed Trails
Cross-country skiers and other outdoor enthusiast can take advantage of Summit County's groomed rec path.  The groomed section of the Recpath now extends from the Breckenridge Rec Center to the Frisco Adventure Park, offering over 8 miles of fee free, winter recreation. Grooming operations will include track-setting for classic Nordic skiers, as well as laying corduroy for skate skiers, fat bike cyclists and other non-motorized users. The project partners ask that cyclists and walkers avoid the classic ski tracks so they remain usable for skiers.
In addition to the bike path, the Town of Breckenridge grooms trails in the iconic Golden Horseshoe area (Tom's Baby & Middle Flume trails).
Etiquette – Users are encouraged to be respectful and courteous to one another on the multiuse pathway and to use proper trail etiquette, including packing out all trash. Just as in the summer, dogs are required to be leashed when on the pathway, and motorized uses are not allowed. Pet owners are required by law to pick up pet waste and dispose of it properly in a trash receptacle.
Breckenridge's Expansive Trail System
Breckenridge's interconnected trail system offers countless miles of trails to be explored on Nordic skis, touring skis or snowshoes. These same trails can be hiked or biked in the summer, but during the winter months they provide amazing access to the vast winter backcountry. Breckenridge has winter hikes for every ability level at various distances. Gear can be rented through Breckenridge's Nordic centers and local shops throughout town. Not sure where to go? Explore our winter trails using COTREX (Colorado Trail Explorer) AllTrails or visit the Breckenridge Welcome Center on Main Street suggestions. Consider venturing out on lesser known trails for some peaceful solitude.
Guided Cross Country Tours
If exploring some historic mining ruins on your own is more your style, the Breckenridge trail system offers hundreds of miles of ungroomed trails to explore. The Breckenridge Heritage Alliance opens the doors to the Bunk House on Iowa Hill for winter hikers on their winter snowshoe tour and through French Gulch as a private option.
Cross-country ski tours and backcountry skiing expeditions are also offered in winter by Colorado Adventure Guides.
View more guided adventures in Breckenridge.
The Breckenridge Tourism Office works to enhance and promote the unique character and experience of Breckenridge as a world-renowned destination resort and to represent, serve and perpetuate the common interest and character of its membership and community.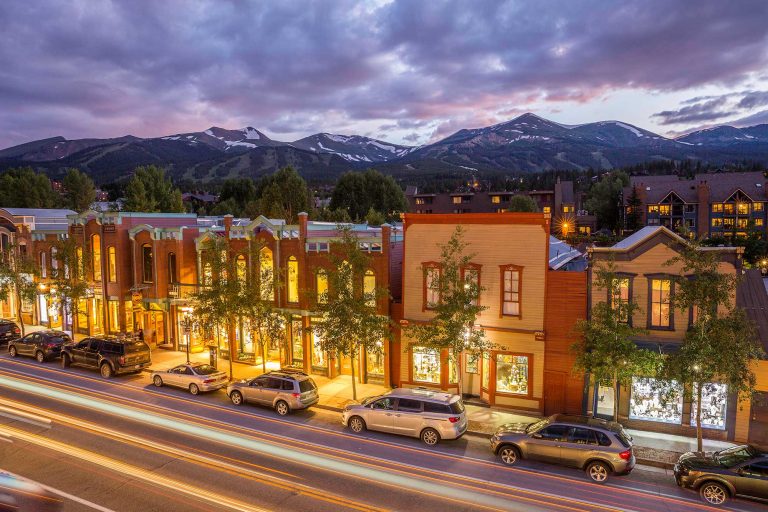 Embrace The Spirit
BLike Breckenridge™️ is a movement born of the spirit of our historic mountain town for those who call it home—whether for a weekend or a lifetime—to live by. It is a cause that connects us to each other, that we can all be a part of.