It's no secret that spring is one of the best times to visit Breckenridge. Temperatures are getting warmer, there is a ton of new snowfall, and the days, for the most part, are sunny and clear. With so much to do, we've created the ultimate Breckenridge Spring Guide so you won't miss any of the fun. Whether you're looking for a family-friendly getaway or an exciting week with your college crew, head up to the mountains this March or April- we've got you covered.
Spring Weather in Breckenridge
Once spring has sprung, snow conditions are typically harder in the morning and slushy in the afternoons. For the best experience, start your ski/ride day mid-morning and plan to be off the hill in time to grab a spot on the deck or patio. But don't let all that sunshine fool you! March and April are some of the snowiest months in Breckenridge, so be prepared for snow, cold, sun and warmth. Dress in layers, wear the right gear and pack snacks, water and sunscreen. Sunglasses and soaked-through base-layers are no fun in a snow-storm, and a goggle burn is not fun to show up with at work the next day. You'll thank us later.
Spring Events
All events are subject to change to comply with state and county public health orders. Check back frequently for updates or sign-up to receive event-specific email updates.
March and April are widely known for having the best snow in Colorado, along with sunny bluebird days and great special events.  See what we have planned this spring and explore our top events throughout town and on mountain.
Skiing/Snowboarding
It's true, some of the best skiing all season occurs throughout March and April. March is the snowiest month of the year, which means conditions are great and terrain is plentiful. Better yet, the weather is warmer than you'll find in December or January!  While you'll still need some layers, the extra 10 degrees, combined with more sunshine, makes for a far more comfortable day on the chairlift and on the slopes.  Don't like skiing hard snow?  Conditions this time of year are soft and forgiving, which makes it more fun for beginners and experts alike.  Add in the fact that the days are longer, and you can plan to ski until the lifts close and still have enough daylight to enjoy après on one of the beautiful decks town has to offer.
Play in the Snow Off the Resort
To ensure you get to do all the activities on your bucket list, start making activity reservations as soon as possible. This includes guided adventures and gear rentals.
Snowshoeing/Cross Country Skiing
Hiking may seem like a summer activity, but add some snowshoes, Nordic skis or skins, and you've got spring hiking at its finest. Make your way up some of the most beautiful terrain in Colorado on a guided hike with the Breckenridge Heritage Alliance, snowshoes provided, to learn about the natural environment and the history of Breckenridge. Want to embark on your own? Rent equipment at one of many local shops specializing in ski and snowshoe rentals, or stop by one of the Nordic centers and explore the town's extensive network of multi-use trails. Whatever you choose, dress in layers, stay hydrated and apply sunscreen so you won't have to back out early and miss those spectacular views and occasional wildlife sightings!
Sledding
Bring a couple of sleds, some hot cocoa and a thirst for fun to the sledding hill! There are two hills in Breckenridge, Carter Park, located at the end of south High St., just a few blocks from Main St. and the Runway sledding hill on Fraction Dr. off of Airport Rd. The parks are free and open to the public, so bring the whole crew!
Go Mushing with a Pack
Looking to get outside but the altitude's leaving you winded? Let somebody (or adorable huskies) do the hard work for you at Good Times Adventures. Book a reservation and head out for a dogsledding adventure or even enjoy a snowmobile tour after!  The dogsledding tour, which runs for about an hour and can handle up to 6 people, is in "relay" format. Guests can switch off running the dogs ("mushing"), riding in the dogsled or riding on a small passenger sleigh with the guide. The guests riding in the snowmobile sleigh have the opportunity to take great action shots and video of the participants on the dog sled. It's a family favorite and a great opportunity to see some VERY happy pups.  If you prefer the purr of a snowmobile, the guided tours utilize state-of-the-art machines during a two-hour experience that includes instruction and practice. Either way you go, you'll leave the Swan Valley with a smile on your face!
Check out more winter activities in Breckenridge!
Let Out Your Artistic Side
If you need a down day after charging hard on the mountain,  explore your creative side at the Breckenridge Arts District, also known as BreckCreate. They host everything from ceramics, drawing, printmaking, metalsmithing, textiles and painting to live musical performances and art showcases. Check out their calendar for a list of upcoming events and shows!
Experience Local Brews and Spirits
When it comes to beer and spirits, the made-in-Breckenridge trend began in the '90s with the original Breckenridge Brewery. Today, the craft brew scene has expanded to include Broken Compass Brewery with their rotating menu of small-batch beers. Consider bringing your pup to hang out on the patio, or participate in a Monday-night potluck dinner and make new friends.
While you're out on Airport road, stop by the Breckenridge Distillery to sample a few locally-made craft spirits. They prefer using local ingredients whenever possible, creating unique flavors and high quality. The Distillery and Broken Compass both have a free shuttle taking guests to and from town, so feel free to leave the car at home!
Explore Main Street
Your trip to Breckenridge is not complete until you take a few hours to just stroll down Main Street.  A bluebird day is warm enough to stay comfortable, but still has just enough chill to justify a cup of coffee from Clint's, The Crown or Cabin Coffee, all conveniently located on Main. Visit the Welcome Center to help plan the rest of your stay, and take in the views at Blue River Plaza. Visit the Tap House and Dancing Pines tasting room, or play a game of Horseshoes over at Kenosha Steakhouse. Grab a beer on the patio at Rocky Mountain Underground (RMU), and find plenty of Breckenridge souvenirs to take to family and friends who weren't lucky enough to join you on the trip. Throughout March and April, enjoy merchant discounts and perks that you won't find any other time of year.
Fulfill Your Appetite
We mean it when we say that Breckenridge is home to world-class dining, and no trip to Breckenridge is complete without exploring its many options to fuel your adventures. Whether you're looking for a quick bite on the way to the lifts, a family-friendly bar with TVs at every angle to watch the big game, or a romantic date-night out on the town, Breckenridge's food scene is sure to impress. Before heading up to the hill, snag some breakfast at Amazing Grace or Columbine Cafe, followed by lunch a little later at Empire Burger or Fatty's Pizzeria. Try a margarita for happy hour at Rita's, and head out for the night starting at Relish or Briar Rose Chophouse for dinner. With over a hundred options and outdoor dining, it can be hard to choose, so if you can't make up your mind, ask a local! But don't worry- you won't go wrong no matter where you end up!
Every season in Breckenridge is worth experiencing – summers are beautiful, fall colors are spectacular, and the town feels like a Christmas village in the depths of winter. But for great skiing accompanied by warm sunshine and events, you just can't beat Spring in Breckenridge. We'll see you here!
The Breckenridge Tourism Office works to enhance and promote the unique character and experience of Breckenridge as a world-renowned destination resort and to represent, serve and perpetuate the common interest and character of its membership and community.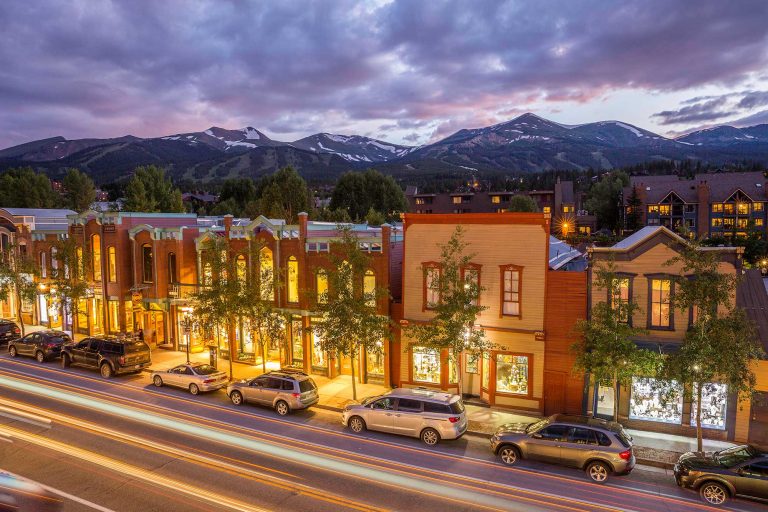 Embrace The Spirit
BLike Breckenridge™️ is a movement born of the spirit of our historic mountain town for those who call it home—whether for a weekend or a lifetime—to live by. It is a cause that connects us to each other, that we can all be a part of.