Winter hiking in Breckenridge might not be the first thought that comes to mind when one thinks of this magical town. With all of the snow that falls here, you might be thinking, "How is hiking even possible?" Snowshoeing and cross-country skiing are always an option (check out our recommendations for easy snowshoeing trails), but with the right gear and a good sense of which trails to choose, winter hiking can be a very enjoyable experience for people of all ages and fitness levels. It's also a great way to stretch those legs after a couple of long days on the slopes.
View All Breckenridge Hiking Trails
View White River National Forest Trail Details
Winter Hiking in Breckenridge: Trail Recommendations
Sallie Barber Mine:
This is a great, beginner level, out and back winter hike with spectacular views of town, leading to a beautiful old mining site that sits above Breckenridge. The old mining road gently climbs 1.4 miles up to a stunning view of the Sally Barber mine and Keystone in the distance. This trail is very well traveled in the winter and sees heavy use, so you can expect a packed trail during the winter months. This is a great hike for the whole family. Bring your dog along, too!
Carter Park:
Carter Park is a gateway to an incredibly vast trail system that can lead you all over Breckenridge. This is a great location to start a hike of any distance, and has some great views along the way! From the park, you can access the Barney Ford Trail, Moonstone Trail, and even link all of this back with the Sally Barber Mine trail. You can weave in and out of the beautiful neighborhoods of Breckenridge, or head away from civilization and have the snowy trails all to yourself.
The main climb out of Carter Park is lung-busting at first, but at the top of the short climb you are treated with amazing views of the town. Relatively flat trails await the rest of this winter hike, but don't forget that you're at a higher altitude, so you'll still feel its effects. Due to steepness, MicroSpikes or other brands of traction control for your boots are recommended. Make sure to get a map of the area, as there are a lot of trail intersections.
Peaks Trail:
At the top of Ski Hill Road lies a nice and easy winter hike in Breckenridge. Peaks Trail is an incredible out-and-back hike with minimal elevation gain that weaves in and out of the beautiful lodge pole pine forest at the base of Breckenridge Ski Resort. Like many of the others, this trail sees heavy usage and stays in great shape for a nice winter stroll. Go as far as you choose, get some great views, spend some quality time in the forest, and turn around and head back whenever you want.
Before You Go
Choosing the Right Gear for Winter Hiking
To make your winter hiking experience in Breckenridge safe and enjoyable, there are a few pieces of gear that you'll want to have:
Winter Boots
If you're snowshoeing, happy feet means a happy person at the end of the day. The boots that you choose could make or break your experience on the trails. Choose a waterproof boot with some insulation to keep your feet warm and dry. If you're Nordic/cross-country skiing, you'll need specific ski boots- don't worry, both Nordic centers have boots available to rent, along with skis and other gear.
Layers, Layers, Layers!
With the dry, arid climate that Breckenridge has, and the rapid weather changes that can occur, you must be prepared for any sort of temperature or weather conditions. Wear several layers made of fabric that breathes and dries quickly; cotton is not a good idea as it doesn't dry well. It's always better to have more layers than you need as it's easier to take them off than find additional layers. It's also smart to pack an extra pair of gloves, a spare hat, and some dry socks to cover all of your bases while you are hiking the amazing trails that Breckenridge has to offer.
Yaktrax or Microspikes
The trails around Breckenridge see a lot of use during winter, making them hard-packed and slick. If you're not on snowshoes or skis, traction on your boots makes your winter hiking experience a lot safer and easier. Specialty outdoor shops like Mountain Outfitters in Breckenridge sell these kinds of traction systems for your hiking boots, which will make hiking these packed trails seem effortless.
Plenty of food and water
Always make sure to pack plenty of snacks and water for your journey to stay well hydrated and maintain your energy. It's very important while you're out on the trails winter hiking in Breckenridge, especially at 9,600 feet.
Be sure to find out about all the unique opportunities in Breckenridge this winter. Happy trails!
The Breckenridge Tourism Office works to enhance and promote the unique character and experience of Breckenridge as a world-renowned destination resort and to represent, serve and perpetuate the common interest and character of its membership and community.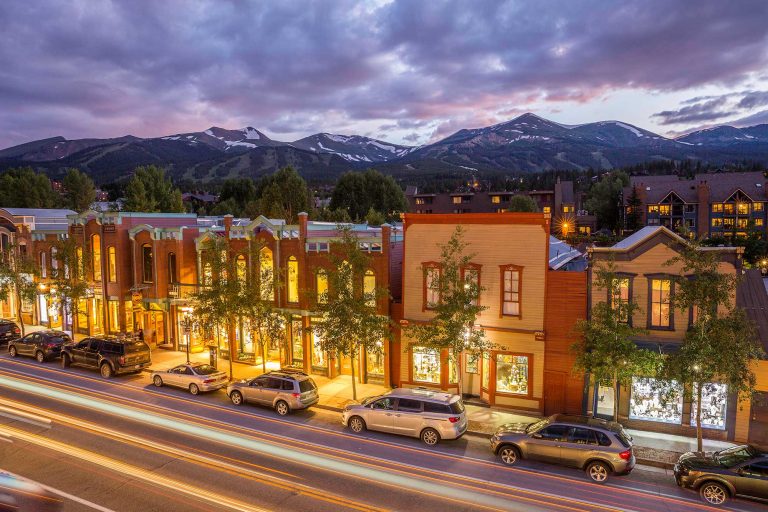 Embrace The Spirit
BLike Breckenridge™️ is a movement born of the spirit of our historic mountain town for those who call it home—whether for a weekend or a lifetime—to live by. It is a cause that connects us to each other, that we can all be a part of.