In Breckenridge, year-round trout fishing options abound. Here, you're at the top of the mountain from which major waters flow, including the headwaters of the Colorado, South Platte, and Arkansas rivers and the tail-waters of the Blue and the South Platte rivers. This means that in addition to offering amazing skiing, Breckenridge is also a destination for world-class fly fishing. We've put together a run down of some of our favorite year-round spots for fly fishing in Breckenridge.
Spring Fly Fishing in Breckenridge
Upper Blue River – The snow generally melts fast along the section of the Blue River running along Highway 9 between the Upper Blue Elementary School and Colorado Mountain College, making it one of the first local rivers you can access in the spring.
As early as March, its not uncommon to find brown trout up to 16 inches long eating tiny midges from the surface, particularly on warm days with low winds. This stretch also features a series of deep pools where you'll want to add some weight to your line and fish deep with nymphs as small as size 24.
Eagle River – A short and scenic drive from Breckenridge, the Eagle River along I-70 near Vail is another great option for spring fishing. At about 7,000 feet elevation, the Eagle also runs early in the spring, and is home to a healthy population of brown and rainbow trout.
Public access points are well-marked from Dowd Junction traveling west to Wolcott. The trout are active in spring as the water opens up and runs clear. Elk hair caddis work well and also keep your eyes peeled for blue wing olives, pale morning duns, and even pink cahills. Fish deeper holes with larger bead-heads and nymph patterns as small as size 24.
Summer Fly Fishing in Breckenridge
Mountain Lakes – Every once in a while there's good reason to put some distance between yourself and the rest of the crowd. Taking a small (or large) stroll to a mountain lake offers the guaranteed reward of a healthy hike, incomparable views, and hopefully some fish.
Mountain lakes normally begin to shed their ice by mid-June. And when the waters open up, the fish come out hungry. One our favorite lakes near Breckenridge is Lower Mohawk Lake where you can catch Colorado's state fish, the native cutthroat trout. Cutthroats are also plentiful in Clinton Reservoir on Highway 93 between Copper and Leadville.
Beyond that, the more you want to hike, the more choices you have in an amazing alpine lake. Ask a local outfitter, get a map, keep an eye on the weather, and bring snacks and water. Kids will also enjoy fishing Maggie Pond and Sawmill Reservoir in Breckenridge and Meadow Creek Pond in Frisco.
Float the Colorado River – Catching trout while floating down a river is a transcendental experience on par with an amazing powder day. It's Indiana Jones meets fly fishing, and you can often find yourself reeling in a nice fish while also stammering to stay in the boat as it rumbles down a small stretch of whitewater rapids.
Float trips are best designed for advanced anglers. The more that you're able to tie on your own flies, cast on target and get yourself untangled, the more time the guide has to navigate the river, study the water, and put you on fish.
Both Breckenridge Outfitters and Mountain Angler offer float trips on the Upper Colorado River. It's a full day adventure and packages start at $400.
Learn more about guided fly fishing adventures in Breckenridge.
Fall Fly Fishing in Breckenridge
South Platte River – Fall can be one of our favorite times to fish. Spring runoff is unpredictable, and summer monsoons can drop heavy rains leaving fresh water rivers looking more like chocolate milk overnight. In the fall, the weather and water conditions can often be more stable, leading to a nice stretch of amazing dry fly fishing. We like fishing grass hopper patterns on various sections of the South Platte River above Spinney Reservoir.
The Upper Colorado River and William's Fork – Another fall favorite is the Colorado River near its confluence with the Williams Fork River near Parshall. This section holds large rainbows and lots of brown trout. Watch for blue wing olive hatches.
Winter Fly Fishing in Breckenridge
The Lower Blue River at Dillon Dam – While they feast on grasshoppers and even mice in the summer, a trout's meal turns more microscopic in the winter. Nevertheless, the trout in the Lower Blue River below Dillon Dam manage to fatten themselves up thanks to protein-rich Mysis shrimp that come from the reservoir.
This is one of the most popular tailwater fisheries in Colorado. The outflow of Dillon Reservoir maintains a constant temperature just above 40 degrees, meaning the first few river miles that stretch through Silverthorne remain fishable on even the coldest winter days. But be warned, the fish here hold doctorate degrees on how not to get fooled by imitation flies.
The Dream Stream on the South Platte River – It's what its name implies: A picture perfect trout stream that snakes its way through a high mountain grassland stuffed with an active and plentiful population of rainbow, brown and cutthroat trout. Here, there are no pesky trees to snag your fly, but that doesn't mean the trout come easy.
Like other tailwaters, the fish here are well educated, and with the open plain you often have to alter your cast to cut through strong winds. This popular stretch of the South Platte River is about an hour south of Breckenridge running about four miles between Spinney and Elevenmile reservoirs.
Where Can I Purchase a Fishing License in Breckenridge, Colorado?
Fishing licenses may be purchased online through Colorado Parks and Wildlife, or you can get one in person from an authorized fishing license retailer such as Mountain Angler and Breckenridge Outfitters in town.
Once you have purchased a fishing license, please check fishing laws and regulations that apply in your area before heading out. Anglers are required to follow both statewide and waterway specific rules so that fish populations are protected now and into the future.
This is just a quick list of popular places to fish all year round. Be sure to check in with a local outfitter for the latest conditions and make sure you and your family have the proper licenses. Tight lines! 
About the Author: 
Freelance writer Troy Hawks worked 12 seasons as a fly fishing guide in Summit County. He is a public relations and communications consultant whose clients include Colorado Ski Country USA, Mountaintop Media, and MTN Town Magazine. Find more of his freelance work at www.TroyHawks.net or follow him on Twitter @HawksSquawk.
The Breckenridge Tourism Office works to enhance and promote the unique character and experience of Breckenridge as a world-renowned destination resort and to represent, serve and perpetuate the common interest and character of its membership and community.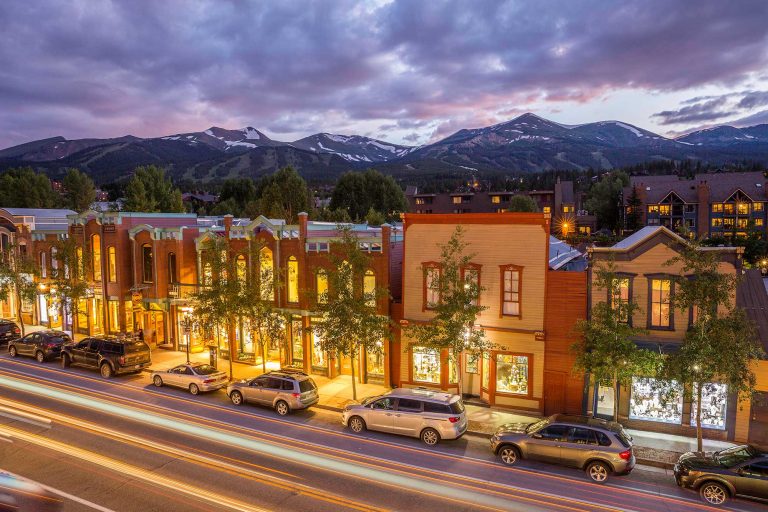 Embrace The Spirit
BLike Breckenridge™️ is a movement born of the spirit of our historic mountain town for those who call it home—whether for a weekend or a lifetime—to live by. It is a cause that connects us to each other, that we can all be a part of.