6 Ways to Experience Breckenridge's Small Town Charm
Breckenridge embodies that special welcome home feeling and small town charm. Our modest mountain hamlet maintains a strong sense of community among a coveted world-renowned ski resort and vacation destination. Throw in a healthy dose of Wild West and Gold Rush history and bottomless opportunities for recreation and relaxation and you'll quickly see why many of us came for a visit and never left.
Walk Through History
Breckenridge was built on mining booms and busts, ski industry pioneers and adventure-thirsty high country homesteaders. Our timeline is filled with incredible discoveries and innovators. Get a feel for local history on a guided tour with Breckenridge History. Explore stunningly restored Victorian architecture, museums and parks. Take in the careful details among Breckenridge's beautiful landscaping and historic markers and revel in more than 250 structures dating back to the Gold Rush days.
Breckenridge Museums and Historic Tours
Discover Main Street Magic
Main Street Breckenridge is famous for its alluring stroll-about charm. Locally owned shops and restaurants are set in postcard-like Victorian dwellings and there's always a lively festival or parade filling sidewalks with celebration. Chat up neighborly shop owners about their favorite powder stashes, hiking trails or where they like to eat as a family. You'll notice a lack of chain and big box brands. Breckenridge shops are carefully curated with locally crafted wares, unfolding in delightful rooms of nostalgic candy, antiques, handmade jewelry, soaps and more.
Main Street is also home-base for adventures spanning stand-up paddleboarding to riverside fly-fishing to arts district workshops. The best part? There's no need for a car in Breckenridge. Explore downtown by foot or hop on the free Main Street trolley.
Engage in the Arts
Breckenridge artists pour their hearts into their craft and invite visitors to get hands-on with BreckCreate Arts District classes and events. Check out the local campus' ceramics studio, public art tours and vibrant festivals. Take in locally created music around town and inside the acoustically superb Riverwalk Center. Pop into Main Street galleries to admire talented local painters and photographers showcasing regional landscapes. See a top-notch performance at the award-winning Breckenridge Backstage Theatre. The creative energy here is profound.
Sample the Flavors
Breckenridge restaurants beckon with home-cooked meals traversing the epicurean board. Find Colorado lamb and steak, creative contemporary American dishes, vegetarian offerings, quaint coffee and ice cream shops, and famed pizza that visitors return for year after year. Colorado's bountiful harvests appear in our many farm-to-table restaurants and locally crafted spirits and beer. Lifelong Breckenridge chefs put lots of thought and care into their menus and often make a point to cruise around the dining room, greeting guests and introducing themselves. What we're missing in chain restaurants we make up for in homemade, handcrafted, know-your-first-name mom and pop establishments.
Embrace Breckenridge Traditions
Breckenridge is just seven miles long and two miles wide, but we pack it in and we're always up for a party. The events calendar is buzzing year-round with festivals that draw visitors from far and wide, inviting everyone to experience the area like a true local. Winter ushers in an awesome lineup of traditions, from opening day to Ullr Fest, the Lighting of Breckenridge and a hilarious Santa race down Main Street. In January, the International Snow Sculpture Championships brings teams from around the globe to shape intricate frozen art. Spring is filled with concerts, beer fests and the Imperial Challenge. Summer and fall are known for food and art festivals and athletic races.
View All Breckenridge Festivals & Events
Love the Big Mountain & the Small Town Charm 
Breckenridge Ski Resort is one of the most visited resorts in North America and we consistently rack up "Best Of" accolades for our quaint and charming downtown. The two complement each other beautifully and make up the true essence of Breckenridge. Walk along the river, ski Whales Tail from the highest chair lift in North America, gear up for backcountry adventures, visit an art gallery and sip a pint with forever locals. Relish in that glorious space between giant peaks and our small town charm. It's where we thrive.
The Breckenridge Tourism Office works to enhance and promote the unique character and experience of Breckenridge as a world-renowned destination resort and to represent, serve and perpetuate the common interest and character of its membership and community. Lisa Blake is a regular contributor. The Breckenridge-based freelance writer, editor and mom enjoys researching and sharing stories on health, wellness, dining and the outdoors. Find her work in Breckenridge Magazine, The Purist, 5280.com, and at lisablakecreative.com.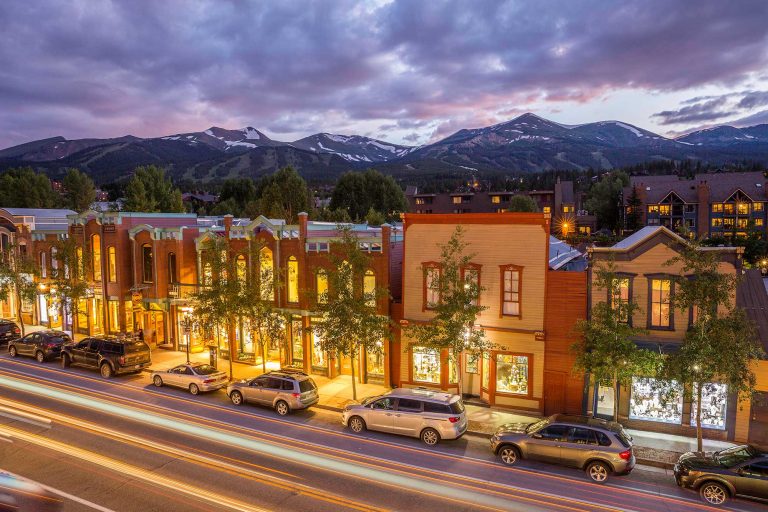 Embrace The Spirit
BLike Breckenridge™️ is a movement born of the spirit of our historic mountain town for those who call it home—whether for a weekend or a lifetime—to live by. It is a cause that connects us to each other, that we can all be a part of.