Colorado artists heighten the state's exquisite, natural beauty through their creative perspectives, and there's no better place to explore Colorado art than at Breckenridge galleries.
Breckenridge Gallery
Breckenridge's oldest gallery, aptly named Breckenridge Gallery, has been in business for 50 years. In fact, it's one of the oldest galleries on the Western Slope.
For decades, former owners Gary and Janet Freese developed lasting relationships with their clients. They focused on fine art from elite Colorado artists, which is a tradition the current owners, Tina Rossi and Alex Kendall, have carried on.
When Tina and Alex took over the gallery in 2017, they remodeled it, brightening and opening it up to highlight everything from their Western landscapes to the more contemporary mountain modern art.
Breckenridge Gallery's best-selling artists from Summit County are Kate Kiesler and Chris Veeneman. Kate paints realistic Colorado scenes, from rivers and mountains to aspen trees, which juxtapose value and color. Chris' abstracts, which use Plexiglas, brushed stainless steel and Corian, are also inspired by nature.
Another Colorado native, Gordon Brown, paints his Western wildernesses to help transport people into spacious, awe-inspired landscapes.
Raitman Art Galleries
Raitman Art Galleries sit on both ends of Main Street. After Brian Raitman's parents bought a home in Breckenridge, he left his planned career in advertising and opened Art on a Whim (which later changed its name to Raitman Art Galleries) a month after he graduated college, in 2007. After his brother, Ross Raitman, graduated from University of Colorado, he joined his brother.
The Raitman's focus on art that elevates people's spirits. They curate colorful, bright and joyful pieces — and any subdued art they might carry conveys a sense of contentment.
Sculptor Marty Goldstein epitomizes one of Colorado residents' loves — dogs — in an incredibly playful way. Meanwhile, Andy Baird, a fifth-generation Colorado native, presents the most amazing portraits without ever picking up a paintbrush. Instead, he literally drips 30 to 40 colors onto a canvas until a dynamic face of a legend or supermodel emerges. The process takes about a month, and the result is unbelievable. Summit County resident David Gonzales excels at showing the speed and motion of outdoor sports like cycling and skiing into his paintings, which blend bold color and textures that draw people into his scenes.
Gary Soles Gallery
Gary Soles has lived in Summit County well over 30 years, which has given him plenty of opportunities to perfect the way he captures the mountains' splendor. He often skies into the backcountry to reach remote places to capture remarkable Colorado scenes, like a placid lake at sunset. His gallery features enormous photos printed on metal, canvas and photo paper — all of which give his landscapes a wonderful sense of light.
"My photos remind people of a place they've scene or had a very close connection with," he said about his work.
Portfolio Gallery
Portfolio Gallery is another newcomer to Breckenridge. The gallery, housed in a historic, 1898 building on Breckenridge Main Street, makes art collecting simple and portable. The gallery presents the work of Colorado artists in four simple square sizes, ranging from 7×7" to 16×16". Each is priced according to size, rather than by who the artist is.
Carol and Alan Kelly opened the gallery specifically to support Colorado artists like Julie Leidel, who captures the essence of wood, stained glass, ceramic tile, mica and oil-rubbed bronze in her acrylic and gouache paintings. She also carries on the century-old traditions of Roycroft Renaissance artisans.
Other Colorado artists, like Katie Maher, use geometric shapes to produce a vibration of color and lines, which mimic movement.
In addition to its rooms featuring square pieces of art, Portfolio Gallery also has a room it dedicates to exhibitions by Colorado artists; the exhibitions allow the artists to show their work in larger sizes, once a month.
So many talented artists live in Colorado — and Breckenridge's Main Street is like a treasure trove for Colorado art. So make sure you take time to stroll through Breckenridge's art galleries; they show the state through a whole new lens.
Be sure to save time for a stroll through Breckenridge Arts District and check out local workshops, public art and art festivals in Breckenridge!
The Breckenridge Tourism Office works to enhance and promote the unique character and experience of Breckenridge as a world-renowned destination resort and to represent, serve and perpetuate the common interest and character of its membership and community.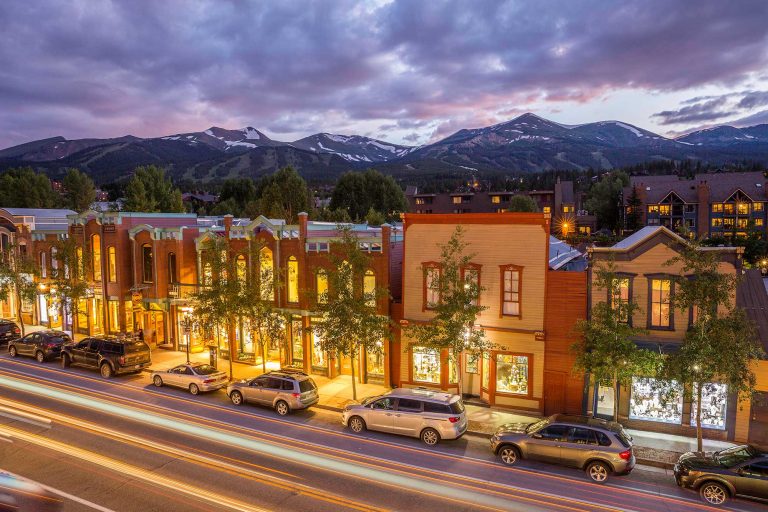 Embrace The Spirit
BLike Breckenridge™️ is a movement born of the spirit of our historic mountain town for those who call it home—whether for a weekend or a lifetime—to live by. It is a cause that connects us to each other, that we can all be a part of.