If you are heading to Breckenridge this summer, you'll discover that the list of what to do while you're here is a long one. From amazing hiking to biking, fly fishing to rafting, and simply soaking up the fresh Colorado air, there's always a reason to get outside in Breckenridge.  With so much to choose from, it can be hard to decide what to do.  To help, we've narrowed down our list of the top 100 things to do in summer down to just our favorite.
What are the top things to do in the summer in Breckenridge?
1. Hiking
With gorgeous views, wildflowers galore, and high alpine lakes, it's no surprise that hiking is one of the most popular summer activities in Breckenridge. Use our guide to pick the best trail for your group.  You can help us preserve and protect what we love by following Leave No Trace practices during your visit.  Learn more by taking the Tree-Hugger Challenge.

2. Biking
Not only is Breckenridge a hiker's dream, it's also a mecca for bikers of all kinds, from road bikers to mountain bikers to cruisers and everything in between. Discover the seemingly endless trails and paths for every level of rider and get ready to take in the views on two wheels. Rent gear or bring your own! All types and sizes of bicycles can be rented at various locations- try self-guided bike tours around town, custom trips, Vail pass excursions and the popular beer and distillery bike tour.
3. Whitewater Rafting
 Some of the country's best whitewater rafting is available just a short drive from Breckenridge. The Arkansas River in Central Colorado passes through the iconic Browns Canyon National Monument, and there are also options on the Eagle River near Vail, and of course, the Blue River in Breckenridge. Rafting is available late spring through fall, and there are many options based on scenery preferences, activity level, what type of group you'll be bringing and how long you want to be on the river. Check out our tips for how to make the most of your whitewater rafting trip!
4. Fly Fishing
When the ice melts, it's time to grab your reel and waders and head into the rivers and lakes in and around Breckenridge. While you can fly-fish year-round in Breckenridge, there's nothing like a warm, sunny day on the river. If you have your own gear, just make sure you have a Colorado fishing license and you're all set! If not, rent some gear and take a lesson or tour with one of the many local fly-fishing shops around town. One of our favorite spots to fly-fish in the summer is at Lower Mohawk Lake or along the Blue River where you can catch Colorado's state fish, the native Cutthroat Trout.
5. Stand-Up Paddle Boarding & Kayaking
Stand-up Paddle-boarding is one of the hottest summer activities, and for good reason! Whether it be your daily workout getting your paddle strides deeper or simply relaxing in the sunshine,it makes for a relaxing day on the water. Try paddle-boarding Maggie Pond for an easy paddle, perfect for first-timers or a SUP Yoga class if you have good balance.
6. Art Classes
Take part in one of BreckCreate's creative workshops or classes like pottery throwing, woodworking,  glassblowing or jewelry making.  Local artists work on the Arts District campus and provide working studio hours and classes for visitors to observe their process or take classes.
7. Live Performances & Theater 
Visit Breckenridge Backstage Theatre for professional-quality performances in an intimate setting.  The newly renovated 137-seat theater offers rotating performances year-round with an affordable ticket price and regular shows throughout the summer.
8. Live Music In Breckenridge
Each summer Breckenridge is filled with live music thanks to Breck Music, National Repertory Orchestra, festivals, and a lively bar scene. Discover the best place to dance, relax and experience Breckenridge's live music scene.
9. Al Fresco Dining
Summer is patio season in Breckenridge. Sip one of our local libations to unwind after a day outdoors.
What's the best way to enjoy summer dining in Breckenridge? Sitting outside with a beer in hand and incredible views around you. Find the best decks and sun-drenched patios in Breckenridge.
11. Fat Bike Beer and Distillery Tours
Make a day of your tasting adventure on a fat bike distillery and brewery tour. The adventure begins on the south end of town with brief educational stops at select landmarks as you make your way to the Blue River Rec Path. This one-of-a-kind trail is maintained year-round and features some of our nation's most scenic views as it winds throughout Breckenridge alongside the famous Blue River. Once you reach Broken Compass brewery and the Breckenridge Distillery, you'll be able to have your fill of libations before you bike it all off back to town.
12. Explore an old gold mine
In the 1800s the Country Boy Mine was one of the largest and most famous gold mines in Colorado. Today, you can head underground for a tour of the original mine, pet the burros, slide down the ore chute and pan for gold.
13. Ghost  & History tours
Sign-up for a Breckenridge walking tour to explore the darker side of our wild west past with chilling tales of the ghosts that remain here and other strange events.  If you are interested in more historic tours, the Breckenridge Heritage Alliance offers a number of walking and hiking tours of historic sites and museums surrounding the area, including saloon, ghost, gold panning and cemetery tours!  Learn more about historic mine tours, guided hikes and family-friendly museums.
14. Golfing
Take a swing at Breckenridge's 27-hole golf course, one of the few Jack Nicklaus designed municipal golf courses in the world, complete with a driving range, practice putting green and clubhouse. Try to focus on the turf and not the views of the Ten Mile Range and breathtaking, glacier-sculpted Upper Blue River Valley. Plus, your golf ball flies farther and straighter at higher elevations than at lower ones… so come give your game a shot at 9,500 feet!
15. Horseback Riding
Transport yourself back into a time gone by and experience horseback riding in the Rocky Mountains.  Choose from trail rides through Breckenridge's sprawling trail network or open range rides north of Breckenridge.
16. Epic Discovery
Breckenridge Ski Resort's Epic Discovery offers activities for every level of adventurer. From scenic chairlift rides to guided hikes,  climbing walls, mini-golf and more it's easy to pack your day full of fun at the base of Peak 8 in Breckenridge.  Enjoy a free scenic ride on the Breck Connect Gondola up to the base of Peak 8 and all the Epic Discovery fun!
17. Escape Rooms
Seek clues, solve unique puzzles, answer questions and work together to try to escape!  Breckenridge's three escape rooms are a perfect indoor or evening activity for all ages.
19. Massage & Spa Services
The opportunities for wellness and self-care are countless in our quaint mountain town. Whether you're taking a day to rejuvenate on your high energy mountain vacation, escaping the stress of your real life or looking for a full immersion into health and wellness, prioritize yourself and relax on your next visit. Enjoy a facial, massage, mani-pedi, acupuncture, hot tub, reiki and more after an exciting day of summer activities.
20. Summer Dog Sledding
Have you ever wondered what sled dogs do in the summer? Tour the Good Times Adventures kennel and enjoy summer dog sled exercise runs and get endless wet kisses from the huskies! 
The Good Times kennel, located just a 10 minute drive outside of Breckenridge, Colorado, is home to over 150 purebred Siberian Huskies. Experienced mushers will walk you through the 4 acre property, introduce you to the dogs, and answer any questions you may have. Go behind the scenes of their operation and learn about a typical day at the dog yard. Learn how Good Times cares for their athletes and trains them during the summer months to get ready for winter dog sledding.
Want to discover more to do in Breckenridge this summer? Check out our Ultimate Family Summer Guide and be sure not to miss the Best Summer Events! As always, swing by the Breckenridge Welcome Center upon arrival to start planning.
The Breckenridge Tourism Office works to enhance and promote the unique character and experience of Breckenridge as a world-renowned destination resort and to represent, serve and perpetuate the common interest and character of its membership and community.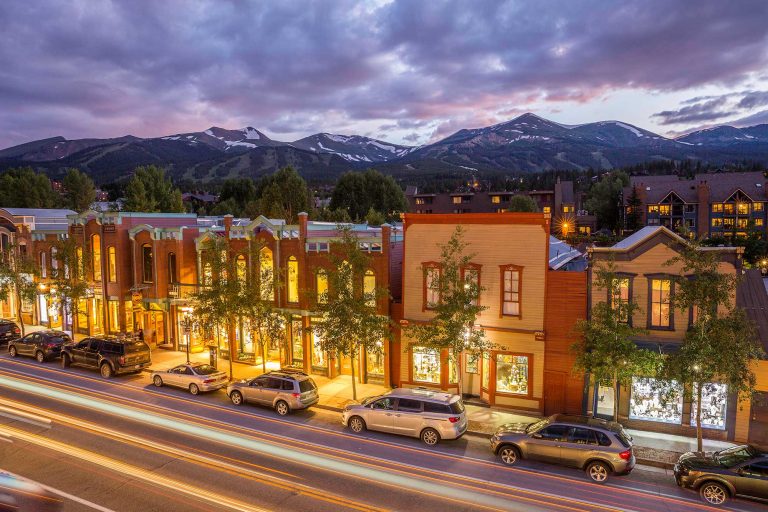 Embrace The Spirit
BLike Breckenridge™️ is a movement born of the spirit of our historic mountain town for those who call it home—whether for a weekend or a lifetime—to live by. It is a cause that connects us to each other, that we can all be a part of.