In Breckenridge, visitors and locals are inspired by the healthy lifestyles here to take their search for wellness to the next level and relieve stress. Wellness is more than just scheduling a visit to the doctor for a runny nose; it's a conscious, self-directed process through which people become aware of, and make choices toward, a more healthful lifestyle including physical, mental and spiritual well-being. Check out our favorite ways to elevate health and wellness in Breckenridge!
Health and Wellness in Breckenridge
Yoga
Meta Yoga Studios 
Meta Yoga offers over 50 classes per week with around 15 main teachers. As the oldest dedicated yoga studio in Breckenridge and Summit County, Meta delivers a variety in yoga, wellness and fitness, with something for every body and experience level. Join them in studio or out on the water this summer for stand-up paddle board (SUP) yoga on the Maggie Pond!
Breckenridge Recreation Center
The Breckenridge Recreation Center makes it easy for visitors and locals to drop in, with plenty of options to come out to play for just one day or every day. The Breck Rec Center offers day passes, punch passes or monthly memberships that include not only yoga classes, but any other activity you'd like to try. This is a great way to try something new or bring the whole family- just add a yoga class on to a full day at the rec center with swimming, exercise or a selection of other activities.
Learn more about yoga in Breckenridge!
Massage, Facials and Spas
Soothe Spa
Soothe Spa at the Grand Lodge on Peak 7 is located just steps from the Independence SuperChair. Soothe is the perfect retreat for those looking for a relaxing day off the slopes or a wonderful way to unwind after a day on the slopes. Open year-round, Soothe offers a variety of treatments including massage, body treatments, skin care services, microdermabrasion, waxing and natural nail care. Guests of the spa are invited to relax in their Comfort Room and enjoy the Grotto, which features a salt water hot tub with a waterfall, a eucalyptus-infused steam room and a cedar sauna.
The Spa at Breckenridge 
The Spa at Breckenridge is a Colorado mountain spa at the base of the Snowflake Chairlift. Drawing its inspiration from the magnificent mountains and lodgewood pine forests, The Spa at Breckenridge creates a true Mountain Spa experience. They combine world-renowned Aromatherapy Associate products with skilled professional massage therapists to guide you into new levels.
Samadhi Healing Arts Studio
Samadhi is a holistic wellness spa offering a variety of services including therapeutic massage, Thai facials, detoxifying body treatments and yoga. Their purpose is to guide you physically and emotionally with the process of establishing inner peace and holistic health. Whether you looking for relaxation, relieving muscle tension and fatigue, or to improve your general wellness, their exclusive staff of service providers will customize treatments to specifically address your needs.
Find more ways to relax and rejuvenate in Breckenridge.
Acupuncture and TCM (Traditional Chinese Medicine)
Acupuncture and TCM have been practiced for thousands of years and the healing benefits have been recognized in the US for many decades now. Local practitioners combine acupuncture (the insertion of very thin needles into specific points in the body to improve energy flow) with Traditional Chinese Medicine. TCM includes the use of herbs, tinctures (concentrated liquid herbal extracts) and other modalities to alleviate pain and address a variety of health concerns to contribute to a greater feeling of well-being.
Balanced Crane Acupuncture 
Lynne Drakos of Balanced Crane Acupuncture is the longest practicing acupuncturist in Breckenridge. Many visitors come to Lynne for sports-related injuries and symptoms related to high altitude. Those in the know seek her herbal remedies to help adapt to altitude before arriving in Breckenridge. Part-time residents also visit Lynne for treatments and then follow up with their local practitioner back home.
Breckenridge Acupuncture 
Jane Matthews of Breckenridge Acupuncture has also been practicing in Breckenridge for many years. She specializes in acupuncture for the treatment of sports injuries and chronic pain, and also helps patients with allergies, digestive disorders, stress, insomnia, and more.
Be Your Own Guru Wellness Center
Katherine at Be Your Own Guru offers pathways toward renewal, balance and vitality. From private and group yoga, reiki, tarot, acudetox (NADA Ear Acupuncture), sound baths and crystal attunements, you're sure to find the perfect package to align yourself in Breckenridge. Find them in the pink and purple building on the south end of Main Street, upstairs next to Main Street Sports.
Herbal Medicine
Ambika Herbals 
Using native plants found in the Breckenridge area, local practitioner Erica Ragusa of Ambika Herbals creates tinctures, salves, elixirs and "mock-tails" to create healing modalities. She infuses wild rose into an elixir with honey and brandy to aid with digestion and cramping. For massage, the non-psychoactive ingredient in cannabis (CBD) is made into a salve for pain relief and to reduce inflammation. Erica creates another salve from a locally abundant wildflower, Fireweed, which is effective on hot, itchy skin conditions. Want to try making your own? Ambika Herbals offers classes and workshops on herbals at the Breckenridge Arts District.
Discover other made in Breckenridge goods!
Reflexology
After spending a day in ski boots, nothing sounds better than a foot massage. Reflexology is a foot massage of a higher order: it's the gentle manipulation or pressing on certain parts of the foot to produce an effect elsewhere in the body. Many local massage therapists offer reflexology including Blue Sage Spa on Main Street and Sol Impressions Massage and Facials.
Reiki and Energy Work
Reiki energy balancing is a subtle form of hands-on energy work, which awakens life-force energy throughout the body. Reiki masters claim that the practice helps bring the body to a state of deep healing that nourishes and balances one's body, mind, emotions and spirit. Reiki is offered at several area massage studios including Breckenridge Mountain Massage, Be Your Own Guru Wellness Center and Harmony Health Massage. Inanna Hall at Harmony Health also offers cranial sacral massage and harmonic sound healing.
Physical Therapy
Breckenridge is home to some of the best athletes in the world, so it's safe to say we have some of the best physical therapists too! But for the majority of us on a less extreme level, we need to stay in top shape for our weekend adventures and morning skins.
Axis Physical therapy 
Established in 2012, Axis is a therapist owned and operated physical therapy company. Their philosophy began over 30 years ago with the vision of two Olympic Ski Trainers, Topper Hagerman and John Atkins. Their passion for helping world class athletes overcome challenges and return to competition is the foundation of this innovative team. Today, they are recognized for both employing the highest number of advanced certified physical therapists in the state of Colorado and providing an energizing and progressive therapeutic environment, which offers the highest standard of outpatient physical therapy.
Howard Head Sports Medicine 
Howard Head has been providing world renowned physical therapy since 1990. With 11 locations in Eagle and Summit counties, their patients benefit from innovative physical therapy techniques, state-of-the-art equipment and experienced physical therapists. As the official medical provider for the US Ski & Snowboard and USA Climbing teams, Howard Head Sports Medicine gets you back to doing what you love.
Chiropractic
Chiropractic is a form of alternative medicine mostly concerned with the diagnosis and treatment of mechanical disorders of the musculoskeletal system, especially the spine.
Allied Chiropractic and Massage
Allied Chiropractic is the longest operating chiropractic office in Breckenridge, treating locals and visitors for the past 25 years. Dr. Hebert took over the practice in 2000 and has carried on the tradition of treating high country locals, professional and Olympic athletes as well as the many visitors Summit County welcomes yearly. Allied also offers massage, cupping, Electric Muscle Stimulation to aid in the relaxation of the muscles and custom orthotic fitting.
Breckenridge Recreation Center
The newly renovated 88,000 square foot Breckenridge Recreation Center offers a variety of athletic and community activities. With a new fitness wing with expanded cardio deck, weight room, circuit training space, Baker's Tank suspension training studio, and Wheeler cycling studio, they have it all. The Recreation Center is also home to a gymnasium, racquetball court, indoor rock-climbing wall, indoor track and aerobic/dance studios. The aquatics area features lap and leisure pools, the Summit Plummit water slide, coed sauna, steam room and indoor and outdoor hot tubs.
Outdoor amenities include the new Breckenridge Tennis Center, lighted softball fields, turf and grass soccer/rugby fields, playgrounds, basketball courts and skateboard park.
Learn more about the Breckenridge Recreation Center.
For more activities to elevate wellness, check out 100 things to do in Breckenridge this summer and the best winter workouts!
The Breckenridge Tourism Office works to enhance and promote the unique character and experience of Breckenridge as a world-renowned destination resort and to represent, serve and perpetuate the common interest and character of its membership and community.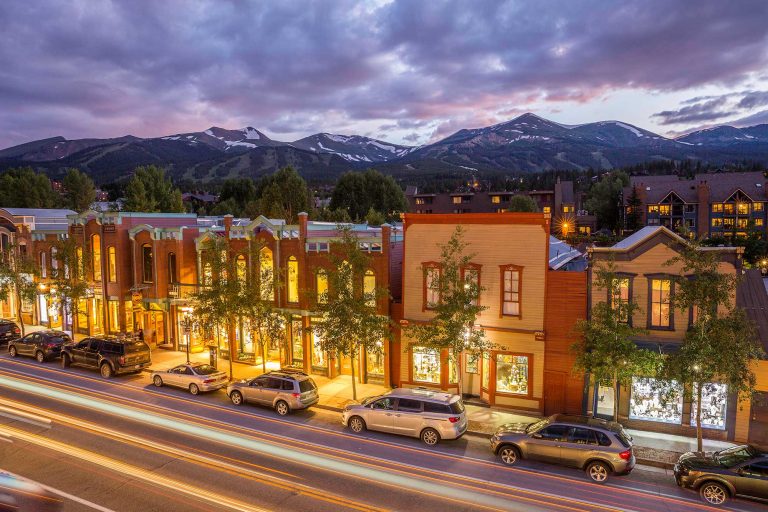 Embrace The Spirit
BLike Breckenridge™️ is a movement born of the spirit of our historic mountain town for those who call it home—whether for a weekend or a lifetime—to live by. It is a cause that connects us to each other, that we can all be a part of.