Breckenridge Whitewater Rafting Tips
Whitewater rafting season arrives in Colorado every spring. When it rains and snows a lot in April and May or if we have a quick warm-up in the spring, Mother Nature will provide an early start to the whitewater season. Otherwise, rafting season usually ramps up in June near Breckenridge. Here are nine whitewater rafting tips to help you make your next trip a success.
1. Pick the appropriate trip for your group.
Think about everyone in your group. First, choose the appropriate difficulty level. Considerations should include physical fitness, swimming ability, age, rafting experience and desired challenge. Next, choose the best length of trip. Choices include half-day, ¾-day, full-day and multi-day trips, the latter of which you raft consecutive days while camping along the way. Finally, consider where you want to raft based on its proximity, quality of the trip and week you are going; some trips are better than others based on changing water levels.
2. What do water levels really mean, and how do they affect whitewater rafting?

In Colorado, the water in our rivers comes from melting snow. Typically, rivers are low in May prior to the runoff. Starting around the middle of May, our rivers usually begin to rise and come to a peak in early June. Then they gradually drop until the end of August, when it may become too low to raft. Contrary to many people's assumptions, higher water levels do not necessarily lead to more difficult rapids; each section of river is different.
3. Choose the right outfitter.
The quality of the equipment, how many years the outfitter has been in business, how experienced their guides are, the location of their facility and the variety of trips offered are all important. Ask about these when you call an outfitter, and consider the quality of their operation based on their features and by reading reviews on sites such as TripAdvisor and Yelp. You can learn a lot from previous guests.
4. Decide when to raft.
Which summer month you choose will dictate the water level. Many trips are only available at certain water levels. At high water, some trips may be unavailable while others are at their best. At low water, only some trips may be possible. If you choose a half-day trip, the morning will typically provide the best weather.
5. Be prepared — you'll have more fun!
Wear quick-drying clothes such as nylon shorts, synthetic fleece or wool, and shoes or sandals with a heel strap. You may want to bring sunscreen, lip balm, sunglasses with a strap, waterproof cameras, drinking water, hats and a change of clothes with a jacket in case it's chilly at the end of the trip. Most good outfitters will have these items available for purchase before your trip and will have wetsuit gear available for rent when needed. Don't wear flip flops or Crocs, and try to minimize wearing cotton clothing; it makes you colder when it's wet. Don't bring valuables on the river.
6. Know what to expect.
Can I just sit and hold on? Most beginner and intermediate rafting trips allow the option for passengers to sit and hold on while the guide uses oars to control the raft, or you can paddle along with the crew in response to your guide's commands.
Advanced and expert raft trips require all passengers to paddle well to maneuver the boat, as a team, in response to your guide's paddle commands.
7. Can I bring my young child?
The rafting industry has evolved to become much more family-friendly over the past 10 years. Nowadays, you can find beginner raft trips appropriate for kids as young as 2 years old. These will be shorter and include a few splashes, but will mostly be a calm cruise while enjoying the scenery.
8. Where is the best rafting in Breckenridge?
There are several excellent rafting options within an hour's drive of Breckenridge, and they vary greatly. Most people choose America's most popular river for whitewater rafting, the Arkansas River, about one hour from Breckenridge.
9. Insider's tip — What most guides/outfitters won't tell you!
While a lot of emphases is placed on choice of trip based on your group's ability level, your guide is the biggest factor to a great trip. An experienced guide can effortlessly make your trip memorable as it relates to sharing interesting local information, running the best parts of the rapid instead of skirting the biggest splashes, and helping everyone feel comfortable. Most importantly, their ability to avoid problems, or react well if problems occur, is the best way to minimize the inherent risk involved in whitewater rafting.
If you enjoy your whitewater rafting experience, a gratuity for the guide is always welcome. We look forward to seeing you on the river this summer.
About the author
Mark Hammer, owner of The Adventure Company, was a rafting guide for 16 years before purchasing the business in 2003, giving him 26 years of experience on the river. The Adventure Company is located on the Arkansas River in Buena Vista, just an hour from Breckenridge.
http://www.theadventurecompany.com
800-497-RAFT (7238)
Visit The Adventure Company on Facebook and YouTube for photos, video and updates on whitewater rafting in Colorado.
For more information on the best rafting companies and what to do during the summer, contact the Breck Information Specialists at 877-864-0868.
_______
This story is part of a series of posts based on the most popular questions from our readers and visitors to the Breckenridge Welcome Center.
The Breckenridge Tourism Office works to enhance and promote the unique character and experience of Breckenridge as a world-renowned destination resort and to represent, serve and perpetuate the common interest and character of its membership and community.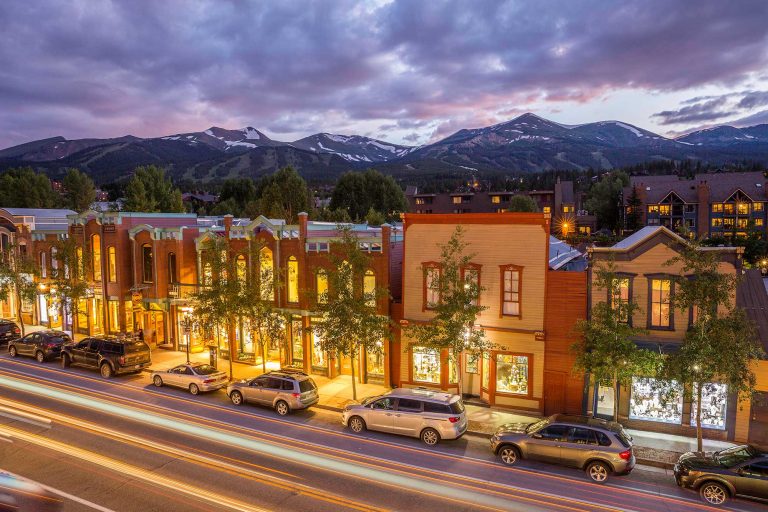 Embrace The Spirit
BLike Breckenridge™️ is a movement born of the spirit of our historic mountain town for those who call it home—whether for a weekend or a lifetime—to live by. It is a cause that connects us to each other, that we can all be a part of.