Breckenridge, Colorado is home to one of the biggest and most renowned ski resorts in the United States. This fact often leads people to think of the town of Breckenridge as just a gorgeous ski town with little else to offer. But the truth is, you don't have to ski to enjoy Breckenridge! While it is indeed a mecca for skiing and snowboarding (and rightfully so), that makes up only a small fraction of what this jaw-dropping community nestled in the Rocky Mountains has to offer. Here in Breckenridge, we pride ourselves on our historic charm, Arts District, seemingly endless activities, events and world-class dining options. Find out why Breckenridge is a first-rate destination that both skiers and non-skiers can enjoy during the winter.
Why Breckenridge is More Than Just a Ski Town
Historic Downtown Breckenridge
Breckenridge is an authentic mountain town (not a cookie-cutter village created by a ski resort) with a rich heritage and history dating back to the gold rush of the mid-1800s. The energetic and picturesque Main Street is fun to explore year-round with its extensive variety of shops, restaurants, and entertainment. From local craftsman to local craft beers, creativity and artistic entrepreneurship runs high in this mountain town.  At night, Main Street sparkles with colorful lights and an upbeat vibe. The town also hosts many signature festivals that punctuate the calendar throughout the year. From the International Snow Sculpture Championships to Ullr Fest (a party in honor of the Norse god of snow), Breckenridge events give visitors and locals many reasons to celebrate.
If you're a history buff, Breckenridge is home to more than 10 local museums and historic sites that serve as a window into Breckenridge's deep, gold mining past. Whether on a walking tour or browsing through local museums, you'll meet Colorado's original naturalist, a slavery escapee-turned-prominent businessman, and the townsfolk that still haunt some of Breckenridge's oldest saloons (visit Breckenridge History for a list of sites, museums, and tours).
The Arts District
The Arts District truly separates Breckenridge from many of its ski town contemporaries. Breckenridge Creative Arts, lovingly dubbed "BreckCreate," was developed by the town to support and promote arts, culture, and creative experiences throughout Breckenridge. They offer a continuous and abundant slate of art workshops, classes, studio time, theater, walking tours, and musical events. Visitors have the opportunity to work with artists-in-residence, catch a performance by the award-winning theater company, or make your own jewelry, pottery and crafts. Check out the Breckenridge Creative Arts Calendar for a schedule of off-the-slopes arts events.
Music, Movies & Theater
Love live music? Head over to the 750-seat 
Riverwalk Center
 for a concert or head to 
Breckenridge's local bars
 to see local bands in a quaint setting. If you're more into theatre, catch a performance at the 
Backstage Theatre
 for professional live shows. The 
Eclipse Theater
 (formerly the Speakeasy) is Breckenridge's only movie theater and 
Breck Film's
 new permanent home. Catch a screening of a variety of blockbuster, indie, classic, foreign, and outdoor films year-round.
Check out more indoor activities in Breckenridge!
World-Class Dining
There are a countless number of incredible eateries in Breckenridge. The food options in this town cater to every palate and taste bud, so no matter what you're craving, you are bound to find a restaurant that satisfies. Breckenridge doesn't play into the old ski town stereotype of only being home to burger and pizza joints (but we have those too). With a world-class destination comes a world-class culinary experience.  In the last year, Breckenridge has had a handful of new restaurants open in town.  If you are looking to savor every bite don't miss: Ember (fine dining with modern American cuisine), Briar Rose Chophouse (mouth-watering steaks), Swiss Haven (fondue – you can't go wrong), and La Francaise French Bakery (their chocolate beignets are to die for).  In addition to Breckenridge's scores of great restaurants (a rarity for a ski town), the local Colorado Mountain College also offers hands-on cooking classes for foodies looking to create their own wonderful meals. From basics such as knife skills to advanced techniques, classes include one-day and multi-day options.
Year-Round Events
In Breckenridge, we know things are more fun when you do them together.  That's why we've packed our event calendar full of competitions, concerts, celebrations, parades and week-long special events.  Because, bigger is better doesn't just apply to the snowfall.
Top Winter Festivals and Events in Breckenridge:
Endless Off-Mountain Recreation Activities
It truly is impossible to include all of the activities available for people to experience in Breckenridge in one article. Even if you don't ski or snowboard, there are innumerable amounts of adventure to be had off the slopes. Explore miles of snowshoeing and cross-country skiing trails in the peaceful national forests that surround Breckenridge. The beautiful, new Nordic Center offers cross-country skiing and snowshoeing, both on your own or with a tour guide who will teach you all about the history, ecology, and wildlife of the area. Experience a dogsled tour or hear the sleigh bells jingle on a starlit dinner sleigh ride through the forest. Adventure-seekers can fire up snowmobiles and kids can get parents giggling with a little sledding at Carter Park. Skate the day away at the Stephen C. West Ice Arena where there are two rinks, skate rentals, and a concession stand. This indoor arena is open year-round for hockey, ice skating practice and team training.
Help us care for our natural surroundings by following Leave No Trace principles when heading into the outdoors.

If you're looking for a great way to play indoors on cold days, the 69,000-square-foot Breckenridge Recreation Center offers a wide variety of indoor recreation options including free weights, weight machines, cardio equipment, fitness classes, a racquetball court, basketball courts, two climbing walls, an aquatics center with a water slide, tennis courts, an indoor track and more. Meta Yoga, a dedicated yoga studio, offers daily drop-in classes for all levels. Punch passes and one-week visitor memberships offer the best deal for those who plan to take several classes during a trip to Breckenridge. Additionally, more than 13 spas and wellness centers offer a variety of treatments including massage, aromatherapy, acupuncture, and more.
Top Winter Activities in Breckenridge for Non-Skiers:
Start checking off your bucket list with even more winter activities besides skiing and our top 100 Things to Do this Winter in Breckenridge. Be sure to stop and say hello at the Breckenridge Welcome Center for more ideas, maps and current trail conditions too!
The Breckenridge Tourism Office works to enhance and promote the unique character and experience of Breckenridge as a world-renowned destination resort and to represent, serve and perpetuate the common interest and character of its membership and community.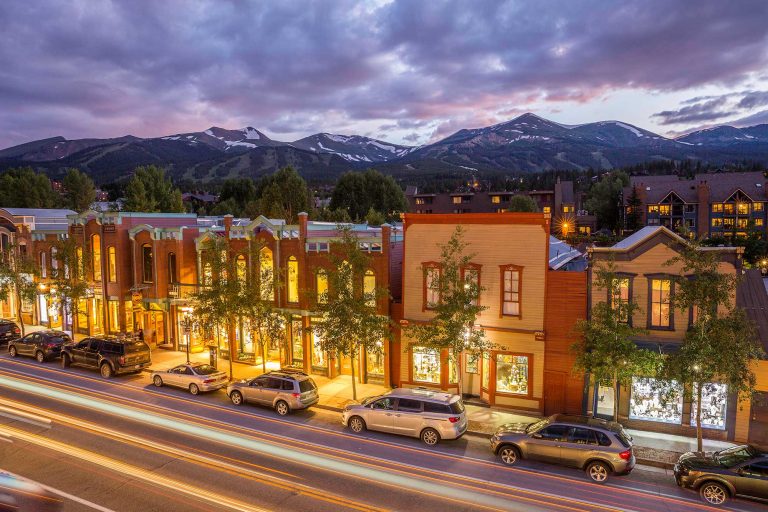 Embrace The Spirit
BLike Breckenridge™️ is a movement born of the spirit of our historic mountain town for those who call it home—whether for a weekend or a lifetime—to live by. It is a cause that connects us to each other, that we can all be a part of.