Breckenridge offers a unique blend of relaxing and energizing activities, making it the perfect location to enjoy a "DIY Mini Rejuvenation Retreat." Moving beyond its claim to fame as a historic ski town known for its world-class skiing and mountain biking, Breckenridge is rapidly becoming a wellness and cultural mecca for a variety of palettes. So take time to relax in Breckenridge and start your mini-wellness retreat in the mountains to rejuvenate and reset.
In this quaint town of 3,500 residents, you can find everything from day spas, yoga and Pilates studios, chiropractors, acupuncturists, nutritionists, reiki and energy healers, Ayurvedic services, hydro tubs, oxygen bars, vegan and gluten-free friendly eateries, a state-of-the-art Cycling Lab and Fitness Center and art, music, healthy cooking classes, in addition to outdoor recreation options and incredible views. Plan your trip around one of the many arts and cultural festivals hosted by the Breckenridge Tourism Office, the Town of Breckenridge and Breckenridge Creative Arts. Take a look at some of our favorites:
Relax in Breckenridge: DAY 1
Morning:
Start your day off right with an hour of
Refreshed from yoga, grab an organic brewed cup of eco friendly coffee next door from Cuppa Joe or head to Lolo Juice in the Main Street Station for the What's Up Doc fresh juice combo or try the Emerald for a heartier breakfast smoothie. Look for the sign on the door "Nutrition for the Gnarr." For a sit-down coffee, the The Crown on Main Street offers a variety of breakfast options in addition to a large selection of gourmet teas and coffee drinks. Order the Power Toast or Peerless Breakfast Burrito and grab a spot on the back patio in the warmer months.
After your recharge, grab a Summit Daily, the free local paper, to find out what's happening in town from arts classes, live music and sports to community events and fundraisers. Try a pottery throwing class through BreckCreate to get into a meditative head space, or test your skills at woodworking. Casually stroll along the water by the Blue River Plaza to find a spot to soak in views of the Ten Mile Range and the fresh mountain air, then explore the colorfully landscaped paths created by the local Garden Club with a couple secluded benches for some time to reflect.
Top off your rejuvenating day with a visit to the Breckenridge Creative Arts Campus off Main & Ridge Street. Check to see if they're offering the Crafting Herbal Elixirs Workshop and learn to make your own Mocktails – non alcoholic-herbal infusion- drinks with locally sourced herbs and essential oils. Instructor and Local Herbalist and Massage Therapist Erica Ragusa offers locally made oils, teas and salves created to support healing and overall health and wellness. Or find another Breckenridge Create class to get your creative juices flowing.
Mid Day:
Balance out your relaxing morning with some mid-day recreation. Stop by Mountain Outfitters on Ridge Street to grab a local trail map and any gear you need for your excursion. The Burro Trail across from Beaver Run Hotel parking lot offers hiking, running, biking, snowshoeing and cross-country trails easily accessible to town. For more views and vistas overlooking town, grab the free local bus up to Baldy Mtn. Road and take the trail out to explore the high alpine terrain and historic mining sites.
Evening:
Start the evening with a healthy cup of tea from the
View More Spas in Breckenridge
Round out your day at Relish, with food made with love, serving farm-to-table Colorado Inspired Cuisine by Chef Matt Fackler and his team. In the summer, grab a seat on the patio overlooking the Blue River Plaza.
Relax in Breckenridge: DAY 2
Morning:
Rise and shine on day two of your retreat with a morning mediation class back at Meta or, in the summer, try Stand Up Paddle Board Yoga on Maggie or Rounds Pond. For homemade baked goods, breakfast sandwiches and a conscious coffee, sit on the patio at Amazing Grace Natural Eatery. Gluten Free and vegan sweets are in demand down the street at Clint's Bakery.
For your mid morning-vitamin D, the signed trails around French Gulch offer the perfect escape to the woods without having to venture too far from Main Street.
Carve out time in the morning for a Wellness Consult with Lynne Drakos, Summit County's Longest Practicing Holistic Practitioner and Acupuncturist. Her services treat the whole person and not just the symptoms including: fibromyalgia, adrenal fatigue, joint pain/arthritis, cancer, skin conditions, auto-immune disorders, asthma and other breathing problems, anxiety and depression, insomnia, and allergies.
Mid Day:
After lunch, stop by the Fresh Soap Company for locally made soaps and scrubs. Grab a free sniff or two with Breckenridge Candle Cabin for relaxing locally made soy based candles and pick up a few made-in-Breckenridge gifts to keep your vacation vibe once back at home.
For an afternoon stretch, relax and restore your muscles from the hike, roll out your mat for a Yin Class, Restorative or Yoga Nidra. These classes can help improve sleep at night and create a clear energized mind and body during the day.
Continue the relaxing path at the Olive Fusion tea lounge before your Ashiatsu Barefoot Massage and aromatherapy at Harmony Health Massage and Wellness Spa. For more pampering, add on the Bliss Facial and Harmonic Sound healing to help balance your energy centers.
Evening:
No vacation is complete without chocolate. Top off your nourishing weekend with weekly live acoustic guitar along side a sampling of gourmet cheese, chocolate and wines at Ridge Street Wines and Breckenridge Cheese and Chocolate
Once you've had your fill, pick up your ticket for a performance at the Riverwalk Center or Backstage Theatre. Check the schedule to see what entertainment is happening from comedy to orchestra performances to plays. Before calling it a night, enjoy the roasted beet salad and coconut curry soup at Modis on main street,  or take advantage of Blue River Bistro's late-night happy hour featuring 2 for 1 apps and martinis, accompanied by live blues and jazz music on the weekends from 5-10pm.
~
Come for the clean mountain air, but stay for the variety of nourishing, healthy, pampering health and wellness services. Breckenridge is sure re-kindle your spirit, support a healthy lifestyle and refuel your tank. Not only will you leave rejuvenated and refreshed, you might even learn a little about your overall health and keeping that balance going throughout the year. Remember, leave your car at home to enhance your stress-free vacation- everything is centrally located for you to enjoy free public transport around town.
The Breckenridge Tourism Office works to enhance and promote the unique character and experience of Breckenridge as a world-renowned destination resort and to represent, serve and perpetuate the common interest and character of its membership and community.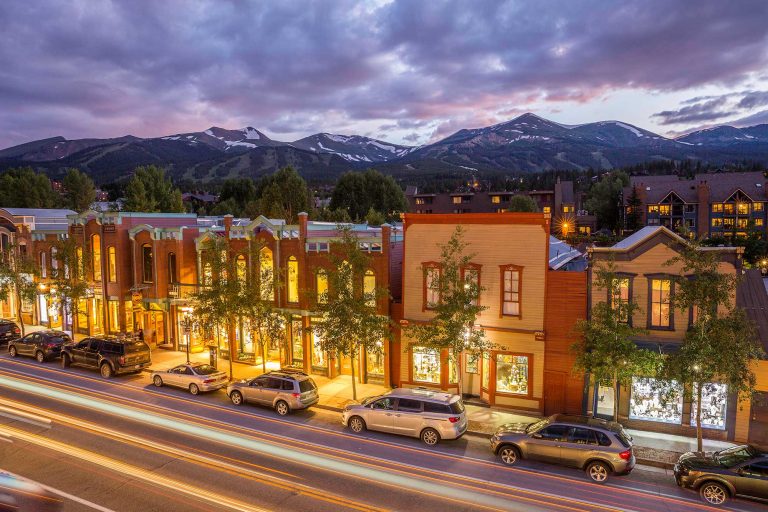 Embrace The Spirit
BLike Breckenridge™️ is a movement born of the spirit of our historic mountain town for those who call it home—whether for a weekend or a lifetime—to live by. It is a cause that connects us to each other, that we can all be a part of.