Breckenridge is sometimes called the "playground" of Colorado. That's true for kids of all ages, but is especially true for younger kiddos. The youngsters know what they want and when they want it (now, of course). From underground adventures to rafting, here are our favorite kid approved activities in Breckenridge that toddlers and young kids will love.
Kid's Activities in Breckenridge
Exploring Breckenridge's Parks
High Line Railroad park and playground features the historical Engine No. 9, which sits on the original High Line track that came into Breckenridge from Boreas Pass. It includes a restored rotary snowplow, one of only five known narrow-gauge rotaries still in existence; back in the day, it cleared snow on the track. The new, colorful playground just behind the train will provide plenty of giggles, while the engine and cars are a great places for candid family photos. In addition, there are parks throughout Breckenridge including Kingdom Park by the Recreation Center, the Blue River Plaza park in the heart of downtown, Carter Park by the sledding hill and Prospector park in front of the Edwin Carter Museum. Check them all off the list!
Swimming
The Breckenridge Recreation Center has plenty of toddler-friendly activities on its agenda like family gym time and and child-focused classes. Head to the pool and zip down the Summit Plummit water slide, or spend time in the shallow splashing area, perfect for the little ones. They even have a rope swing, whirlpool and basketball hoop, which are sure to make a splash. For parents looking to get in a quick workout, the rec center also offers childcare for children ages 2 months through 6 years; just make sure you call ahead for reservations.
Save the date for the first Friday of the month November-May for an evening of fun for everyone at 1st Fridays at the Rec center. Kids will enjoy an evening of swimming, pizza dinner and a movie. Other activities may include inflatables, indoor climbing and crafts — all for much less than a sitter and takeout at home.
Riding The Gondola
Riding the BreckConnect Gondola up to the base of peak 8 is an activity in and of itself if you have a toddler. Who wouldn't dream of flying high in the sky? During the summer, you can take the free gondola up the mountain to Breckenridge's Epic Discovery where you can zipline, play mini golf, cruise on the Alpine Coaster and more. In the winter, the ride is also free, but parking will cost you, unless you pull in after 3 p.m. Make sure you keep an eye out for wildlife on your journey up the mountain- folks have been known to spot moose and foxes meandering through the Cucumber Gulch wilderness area.
Exploring Town
One of the most scenic and photographed spots in Breckenridge, the Blue River Plaza, boasts a toddler sandbox, mini play area and a large grassy field, perfect for cartwheels and kite flying. Older kids will love splashing in the Blue River later in summer (be cautious of swift-moving water during the spring runoff). The adjacent Welcome Center offers free public bathrooms and a museum to explore. And, if you want a sweet snack, the Mountain Top Cookie Shop is just across the street.
Winter tip: The Blue River Plaza is still a great place for family photos in winter, and the Welcome Center museum is worth a stop. Consider a walk to the new Prospector Park at 112 N. Main St. It's a small park that receives less foot traffic than the plaza, which makes it a great spot for toddlers to play in the snow.
Escape rooms
Seek clues, solve unique puzzles, answer questions and work together to try to escape! Choose from three family-friendly themes at Mountain Time Escape Rooms (add on holograms or computer-generated imagery). Join friends or strangers in a locked room at Escape Room Breckenridge and pool your wits to solve riddles and uncover clues in a race against time.
Sledding
When it comes to winter activities, tubing and sledding are always a family favorite. A day playing in the snow is a free way to enjoy the outdoors while giving your legs a break from skiing. Grab your toboggan, saucer or any slider or glider of your choice and get ready for a fun day of sledding at the Carter Park Sledding Hill or the new runway sledding hill on Fraction Dr. The sledding hills are free for all to use and is a perfect afternoon activity for kids – and kids at heart.
Ice Skating
Head to the Stephen C. West Ice Arena for open skate! Public ice skating is open daily on either their indoor rink year-round or outdoor rink October-April. Bring the whole crew- family and group discounts are available, as well as private and group skating lessons. Skate rentals are just $4!
View the public skate schedule
Rafting
Whitewater rafting may seem daunting, but because all trips can be tailored by age, ability level and sense of adventure, it's the perfect kid approved activity during the summer time. Choose the half-day option and opt for a mellower route- just ask your guides which trip is best for the young ones. They'll have a blast flowing down the rivers in and around Breckenridge, and you can take in the views!
Creating Arts & Crafts
Get the creative juices flowing and try something new with the kids. BreckCreate offers family-friendly classes and workshops including pottery throwing, candle making, glass blowing and more! Check the schedule for the lineup of activities and classes. Don't miss their other events like concerts, open studios and shows too. If you'd like arts and crafts delivered to your door, try Frosted Flamingo, a mobile art studio offering DIY project kits!
Touring Mines
Head just 2 miles outside town to the historic, restored Country Boy Mine, which offers underground mine tours and gold panning year-round! In the midst of the majestic Rocky Mountains, the Country Boy Mine was one of the largest and most famous gold mines in Breckenridge, Colorado. Today, enjoy the many activities the mine has to offer. Gold pan, pet the burros, slide down the 55 foot ore chute, explore the authentic mine site, view the exhibits and equipment that were used in the mine and visit the general store. Since the tour heads into a real mine tunnel, it doesn't matter what the weather brings.
Check out more family-friendly museums and historic tours in Breckenridge.
Heading to camp
As you plan your trip around family-fun activities this summer, take advantage of local summer drop-off programs while you're here! Whether you want a night away from the kids or need to tucker them out before dinner, they'll be in good hands experiencing nature, arts and crafts, games, field trips and everything else our mountain community has to offer.
Hiking
The greatest way to impart wonder and wanderlust in younger family members is to get them out on the trail. Hiking with kids can add a whole new layer of fun and excitement to your favorite activity. Let them lead the way on Breckenridge's easy hiking trails, find walking sticks, toss rocks, ask questions and feel at home in nature. For older kids, it's a necessary reboot—a way to unplug from devices and reconnect with the earth around them. Once you're done, check out these other summer activities, perfect for the whole family.
Trying Something New
There are plenty of ways to dash through the snow in Breckenridge. Whether it be on a horse-drawn sleigh ride with hot cocoa, a dog sledding adventure with adorable huskies, a winter snowshoe hike through the forest or a scenic, heated snow cat tour, your little ones are sure to have a blast. Check out more winter activities for families in Breckenridge. Discover more fun activities for your pint-sized adventurers in our Breckenridge Winter Family Guide.
Article originally written by Erin Opsahl and edited in 2021 for accuracy and updated content.
Family friendly Breckenridge
The Breckenridge Tourism Office works to enhance and promote the unique character and experience of Breckenridge as a world-renowned destination resort and to represent, serve and perpetuate the common interest and character of its membership and community.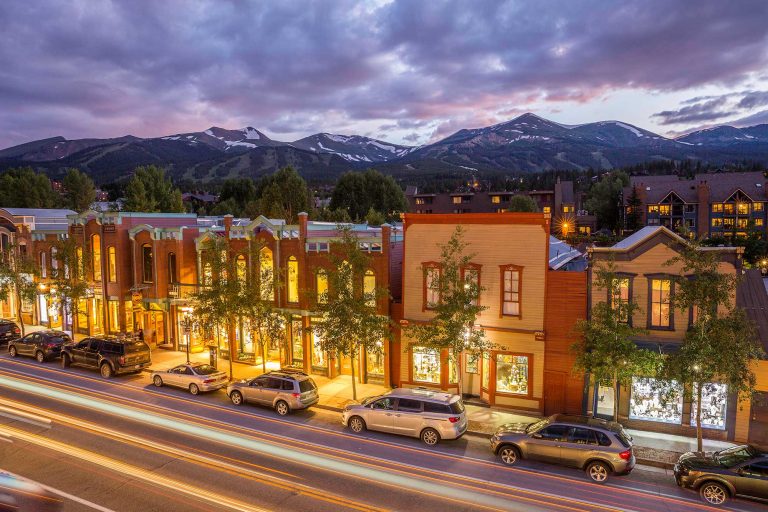 Embrace The Spirit
BLike Breckenridge™️ is a movement born of the spirit of our historic mountain town for those who call it home—whether for a weekend or a lifetime—to live by. It is a cause that connects us to each other, that we can all be a part of.