Beginner trails are a great way to spend your time in and around Breckenridge. Take in the views and, once you get the hang of the pitch and roll of the landscape, try out some of the recommended moderate hikes. If you're brand new to hiking in the Rockies, we've compiled some of the best easy hiking trails in Breckenridge. Be sure to review and follow Leave No Trace principles before heading out and be prepared for your adventure.

Easy Hiking Trails in and around Breckenridge
Iowa Hill Mine Trail
This easy trail is filled with history!  The trail winds through an abandoned mining site with historical artifacts and signage.  The hike starts with a gradual climb but there are lots of spots for breaks as well as benches. The last portion of the hike is all downhill. The Iowa Hill Mine Trail is only one and half miles total and is a loop so you won't get lost.
Distance: 1.2 mile loop
Directions: The trail can be accessed from Airport Road south of downtown. Simply look for the trailhead to begin near the public works building, and you are well on your way to giving your kids an adventure of a lifetime with this one.
Sawmill Trail
This short, easy hike is rich in views and close to town. This hike is well shaded by pine trees and has a gentle elevation gain that makes it perfect for beginner hikers as well as children.  The hike finishes with views of the Breckenridge Ski Area, 10-Mile Mountain Range and a reservoir that is perfect spot to relax and enjoy the views.
Directions: Walk up Four O'Cock Road to the Snowflake Lift or take the Yellow Bus Route of the Breckenrdge Free Ride to the base of the lift then follow the signs.
Sapphire Point
At a distance of about a mile and a half, Sapphire Point is an easy, fun and short hiking loop that offers unparalleled views of Summit County and Lake Dillon. It's one of the excellent easy hiking trails in Breckenridge for families with small children or older relatives.
Distance: 1.6 miles round trip
Elevation Gain: None
Directions: From the intersection of Main Street and Ski Hill Road/Lincoln Avenue drive north on Highway 9 approximately 5 miles to Swan Mountain Road. Turn right on Swan Mountain Road and drive for about 3 miles until you reach the top of the road. The trailhead is on the left side of the parking lot.
Indian Gulch Trail
Distance: 2.8 miles
Elevation Gain 318 ft
Indiana Gulch Trail is a 2.8 mile lightly trafficked out and back trail located near Breckenridge, Colorado and is good for all skill levels. The trail is primarily used for hiking and is best used from May until October. Dogs are also able to use this trail but must be kept on leash.
Sallie Barber Mine
A wonderful beginner-level hike that leads to the old Sallie Barber Mining site which sits above town and provides gorgeous views towards both Breckenridge and Keystone.
Distance: 2.8 miles round-trip
Elevation Gain: 393 feet
Directions: Head north on N Main St toward Wellington Road. Turn right onto Wellington Road and stay on Wellington Road for 1.1 miles. Continue straight onto French Gulch Road and follow the road for 2.7 miles until you arrive at the Sallie Barber Mine Trailhead on the right side of the road.
Blue River Rec Path:
This classic hike parallels the Blue River and provides stunning views of the Tenmile Range and Baldy Mountain as you walk alongside the peaceful Blue River.
Distance: Take the Blue River Rec Path as long or as short as you want. This path goes all the way to Frisco (9.6 miles one-way).
Elevation Gain: 300 feet
Directions: From the intersection of Main Street and Ski Hill Road/Lincoln Avenue drive west on Ski Hill Road for about 100 feet until you can take your first right off of Ski Hill Road into Wellington Lot. Park in Wellington Lot, and then walk towards Watson Avenue. Cross Watson Avenue, and then walk west until you've crossed the bridge over the Blue River. There will be a rec path on your right side, which is the start of your trail hike!
BOREAS PASS
Distance:  Boreas Pass follows the old railroad line and connects to the town of Como. This hike can easily be made shorter by turning around part way in and there are beautiful views just a few minutes out from the parking lot. It's gentle elevation, dirt road coverage and scenic overlooks make it a perfect hike for beginners, families and photographers.  Cars use this dirt road during the summer and fall months.
Distance: 17 miles one-way, out-and-back trail
Directions: From the Welcome Center, drive south on Main St.to the second traffic light and turn left onto Boreas Pass Road. Follow the road 3.5 miles until you reach the dirt parking lot where the trailhead is located. It is 3 miles to Bakers Tank, and 6.4 miles to the old Boreas Station at the top of the pass.
Reiling Dredge
This short, aspen-lined trail is great for beginners and takes hikers to the  Reiling Gold Dredge, a historic mining dredge boat last used in 1922. If you are looking for a longer hike, this trail connects to the B&B Trail and into a network of intersecting trails in the historic mining district.
Distance: 1-mile roundtrip, out-and-back trail
Directions: From the Welcome Center, drive north on Main Street two blocks and turn right onto Wellington Road. Follow Wellington road 1.1 miles to the intersection of Wellington and French Gulch Road. Stay right and follow French Gulch road as it turns to dirt and then continues past the Country Boy Mine on the right. From the Country Boy Mine, the entrance to the Reiling Dredge trailhead is 1 mile on the right. Follow the bridge across the creek to the Reiling Dredge and enjoy many of the intersecting trails in the historic mining district.
Blue Lakes Trail
This short hike offers waterfall views and a high alpine lake after a short hike.  The trail continues for those interested in a more strenuous hike.
Distance: Viewing walk of waterfall and high alpine lakes is .05 mile walk on the dam
Directions:  Drive south on Main St./Hwy 9 out of Breckenridge for 8 miles until you reach Blue Lakes Road/No. 850 on your right. Turn onto Blue Lakes Road/No. 850 and at the fork go straight for 2 miles on a rough dirt road. Parking is available where the road dead-ends at the dam at Upper Blue Lake. At the dam, there is a waterfall and possibility of mountain goats.
How to find the perfect hiking trail
CHOOSING A TRAIL
With hundreds of miles to choose from it can be hard to decide on which trails to explore.  Our best resources will give you ideas on where to go and how to prepare for your hike.
You can find brag-worthy climbs, big views and more on any of the 200+ miles of trails in Breckenridge. Here are our favorite resources to check while choosing a trail.
Coming to town soon?  Stop by and pick up a trail map from the Breckenridge Welcome Center.
The Breckenridge Tourism Office works to enhance and promote the unique character and experience of Breckenridge as a world-renowned destination resort and to represent, serve and perpetuate the common interest and character of its membership and community.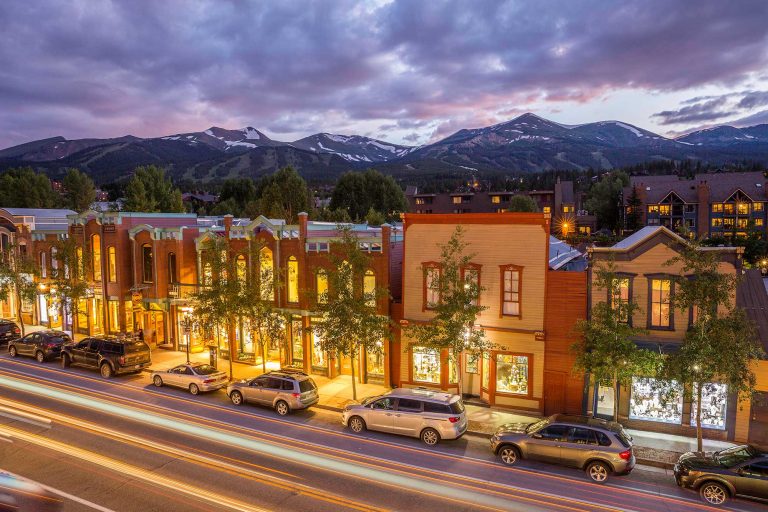 Embrace The Spirit
BLike Breckenridge™️ is a movement born of the spirit of our historic mountain town for those who call it home—whether for a weekend or a lifetime—to live by. It is a cause that connects us to each other, that we can all be a part of.