11 Breckenridge Foodie Favorites
Breckenridge is known for its delectable dining scene, from farm to table eats to sweet, delectable treats. These 11 Breckenridge foodie favorites are sure to get your taste buds tingling- here's where to find the best regionally sourced, seasonally focused and thoughtfully chef-driven menus in Breckenridge.
Hearthstone
The romantic Victorian décor, the Colorado-inspired cuisine, the wide mountain views—nearly everything at Hearthstone is elevated. Reserve a window seat and celebrate special occasions (or just life itself) over naturally raised game, sustainably caught seafood and farm-to-fork garden sides.
Cabin Juice
Seek out ultra hip Cabin Juice inside the modern social space and bespoke hotel Gravity Haus. Ingredients are sourced from small Colorado farms and barrel-aged cocktails invoke lingering dinners. Don't miss the avocado toast with arugula, egg and chia in the morning and the smoky roasted eggplant dip and grass-fed burger later in the day.
Ember
This Breckenridge foodie spot stands out with an artistic take on global cuisine. Join in owner and chef Scotty B's lively culinary adventure through seasonally spurred offerings such as the delectable elk with blue cheese mashers, white asparagus salsa, pine cone syrup and smoked mushroom and bacon fat hollandaise.
Piante Pizzeria
Vegans rejoice! Organic, plant-based and wood-fired Italian goes gourmet at Piante Pizzeria. Wholesome and sustainable cravings are answered with housemade smoked organic cashew mozzarella, pea protein and seitan "meats," and shiitake mushroom bacon. Even hardcore carnivores love the creamy white pizza with house mozzarella and cashew ricotta, garlic, shitake bacon and arugula.
Twist
Epicurean comfort food and a menu that sings with the seasons is the draw at Twist. Chat up knowledgeable bartenders and locals over the creative cocktail of the evening. Treat yourself to a bone-in smoked pork chop or the seared sea scallops. Or share a variety of pleasing happy hour plates from 4 to 6pm.
Relish
Colorado flavors are king at Relish with regionally grown produce and ranch-raised game commanding the ever-evolving menu. Dine on spiced duck confit, Waygu Manhattan Colorado steak and Moroccan lamb shank. Visit between 4 and 6pm for a long list of happy hour mix-and-match specials.
Briar Rose
When nothing but the finest USDA steak, chops and prime rib will do, head to the Briar Rose Chophouse & Saloon. Family-style classic sides—think creamed spinach and the gooiest baked mac n cheese—and a long list of stiff martinis and worldly wines round out the sophisticated experience at this historic landmark.
Aurum Food & Wine
Part of Ridge Street's restaurant renaissance, Aurum Food & Wine is a date night pearl with glowing golden décor and upscale contemporary American eats. Indulge in shared plates of hamachi crudo, foie gras and curried PEI mussels.
Legends Steak and Italian
Settle into the nostalgic Chicago supper club ambiance at Legends Steak and Italian. Sinatra plays on the speakers while serious steaks sear on the grill and servers in white coats uncork bold wines. Happy hour buzzes with deals on Tuscan grilled oysters, fried gnocchi and citrus herb marinated olives.
Carboy Winery
Attached to the Gold Pan Saloon, Carboy Winery serves playful flights and creative meat and cheese boards. Main dishes include Rocky Mountain trout and grilled beef shortrib and the swirling frosé machine is always a hit.
Mountain Flying Fish
Some of the freshest sashimi and nigiri in the county can be found at Mountain Flying Fish. Chef and owner Tetsuo trained in Japan under master chefs and uses only the highest quality fish. Sit at the chic sushi bar and ask about the daily catch.
The Breckenridge Tourism Office works to enhance and promote the unique character and experience of Breckenridge as a world-renowned destination resort and to represent, serve and perpetuate the common interest and character of its membership and community. Lisa Blake is a regular contributor. The Breckenridge-based freelance writer, editor and mom enjoys researching and sharing stories on health, wellness, dining and the outdoors. Find her work in Breckenridge Magazine, The Purist, 5280.com, and at lisablakecreative.com.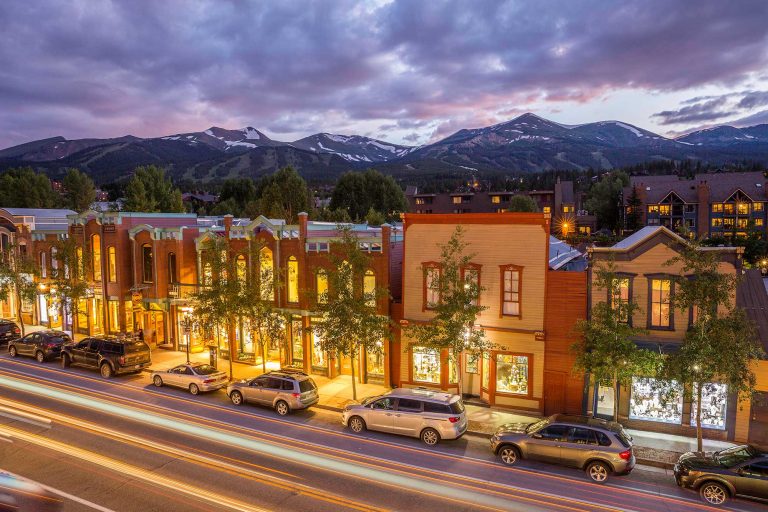 Embrace The Spirit
BLike Breckenridge™️ is a movement born of the spirit of our historic mountain town for those who call it home—whether for a weekend or a lifetime—to live by. It is a cause that connects us to each other, that we can all be a part of.