Guided hikes are a perfect way to add a fun educational component to hitting the trails and explore new areas.   Many guided hikes in the area cover local history, forestry, wildlife, wildflowers, safety as well as technical skills for hitting the trails year-round.  Guided hikes are offered yearround and are a great way to meet new friends while exploring Breckenridge's extensive trail system.  Learn about guided hikes offered in Breckenridge.
Summer & Fall Guided Hikes
Whether you're interested in history, wildflowers, waterfalls or scenic views, there's a hike for you in Breckenridge.
Guided & Private Educational Hikes
Summit Nature Hikes is a non-profit service that leads small groups of 1-5 on planned nature hikes through one of several Colorado National Forests found near the I-70 mountain corridor. All hikes are led by interpretive nature guides and begin in the morning and return to the trailhead by mid or late afternoon. While nature hikes are designed to meet the physical abilities and experience level of participants as much as possible, most guided hikes will be a total of 3 to 11 miles.
Free Educational Group Hikes
Join Naturalist from the Town of Breckenridge Rec Center on a free guided hike. Hikers can expect a two hour easy to moderate guided hike where they'll learn about wildflowers, wildlife, mining history and preserving our natural resources.  Guided hikes are offered throughout the week during summer months. Registration is required to participate.
Guided Hikes With A Historic Focus
Join a local expert to explore the history of Breckenridge! From a rough and tumble mining camp, to a civilized Victorian town, to a hippie haven, and now an international resort destination, there's history on every corner. We offer guided walking tours, hikes, and snowshoe adventures as well as mine tours and Victorian teas. There's something for everyone – families, couples, explorers, and those just strolling through town while the rest of their group is on the trails.
Chair Lift Up & Hike Down at Breckenridge Ski Resort
Minimize exertion by combining a summer chair lift ride with a free hike at the Breckenridge Ski Area. Buy a lift ticket and take the scenic Colorado Chair to the Discovery Camp on Peak 8, where you'll meet up with a Ranger for a guided outing into the alpine zone offering distant views and beautiful wildflowers.
Private Guided Hikes & 14ers
Colorado Adventure Guides offers a variety of outings, from easy hikes to major peak bagging expeditions. They're the only guides authorized by the U.S. Forest Service to take guests to the top of the major Fourteeners in our area. Those would be mountains above 14,000' in elevation, like Quandary Peak just south of Breckenridge. But high peaks aren't the only expedition that CAG offers, they have snowshoeing, biking, trail running, split-boarding and more! No matter what you choose, CAG's professional guides will ensure that you have a fun and safe experience, while sharing their impressive knowledge of mountain history and geography along the way.
Winter Guided Hikes
When snow covers the landscape hikers turn to snowshoes or cross-country skis to hit the trails. A professional guide knows the way and will make your snowshoe or ski adventure that much more fun.
Groomed Trails
Breckenridge boasts more than 50 kilometers (30 miles) of perfectly manicured cross-country skiing and snowshoeing trails between the town's two Nordic Centers.  If you are new to snowshoeing or cross-country skiing, a visit to one of the nordic centers is a must-do for your trip.  Both nordic center offers a variety of lessons, guided tours and rental options throughout the winter season.  The Gold Run Nordic Center provides snowshoe rentals and guided tours to the Golden Horseshoe, including Full Moon Tours on select winter nights.
Mining Ruins & History
If exploring some historic mining ruins on your own is more your style, the Breckenridge trail system offers hundreds of miles of ungroomed trails to explore.  Breckenridge Heritage Alliance opens the doors to the Bunk House on Iowa Hill for snowshoers on their winter tour and through French Gulch as a private option.
The Continental Divide Land Trust offers occasional winter snowshoe outings to protected open space properties with the opportunity to learn about Breckenridge's conservation efforts, mining history, and local wildlife.
Backcountry
Cross-country ski tours and backcountry skiing expeditions are also offered in winter by Colorado Adventure Guides. The Breckenridge Recreation Center provides the opportunity to dive into backcountry skiing and mountaineering with clinics and workshops to expand your knowledge and safety skills.
The Gold Run Nordic Center cranks down the intensity level with ambling cross country ski tours, as well as snowshoe and fat-bike rentals.
More Guided Adventures
The mountains are calling and a guide will help you get there with peace of mind to spare.  Explore more guided and group adventure options in Breckenridge. For more adventures, check out our winter and summer activities, as well as indoor fun too!
The Breckenridge Tourism Office works to enhance and promote the unique character and experience of Breckenridge as a world-renowned destination resort and to represent, serve and perpetuate the common interest and character of its membership and community.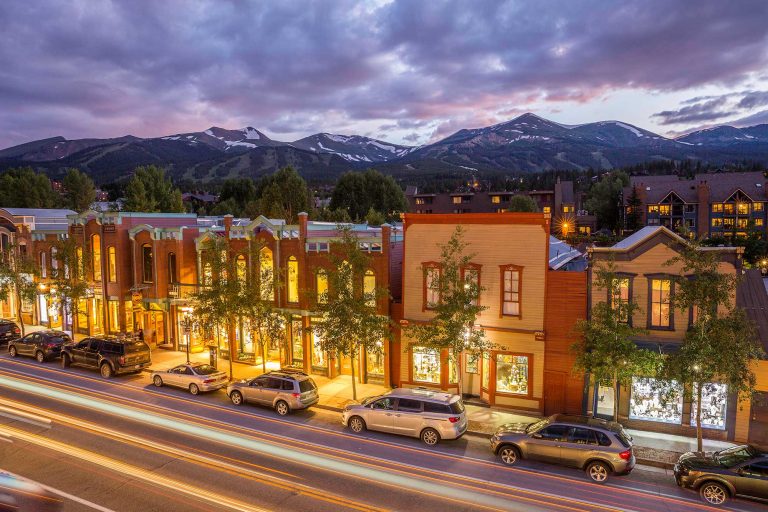 Embrace The Spirit
BLike Breckenridge™️ is a movement born of the spirit of our historic mountain town for those who call it home—whether for a weekend or a lifetime—to live by. It is a cause that connects us to each other, that we can all be a part of.