Wildflowers bloom in Breckenridge from late-April through early-October, which means if it isn't ski season, it's wildflower season. The first spring blossoms peer out from under a late dusting of snow, and the last compete to spread their seeds before winter's snowy inundation. No matter the summer month you visit Breckenridge, you'll find a variety of nature's blossoms to delight you. Here's where and when to find Breckenridge wildflowers.
When Can I See Breckenridge Wildflowers?
Early Season Wildflowers – April through June
The earliest wildflowers will be found in sage meadows as soon as the snow melts. The scrubby plants serve as shade and protection for the tiny beauties to be discovered there. Some of the first flowers to bloom will be Pasqueflowers, Low Chiming Bells and the appropriately named Snowdrops. As spring makes way to summer, look to the sage/forest edge for the "wow" combination of red and purple together, the Scarlet Gilia and Silvery Lupine.
Height of Summer – June through August
Wildflowers really take off in late June and hit their peak by the third week in July, with a slow diminishment of blooms once fall rolls around with cooler temperatures. If wildflowers are your thing, be sure to visit Breckenridge in mid-to late-July for the most glorious show.
In the height of summer, you have your best chance of seeing the most variety of flowers in any of our eco-zones. Wet areas will host the charming Elephant Heads and Tall Chiming Bells. Forests will add yellow Arnica, Wild Roses, and the elusive Fairy Slipper Orchids to their mix. Meadows will see Sneezeweed, several kinds of Penstemon, and the famous Colorado State Flower, the Columbine.
Late Summer – August through October
The high alpine zone is the place to check for late summer flowers, such as the diminutive Forget-Me-Not, brilliant red Queen's Crown, and several varieties of Gentian. As summer turns to fall, watch for the brilliant pink Fireweed.  According to many locals, when the Fireweed blooms to the top of its stalk, winter's snows are 6 weeks away.
Where Can I Find Wildflowers in Breckenridge?
In Town:
Valley Brook Cemetery
Much of the ground in the cemetery has been undisturbed for over 100 years, making it an ideal place for native wildflowers to thrive. Penstemon, Cinquefoil, Pasqueflowers and many others bloom among the historic headstones. The cemetery is open to the public during daylight hours.
Carter Park
Carter Park is best known for its sledding hill and dog park, but wildflower lovers have a lot to love about Carter Park. The short but steep hike up the side of the sledding hill rewards with views of the Ten Mile Range and a stunning variety of wildflowers like Columbine, Pink Anemone, Indian Paintbrush, Mouse-Eared Chickweed, Penstemon and more. Carter Park is located at the south end of High Street, east of Breckenridge Elementary School.
Riverwalk Center
Right in the middle of downtown Breckenridge, you'll find the Blue River Plaza and Riverwalk Center. Here, you'll find a spectacular array of wildflowers rescued from various construction sites and transplanted to the Riverwalk Plaza when reclaimed in the 1990s. Plan for a lunchtime picnic on the grass by the river and remember to pack out what you pack in!
Breckenridge Alpine Garden
Located near The Dredge Restaurant, the Alpine Garden features plant species usually found at higher elevations; most are identified with markers. Along the Riverwalk, you'll find giant Green Gentian, the bright pink Sticky Geranium, Alpine Sunflowers, fireweed, raspberries, cinquefoil and much more. Relax for a little while and enjoy the views.
On the Trail:
Sawmill Museum to Blue River Trail
In a short walk, you'll find an impressive array of different wildflowers in various habitats from the Sawmill Museum to the Blue River Trail. Walk to the west and the first habitat zone is the arid and scrubby sagebrush meadow and hillside on your right, with blue flax, scarlet gilia, buckwheat, and many other dryland flowers. In a few more steps, you'll enter an aspen forest where Sego Lillies, columbine, bedstraw, golden banner and other flowers that love dappled shade will bloom. And after that, you'll break out into the meadow to find lupine, sneezeweed, prairie smoke, iris, and other species that like the sun on their heads and moisture at their feet.
Boreas Pass Road
Keep going to the very top of Boreas Pass Road until it eventually turns to dirt. Park at the trailhead or keep driving (no need to worry about 4WD as this road is easily accessible by most vehicles). As you approach the alpine zone, you'll find huge meadows of brilliant yellow Alpine Sunflowers. Stop at the top to explore the area above timberline for later summer bloomers.
Local's Tip: This road can get very busy during the summer. Plan on avoiding peak times like weekends and mid-day, and watch out for hikers and bikers.
Breckenridge Ski Resort
The slopes of the Breckenridge Ski Resort fill with summer blooms when the snow melts. Meadows created long ago when the ski runs were cut through the evergreen forests now abound with lupine, paintbrush, harebells, sunflowers and gentian. Take the free gondola up to the base of peak 8 and try a guided hike or explore on your own. If you have the time, check out the activities at Epic Discovery or take the chairlift up even higher.
Alpine Hikes
Breckenridge's high altitude of 9600 feet means we're closer to the high alpine zone than most any other resort area. Until you see it for yourself, it's hard to believe that such a variety of beautifully colored and shaped flowers can grow in the harsh environment above timberline. Alpine wildflowers are usually small and low, growing close to the ground to make the most of solar gain below the harsh winds. In protected nooks in the rocks, you can find heartier species, like Sky Pilot which reaches higher than many surrounding flowers. A stand out in the alpine zone is Old Man of the Mountain, a distinctive sunflower with a large head that always faces toward the rising sun. Plants at high altitude adapt to the dry, windy conditions in unique ways, such as Frosty Balls, a member of the thistle family.
Check out these great summer hikes for more ways to see wildflowers in and around Breckenridge!
Local's Tip: Help protect the fragile tundra environment by staying on established trails as much as possible, walking on durable surfaces like rocks and gravel, and stepping carefully. Hiking poles can help keep you light on your feet and ensure stability on steep hillsides. Mountain Outfitters in Breckenridge carries hiking poles.
Do your part to keep our trails amazing. Pack it in, pack it out. Or pick it up to leave a place better than you found it.
Wildflowers in Breckenridge
The Breckenridge Tourism Office works to enhance and promote the unique character and experience of Breckenridge as a world-renowned destination resort and to represent, serve and perpetuate the common interest and character of its membership and community.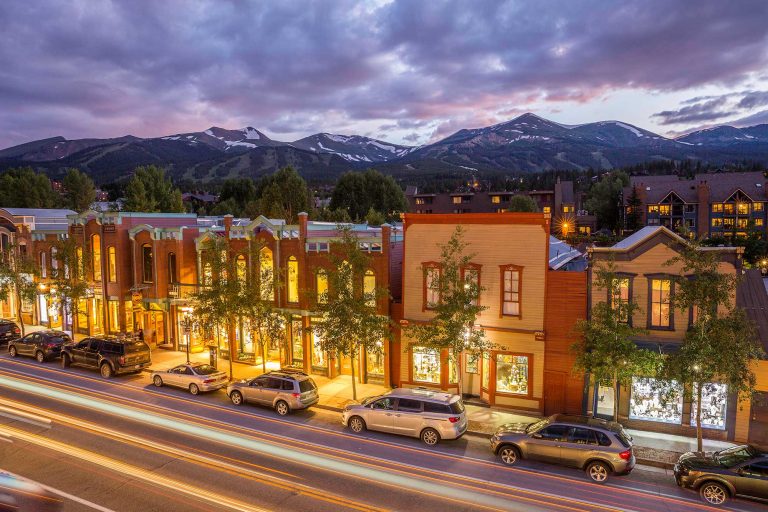 Embrace The Spirit
BLike Breckenridge™️ is a movement born of the spirit of our historic mountain town for those who call it home—whether for a weekend or a lifetime—to live by. It is a cause that connects us to each other, that we can all be a part of.