Exploring the mountain at Breckenridge Ski Resort isn't just a winter activity! Embark on a summer adventure with Epic Discovery, offering a combination of scenic, family-friendly and thrill-seeking outdoor activities designed to immerse guests in Breck's High Alpine environment. Epic Discovery offers a variety of zones and activities designed to immerse guests in nature while highlighting Breck's rich landscapes, local history and possibilities for adventure.
Epic Discovery Season Dates
Open daily June 17, 2022 – September 5, 2022
Activity Hours of Operation:  10:00am – 5:00pm
When is Breckenridge's Gondola Open ?
This summer the BreckConnect Gondola is open daily June 17, 2022 – September 5, 2022.
Gondola Hours of Operation:  9:30am – 5:30pm
Cost: Free
What Activities Can You Do At the ski resort in the summer?
Gold Run Coaster, Alpine Slides, Mini Golf, Gemstone Panning, Bounce House, Bungee Trampolines, Lil' Climber Challenge Course, 4×4 Tours, Scenic Lift Rides, Climbing Wall, Alpineer Challenge Course, Mountain Biking with Bike Haul, Hiking Vista Point Overlook & Interpretive Loop Trail. Alpine Camp activities are accessible by a scenic ride on the Colorado Superchair.
Opening Weekend: With on-going preparations for summer, and while awaiting trails to dry, more activities are anticipated to open throughout the early season, including the Alpineer Challenge Course, Gold Summit Climbing Wall and Bungee Trampolines, as well as bike trails and bike hauls on the Colorado SuperChair.
Learn More and Purchase Tickets
What else is there to do in town?
Summer in Breckenridge is like nothing you've ever experienced. It's a place where visitors feel like locals, and locals have one heck of a good time, all season long. Stroll our charming Main Street, hit the trails, enjoy dining alfresco and partake in the endless activities we have going on all season long.
TOP SUMMER ACTIVITIES IN BRECKENRIDGE, COLORADO
Traveling with kids? Explore our Kid-Approved Summer Fun Guide
Resort Summer Activity FAQS
How do you get to Breckenridge Ski Resort?
To get to Peak 8 of Breckenridge Ski Resort take the free BreckConnect gondola from town to the base of Peak 8. To get to Alpine Camp, take the gondola and once you're at the base area of Peak 8, you can explore the various summer activities offered.
Gondola Hours: 9:30am – 5:30pm
Where do you park for Breckenridge Ski Resort summer activities?
All Epic Discovery Parking is located in the North Gondola Lot. This lot is now operated by Breck Park. You can park here and pay with a credit card using either an onsite kiosk or their smartphone app. There is no parking located at the Peak 8 base area, and all parking is in town. Access Epic Discovery by riding the gondola or bus up to Peak 8. Learn more about getting around Breckenridge during your trip.
Is the gondola in Breckenridge free?
Yes. The BreckConnect Gondola is always free to ride.
Is the Breckenridge gondola open?
Open daily June 17, 2022 – September 5, 2022
Where can you purchase tickets or make reservations for resort summer activities?
You can stop by the ticket office upon arrival or make advance reservations at 970-453-5000 or Breckenridge.com
What should I wear for resort activities?
At 9,000 feet, exposure to the sun is 40% greater than it is at sea level. We recommend bringing along sun protection, including sunscreen, hats and sunglasses, as well as a reusable water bottle. Afternoon thunderstorms are common in the mountains and may cause interruptions and delays in summer activities and lift operations. Lifts and activities may close on occasion due to weather conditions, causing delays. Bring a raincoat and be sure to pack a sweater and other extra layers. Keep in mind that many activities are active, so wear clothes that are easy to move around in.  Learn more about packing for your Breckenridge summer vacation.
Where is Breckenridge Peak 8 Fun Park?
The Breckenridge Peak 8 Fun Park has been improved and expanded to become Epic Discovery. All the Breckenridge Peak 8 Fun Park activities you loved are still located at the base of Peak 8 which is now called Peak 8 Base Camp. You can access Peak 8 Base Camp by riding the BreckConnect gondola from town up to the base of Peak 8.
The Breckenridge Tourism Office works to enhance and promote the unique character and experience of Breckenridge as a world-renowned destination resort and to represent, serve and perpetuate the common interest and character of its membership and community.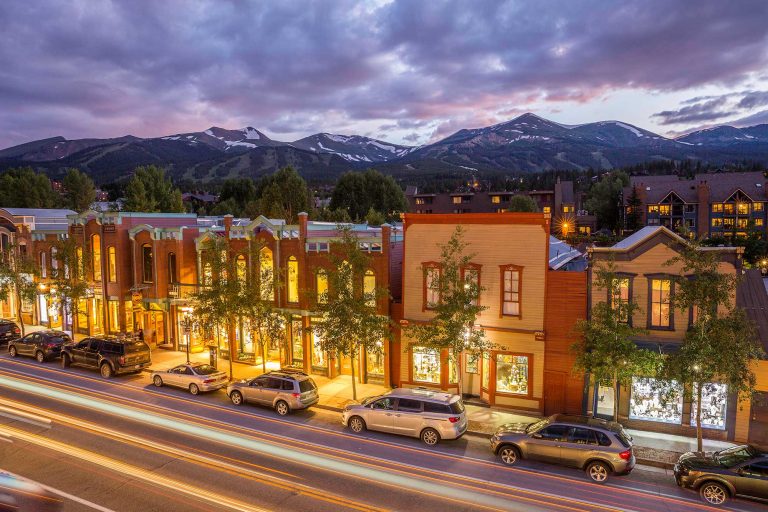 Embrace The Spirit
BLike Breckenridge™️ is a movement born of the spirit of our historic mountain town for those who call it home—whether for a weekend or a lifetime—to live by. It is a cause that connects us to each other, that we can all be a part of.