The Breckenridge Golf Course is situated in the breathtaking, glacier-sculpted Upper Blue River Valley with spectacular views of the surrounding mountains. Breckenridge is only town in the world to maintain a Jack Nicklaus-designed 27-hole golf course, which sits at an elevation of 9,324 feet. Visiting golfers get an immediate confidence boost as the golf ball flies farther and straighter than at lower elevations due to less air resistance. Ready to tee up? Here's everything you need to know about golf in Breckenridge.
Breckenridge Golf Course
In the 2001 golf season, the town opened the last nine holes of the 27, also designed by Nicklaus, and every bit as challenging as the original 18-holes. The Elk Course offers nine holes with more elevation change than the original nine-hole Bear Course and Beaver Course.
The Breckenridge golf course has four sets of tees so that each golfer may select the challenge equal to their game. From the most advanced Nicklaus Tees on the Elk/Beaver rotation, the course plays 7,145 yards and has a course rating of 72.8 with a slope rating of 150. This set of tees has the second most difficult course rating in the state of Colorado – a challenge for even the best golfer. Each set of tees throughout the Breckenridge Golf Course plays to a par 72.
The course typically opens around Memorial Day weekend and closes in early October, depending on conditions.  Check out twilight or happy hour tee times for the best discounts.
Breckenridge Golf Lessons
The Breckenridge Golf Course is a great place to learn, not only because of its surrounding beauty and course design, but also because of its pros who choose to play here. The golf pros at Breckenridge Golf Course truly make a difference in your swing.
Breckenridge Golf Club offers a variety of lessons and programs to help you take your game to the next level or introduce you to the fundamentals of the game. Private instruction is available from PGA Professionals and/or qualified instructors and provides you the one-on-one attention to quickly learn golf skills and methods to correct faults.
Leagues & Tournaments
Whether you're here for a week or the full summer, there's a community of golfers to join at the Breckenridge Golf Club.  The Breckenridge Golf Club offers Men, Women, Youth Leagues, Events and Tournaments throughout the golf season.  From fun leagues to competitive tournaments, there are plenty of ways to enjoy all three courses.
The Club House
The Breckenridge Golf Club boasts one of the finest golf shops in the nation.  You're sure to find that perfect logo item for you or your favorite golfer or the latest in golf equipment at Breckenridge. Before or after your round, enjoy the views from their spectacular deck and grab a meal, appetizer or cocktail in the sunshine. The Clubhouse Restaurant offers a full menu and bar.
The practice facility at Breckenridge includes a grass tee driving range (mats are occasionally used), two practice greens for putting and chipping, and an area for practicing sand bunker shots. Qualified golf instructors are available to assist you with your game. Reservations are highly recommended.
Summer Activities in Breckenridge
The Breckenridge Tourism Office works to enhance and promote the unique character and experience of Breckenridge as a world-renowned destination resort and to represent, serve and perpetuate the common interest and character of its membership and community.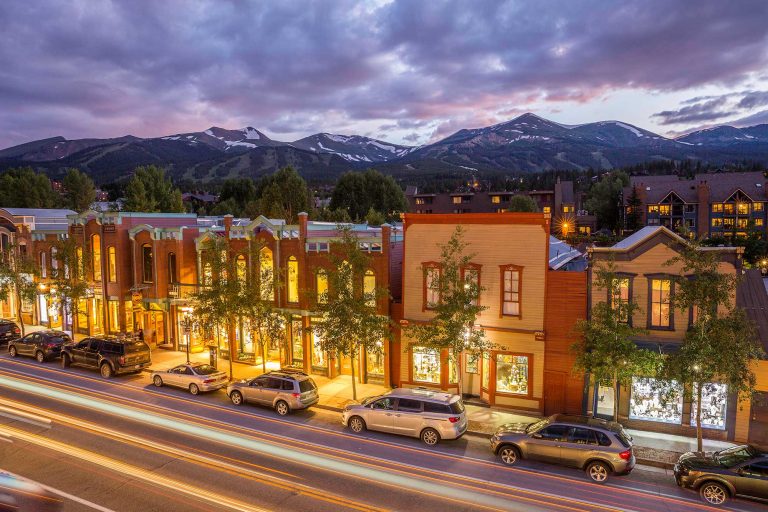 Embrace The Spirit
BLike Breckenridge™️ is a movement born of the spirit of our historic mountain town for those who call it home—whether for a weekend or a lifetime—to live by. It is a cause that connects us to each other, that we can all be a part of.