Breckenridge is a biker's mecca featuring over 100 miles of trails in and around town. So whether you're on a road bike or mountain bike, you're sure to find something to match your style and skill level. Get geared up- here's our ultimate two-day Breckenridge bike itinerary with the best trails, rides and spots to refuel along the way.
Breckenridge 2-Day Bike Itinerary
Day 1:
Morning
Head to the Blue Moose to start your first full day of adventure. Try the whole wheat pancakes with real maple syrup or go classic with Eggs Benedict. Don't forget to swing by the Welcome Center to stock up on trail maps, local info, where to find rentals and everything else Breckenridge has to offer.                   
If you have your own bike, you're ready to go! Otherwise, pick up your rental from one of several bike shops in downtown Breckenridge. Choose from road, path cruisers or full-suspension options and start pedaling to check out Breckenridge's rich history. Best yet? Rentals can be tailored to ability level and age, so the whole family can join in on the fun!
Where to ride: Head to French Gulch and explore the X10U8 loop (pronounced "extenuate"), which passes the historic Reiling Dredge. This well-preserved dredge is one of many mining remnants that can be seen in Breckenridge's backcountry. The B&B Trailhead near the dredge makes it easy for beginners to access this historic site. Advanced mountain bikers can easily extend the ride on trails that lead further into the Breckenridge backcountry, like Turk's Trail or Side Door.
Local's Tip: Start your big rides early to miss any possible afternoon thunderstorms. Be sure to pack layers, bring plenty of water and sun protection.
Afternoon
Enjoy a casual lunch at local's favorite Giampietro Pasta and Pizzeria. With a morning of riding under your belt, you just might be able to finish one of their renowned calzones that are large enough for two. Try to get there early and expect a wait!
Breckenridge is known for it's laid back charm, so no need to run home and change before hitting the town. Grab an ice cream cone for dessert and be sure to relax on one of the many restaurant patios to soak up some sunshine.
Ready for more action? Choose another trail from our long list, or take it easy and check out our variety of cycling events, ranging from bike race series and high-level events like the Breck Epic and Firecracker 50. Then keep the party going with dinner at one of our Breckenridge foodie favorites.
Day 2:
Morning
Head into Amazing Grace for fresh-baked goodies, fair-trade coffee and healthy sandwiches and breakfast bowls. This natural foods café is housed in a quirky historic building and prides itself on serving up natural, wholesome meals for breakfast and lunch.
Local's Tip: Grab a breakfast burrito and homemade cookie to go – both pack well and make for a perfect lunch on big rides!
Where to ride: If your muscles are sore from yesterday or if you have kids in tow, pedal along the Blue River Rec Path, which provides an easy biking opportunity for riders of any skill level. This paved recreation path offers seemingly endless Rocky Mountain scenery and miles of pathway that follows the Blue River through town limits and beyond to the rest of Summit County. The Rec Path sits in the shadow of the Ten Mile Range and is open to runners, hikers, dog walkers and bikers of all type.
If you're looking to take it up a notch, try a moderate trail like Burro trail or the Colorado, or an advanced option like Wheeler trail or Spruce Creek loop.
If you didn't pack a lunch, ride over to Fatty's or Broken Compass Brewery to hang with the locals and fill up with classic sandwiches on the patio. Hey, we think you've earned a few beers, too!
Afternoon
Time to cruise down Main Street and explore some of the town's 300+ unique shops and boutiques. For dinner, you'll have your choice of over 100 restaurants and bars. Consider Relish for fine Colorado-inspired cuisine, Mountain Flying Fish for incredible sushi or 2 for 1 appetizers and martinis at the Blue River Bistro. Families can choose from historic and intro pedicab tours, or go for a "green" ride to the closest hamburger at Downstairs at Eric's.
As always, be sure to follow Leave No Trace principles while you're out, and don't forget to share your Breckenridge biking adventures on social with #BreckLife.
The Breckenridge Tourism Office works to enhance and promote the unique character and experience of Breckenridge as a world-renowned destination resort and to represent, serve and perpetuate the common interest and character of its membership and community.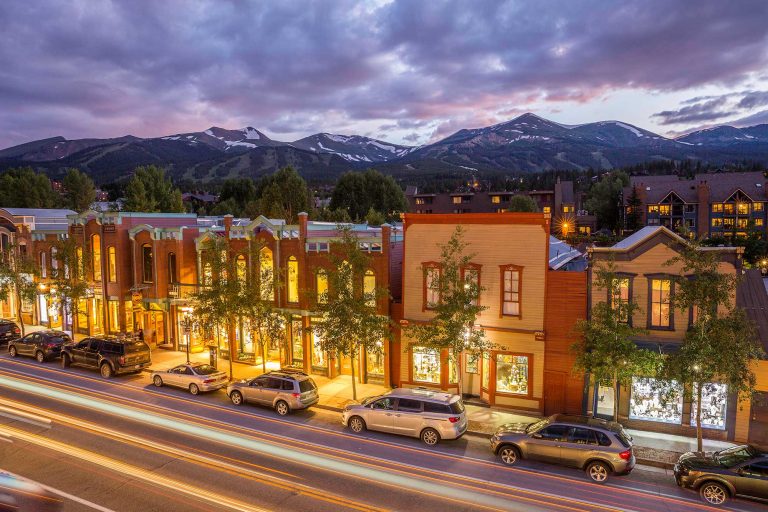 Embrace The Spirit
BLike Breckenridge™️ is a movement born of the spirit of our historic mountain town for those who call it home—whether for a weekend or a lifetime—to live by. It is a cause that connects us to each other, that we can all be a part of.