Biking in Breckenridge is a must-do in the summer. With so many trails to choose from, it's hard to pick which trail to ride. Here are four beautiful and Instagram-ready moderate mountain biking trails in Breckenridge:
Moderate Mountain Biking Trails in Breckenridge:
Galena Ditch to Colorado Trail
The Colorado Trail is the state's most iconic trail, running 486 miles along the Continental Divide from Durango to Denver. You might not have time to ride the whole thing, but you can tackle some of the Breckenridge segment in this convenient loop just a short drive from town.
Distance: 15.1 miles loop
Elevation Gain: 2,251 feet
Directions: From the intersection of Main Street and Ski Hill Road/Lincoln Avenue drive north on Highway 9 approximately 5 miles to the Tiger Road stoplight and turn right. Stay on Tiger Road for about 2.5 miles and turn left into the Dredge Parking Lot, a left turn just after you pass Chapparal Lane on your right. From the parking lot on your bike, follow the excellent directions from MTBProject to follow the loop that leads back to the parking lot.
Gold Run Road
A well maintained jeep road traveling through Gold Run Gulch past the Preston town site offering views of well-preserved mining ruins.
Distance: 10.5 miles loop
Elevation Gain: 960 feet
Directions: From the intersection of Main Street and Ski Hill Road/Lincoln Avenue drive west to Park Avenue. Turn right and follow Park Avenue a short distance to Watson Avenue. Turn right and Park in the large lot on the right. Get on the paved path starting at Watson Avenue and following the west side of the river. Follow the path 3 miles north towards Frisco. At Tiger Road, turn right and follow Tiger Road 1 mile to Gold Run Road. Turn right and merge with French Gulch Road. Follow this until Wellington Road. Turn left and ride back to Breckenridge's Main Street. Turn right and take the first left on Watson back to your car.
Carter Park Quickie Loop
Carter Park, to the east of Main Street, is a convenient jumping off point for much of Breckenridge's local trail system. This loop is a classic Colorado uphill smash into fast, fun downhill and is a great introduction to this part of the trail system. Once you feel comfortable with this short loop, there are dozens of other loop combinations you can build from the same jumping-off point. Trails in this area are well-marked and posted trail maps let you make changes to your route on the fly if you want.
Distance: 3.5 miles loop
Elevation Gain: 500 feet
Directions: From the intersection of Main Street and Ski Hill Road/Lincoln Avenue drive or ride east up Lincoln Ave until you reach High Street. Turn right on High Street and take it until it dead ends in a parking area near tennis courts and the dog park. From the trailhead follow the only trail up the Carter Park switchbacks. At the juncture at the top, continue across the flume onto the Moonstone Trail and ride uphill until you cross Moonstone Road. Across Moonstone Road the trail splits and you'll take a hard right to join Juniata Trail. When Juniata ends after much ascending, take a connector trail for a fun downhill to meet the Barney Ford Trail. Ride Barney Ford down to cross Moonstone Road again and take either Moonstone Trail or the Barney Flow Trail back to the switchbacks and the parking lot.
Burro Trail
A gentle slope but with several fun, rocky sections on the descent. The ride departs from and returns to the Beaver Run parking lot at the base of Peak 9 at Breckenridge Ski Resort. The trail can get busy, especially on weekends, so best to go early to avoid having to dodge hikers. A great option if you're staying in town near the ski resort, especially if you're carless.
Distance: 7.8 miles out and back
Elevation Gain: 800 feet
Directions: From the intersection of Main Street and Ski Hill Road/Lincoln Avenue drive or ride west to Park Avenue. Turn left and follow Park Avenue to Village Road. Turn Right. Follow to the Beaver Run Resort and the base of Peak 9 at the ski resort. Turn left into the parking lot right below the Beaver Run Resort. The trail head is well signed and starts in the parking lot. Ride south uphill on the Burro Trail for about 3.5 miles where you'll intersect Crystal Lake Road. You can simply turn around here or add almost 6 more miles by turning right up the road and completing a loop with Spruce Creek Road and connecting back to the Burro Trail on your descent.
The Breckenridge Tourism Office works to enhance and promote the unique character and experience of Breckenridge as a world-renowned destination resort and to represent, serve and perpetuate the common interest and character of its membership and community.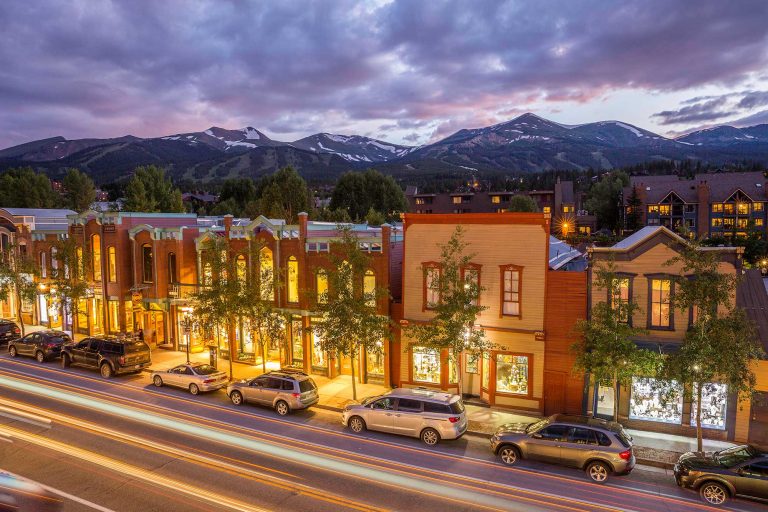 Embrace The Spirit
BLike Breckenridge™️ is a movement born of the spirit of our historic mountain town for those who call it home—whether for a weekend or a lifetime—to live by. It is a cause that connects us to each other, that we can all be a part of.