Weather not cooperating with your outdoor plans? As much as we love hiking, biking and all things outside, we understand that a little (or a big) rainstorm can be enough to steer you indoor. But don't let the weather dampen the fun. The good news is Breckenridge is home to tons of unique and fun activities, and not just outside. These top picks for a rainy day in Breckenridge are sure to leave everyone in your group feeling happy, and hey, you might even forget it's raining outside!
Top Picks for a Rainy Day in Breckenridge:
Climb, Swim and Play 
One crack at the rope swing should be enough to remind anyone that the Breckenridge Recreation Center isn't an ordinary fitness gym. Still not convinced? Take a trip down the Summit Plummit water slide or pull on sticky shoes for a go at the climbing wall. Oh yeah, there's a track, tennis courts, weights, cardio equipment, sauna, hot tubs and more. Want additional family fun? Head to the Stephen C. West Ice Arena for year-round indoor public ice skating.
Hit The Rapids 
"Do we go rafting if it's raining?" Of course you do. It's one of the most common questions asked by those booking whitewater rafting trips, and the answer is simple. Not only are you going to get wet anyway on a rafting trip, you'll also be perfectly dressed in wet suits for aqueous adventures (and rain).
Catch a Flick
The Eclipse Theater (formerly the Speakeasy) is Breckenridge's only movie theater and Breck Film's new permanent home. Catch a screening of a variety of blockbuster, indie, classic, foreign, and outdoor films year-round. Don't forget to stock up on fresh popcorn, an assortment of candy and soda and local beer and wine on tap. A variety of canned beer, hard seltzer and canned cocktails are also available.
Get Creative
Get artsy and try something new with BreckCreate. Bring the whole family and try throwing your own pottery, making candles, glass blowing and more! Check the schedule for the lineup of activities and classes. Don't miss their other events like concerts, open studios and shows too!
Try to Escape
Seek clues, solve unique puzzles, answer questions and work together to try to escape! These all-age friendly Breckenridge-themed rooms consist of stories, decorations and technology to immerse you in a fun game for all. You'll have 60-minutes to complete each of your adventures! This is a great bonding activity for families, friends, date nights, bachelorette, bachelor or birthday parties, co-workers and teammates. Plus, it's a great way to head inside for an hour as the storm passes.
Once you've escaped, head next door to VR Arcade and enter into one of their premium Virtual Reality X Pods and embark on an adventure. Their uniquely designed pods track your every move to give you a safe and contained space to play in VR. With unmatched immersion, image resolution and premium content, you'll be transported into a realistic new world of immersive experience. Over 30 games to choose from- try fighting off zombies or test your luck in a wild west draw.
Go Underground
Head just 2 miles outside town to the historic restored Country Boy Mine, which offers underground mine tours and even gold panning! In the midst of the majestic Rocky Mountains, the Country Boy Mine was one of the largest and most famous gold mines in Breckenridge, Colorado. Today, enjoy the many activities the mine has to offer. Gold pan, pet the burros, slide down the 55 foot ore chute, explore the authentic mine site, view the exhibits and equipment that were used in the mine and visit the general store. Since the tour heads into a real mine tunnel, it doesn't matter what the weather brings.
Wine and Dine
Is there anything better than cozying up with a hot beverage or wine and listening to the rain fall? The good news is Breckenridge is filled with quaint restaurants, bars and tasting rooms, perfect for grabbing some grub, trying handcrafted libations and exchanging stories. Try the Gold Pan's newest addition, the Carboy Winery, where you can grab a flight of wine on tap to pair with a colorful cheese plate right on Main Street. Warm up by the Gold Pan's large, historic wood burning stove, and you have hygge in a nutshell. If you're more into the craft spirits scene, head to Après and enjoy unique concoctions in a fun atmosphere. For happy hour, head to Aurum Food and Wine, one of Breckenridge's newest restaurants, featuring half-priced menu items, half priced wines by the glass, $3 draft beer and $7 classic cocktails.
Museum Time
Breckenridge is rooted in its past and boasts one of the largest historic districts in Colorado. Create memories with affordable guided historic tours and hikes, and enjoy free, family-friendly museums operated by the Breckenridge Heritage Alliance and Breckenridge Tours. Visit their web sites for a full list of activities, events, museums and tours in Breckenridge. Stop by the Welcome Center to walk through their in-house museum, or head to the Edwin Carter Discovery Center- the rehabilitated center honors the life and legacy of Edwin Carter, featuring interactive exhibits, a hands-on taxidermy workbench, a children's room and a theatre and is the recipient of several awards.
Treat Yourself
Rainy days are the perfect time to catch up on self care and not have to feel guilty about it. Treat yourself and explore the many opportunities for wellness and self care in our quaint mountain town. Enjoy a facial, massage, mani-pedi, acupuncture, reiki and more at the numerous spas in Breckenridge, or head to a yoga class during your stay. To top it off, hop in the hot tub to really soak it all in (see what we did there)?
Do you have a favorite activity for rainy days? Tag your favorites on social using #BreckLife for a chance to be featured!
Article originally written by Rachel Zerowin and updated in 2019 for accuracy and new content. 
The Breckenridge Tourism Office works to enhance and promote the unique character and experience of Breckenridge as a world-renowned destination resort and to represent, serve and perpetuate the common interest and character of its membership and community.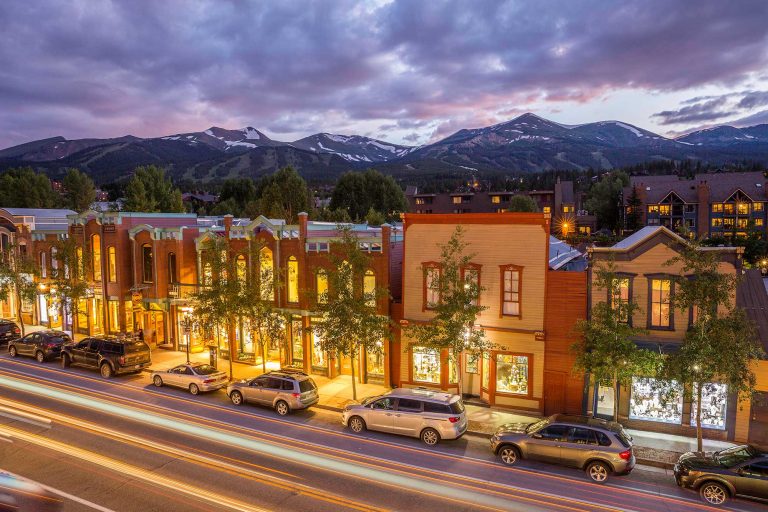 Embrace The Spirit
BLike Breckenridge™️ is a movement born of the spirit of our historic mountain town for those who call it home—whether for a weekend or a lifetime—to live by. It is a cause that connects us to each other, that we can all be a part of.