Fall means cooler temperatures and gorgeous colors in the mountains, making it the perfect time to escape the city and visit Breckenridge. The mountains showcase a shift from green to gold as the aspens don their beautiful but brief finery. During a Breckenridge Fall, autumn brings a crispness to the air and the opportunity to cozy up in the evening. Though the days are shorter, there are still plenty of activities and adventures to be had in autumn in Breckenridge.
From scenic drives to fall festivals, hiking and biking, there're endless opportunities for locals and visitors alike to soak in these magic moments. The leaves begin to change early to mid-September, so start planning your autumn adventures in Breckenridge with these local tips to create an unforgettable fall trip to the mountains.
Breckenridge Fall Adventure Guide
Hiking + Biking 
The state slogan, Colorful Colorado, starts to make a lot of sense as the aspens turn to gold, crimson and orange. The amazingly colorful foliage in Colorado is brief, but beloved. These wonderful pops of color create a stunning contrast to the dark evergreen pines and bright blue sky with the occasional dusting of snow to top it all off. You'll find both locals and visitors making the pilgrimage to leaf peep; as a result, some of the most popular spots can be a bit busy, but that shouldn't be a deterrent. There are plenty of hiking trails in town, and there's no better way to enjoy this beauty than to walk, hike or bike in the golden glow of the aspen groves. Here are a few local favorites to get you started.
Minnie Mine Trail & Reiling Dredge – Travel on foot or mountain bike on the Minnie Mine trail for a glimpse of the past as you weave through colorful aspen fields peppered with mining structures from the early days of Breckenridge. Make it a loop by adding the X10U8 and B&B trails to circle back to the Reiling Dredge historical site.
Pence Miller Trail – Get your nature fix right in town. Pence Miller is a historic flume trail connecting town to the Peaks Trail. Head uphill through pines and aspen groves taking in wonderful views of the town of Breckenridge and Baldy Mountain. Continue to Cucumber Gulch Nature Preserve for unobstructed views of Breckenridge Ski Resort. Keep an eye out for Moose in the wetlands underneath the gondola and soak in the mountain views.
Blue River Rec Path, Breckenridge to Frisco – Pedal the paved Blue River bike path from Breckenridge to Frisco along the river and the shores of Lake Dillon through colorful aspens and towering pines. Beer lovers can make it a biking brewery tour by customizing the ride with stops at Breckenridge Brew Pub, and Broken Compass Brewery in Breckenridge, and Outer Range Brewery and HighSide Brewing in Frisco. After taking in views of the lake or embarking on an afternoon SUP or kayak session, bike back or hop on the free Summit Stage bus (they have bike racks) back to Breckenridge. Plan for 10 miles one way or 20 miles total if you take on the round-trip journey.
Aspen Alley – This popular mountain biking trail starts at the Boreas Pass trailhead. Go south past the gate and look for a singletrack on the west side of the road. True to its name, Aspen Alley features numerous switchbacks through beautiful aspen groves.
As always, be sure to review and follow Leave No Trace principles before heading out and be prepared for your adventure!
Take a Scenic Drive
While there are a ton of amazing scenic drives near Breckenridge, Boreas Pass is the quintessential fall experience. This captivating scenic drive tops out at 11,481 feet, and is full of history, scenery, a trip across the continental divide, high alpine views and aspens galore. 
Take your time on the drive and take advantage of the numerous opportunities to stop and stretch your legs, take pictures and take in the grandeur of this mountain pass. The views and historical sites are spectacular, but the journey is the real attraction. The Section House marks the top of the journey and if you are ready for some fresh air — park the car and take a hike on Black Powder Pass or pack a picnic lunch to enjoy above treeline. 
Head back to Breckenridge or journey onward to Como to leave any traffic behind and take in more gorgeous foliage. From Como, head to Fairplay on 285 South and then connect to Highway 9 North. Continue over the Continental Divide at Hoosier Pass to arrive back to Breckenridge.  The route is suitable for low-clearance 2WD cars, although it does get a little bumpy in some areas. 
Explore Historic Main Street 
Grab a spiced chai or a pumpkin latte and take a casual stroll down historic Main Street. Wander in and out of quaint shops, follow the path along the Blue River up to Maggie Pond and be sure to stop for lunch at one of the many local restaurants and cafes. Enjoy happy hour and watch the sunset on the deck at the iconic Kenosha Steakhouse, Twist or South Ridge Seafood Grill. Relax and take in the magnificent views of the mountains with a tasty beverage or après treat of your choice to end out a perfect day of autumn adventures. 
More Autumn Adventures
There's nothing like the crisp fall temperatures to tempt you into spending (even more) time outdoors. The promise of snow makes fitting in one more bike ride, hike or day on the river even more precious. Luckily there's plenty of activities to pursue in Breckenridge. The Breckenridge Golf Club is stellar in the fall with the addition of the changing leaves, and the hiking trails are just waiting to be explored. As school is in session, it often means fewer folks, too. Fly fishing, which is enjoyed year-round in Breckenridge, is also fantastic this time of year: the cooling temperatures make the trout a bit more chill, too. Looking for more fun? Check out our Perfect Fall Itinerary to get some great ideas!
For current information on things to do in Breckenridge in the fall, visit the Breckenridge Welcome Center on Main Street.
The Breckenridge Tourism Office works to enhance and promote the unique character and experience of Breckenridge as a world-renowned destination resort and to represent, serve and perpetuate the common interest and character of its membership and community.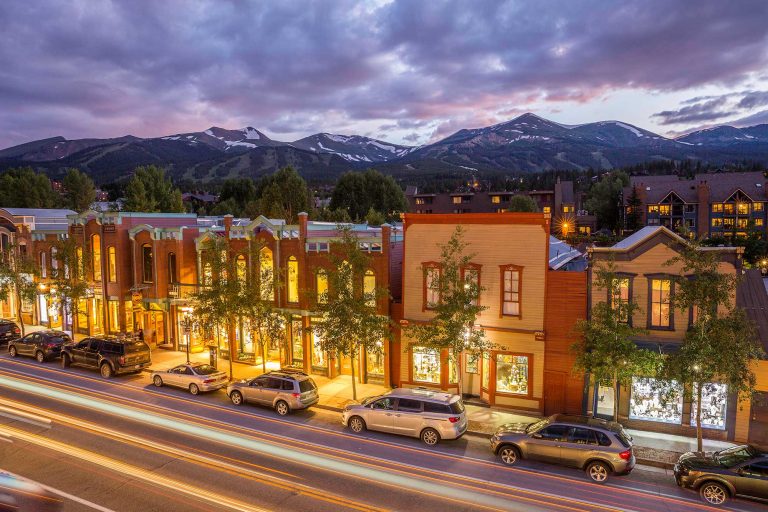 Embrace The Spirit
BLike Breckenridge™️ is a movement born of the spirit of our historic mountain town for those who call it home—whether for a weekend or a lifetime—to live by. It is a cause that connects us to each other, that we can all be a part of.