Let us be your guide! We'll kick-up the planning while you kick-back and relax. We know that details are everything. Come to Breckenridge for a site visit so you can personally envision what your event will look and feel like. The Breckenridge Tourism Office Sales Team is happy to help you find the perfect location to meet your goals. Your clients will be impressed when you know the ins and outs of Breckenridge – just like a local!
Services
What we can do for you:
ORGANIZE SITE TOURS to multiple venues and introduce you to all our local lodging partners.
PROVIDE TRANSPORTATION to explore and introduce you to the charming and multifaceted town of Breckenridge.
TOUR GROUP RESTAURANTS AND LOCAL ACTIVITIES for your attendees interested in outdoor adventures, Arts & Culture, history, shopping, and special events
Submit an RFP
Interested in holding a meeting or conference in Breckenridge?  The Breckenridge Tourism Office's Group Sales Department is your one-stop-shop for lodging proposals, site selection, and planning assistance. Fill out the Request for Proposal form below to have one of our staff members assist you.
Angela Wirth
National Sales Manager
awirth@gobreck.com
970.453.5055
Robert Cusmano
Group Services Coordinator
rcusmano@gobreck.com
970.453.5068
Getting Here & Getting Around
Getting to Breckenridge is easy and convenient, whether you choose to fly and shuttle-it to town, or opt to drive yourself from your hometown. Once you're here, you'll find it's easy to go carless with all the free transportation options and easily walkable town. Breckenridge's shuttle and transportation systems will help any visitor make the most of their trip.
How to get to Breckenridge from the airport
Whether you've flown into Denver International Airport (DEN) or  Colorado Spring Airport (COS) you'll have a 90 mile a scenic drive or shuttle ride to Breckenridge, Colorado to take in the dramatic views.  The easiest way to drive up the mountain is by booking an airport shuttle that offers door-to-door service.

Shuttle Companies serving DIA to Summit County:
If you're renting a car, make sure you're comfortable with mountain driving conditions and choose one that'll fit your checked baggage. Check real-time road information on GoI70 and follow tips to avoid peak congestion times. If you need a car, we recommend driving in and leaving the car parked at your hotel or rental while you're here. Take the bus in and out of town or to the mountain so you don't have to worry about finding parking. Almost everything in town is pay-to-park.  Learn more about going carless in Breckenridge.
Local's Tip: We always recommend taking the shuttle so you can enjoy the mountain views on your way up to town.
Getting Around While In Town
Once you are here, it's easy to get around Breckenridge without a car. There are plenty of transportation options for those who are going carless in Breckenridge. The Breckenridge FreeRide offers free bus transportation throughout the day with multiple shuttle systems running throughout Breckenridge. Most likely, the place you are staying is right next to a bus stop or offers its own FREE shuttle transportation to town. It's easy to get around town on foot or on bike.  Once you're here, you'll find everything is just a few blocks away. The Summit Stage, Uber, Lyft and multiple taxi services are also available to help you travel around town or between towns.
Transportation Resources:
The Town
It's no surprise that Breckenridge is often referred to as the perfect mountain town. It is perfectly situated at the base of Breckenridge Ski Resort – ensuring that you never have to choose between visiting the mountain or visiting the Town of Breckenridge. It's all right here. While the mountain offers 5 peaks 2908 skiable acres to explore, it's the town that sets Breckenridge apart. Full of history and character, the Town of Breckenridge shares an incredibly laid-back charm that makes you feel like a local – no matter the season. Take a stroll down historic Main Street and feel the vibrant spirit of eclectic boutiques and après-ski cheer, relax fireside in a cozy café or enjoy summer afternoons on one of our many decks. Whatever you crave, you can find it here.
Learn more about:
Activities & Adventures
Breckenridge was built for adventure.  We encourage you to head outside to hit the trails, the river, and the town.  If that sounds impossible during your conference, know that Breckenridge prides itself on its offering of unique group experiences designed to build group camaraderie by tackling real mountains instead of the metaphorical ones. For a true taste of mountain living, adopt the local work-hard, play-harder zest for life by taking advantage of all the extra sunshine summer evenings have to offer.
Local's Tip: We always recommend extending a conference trip to fit in a few extra days of fun. We promise it'll be worth it!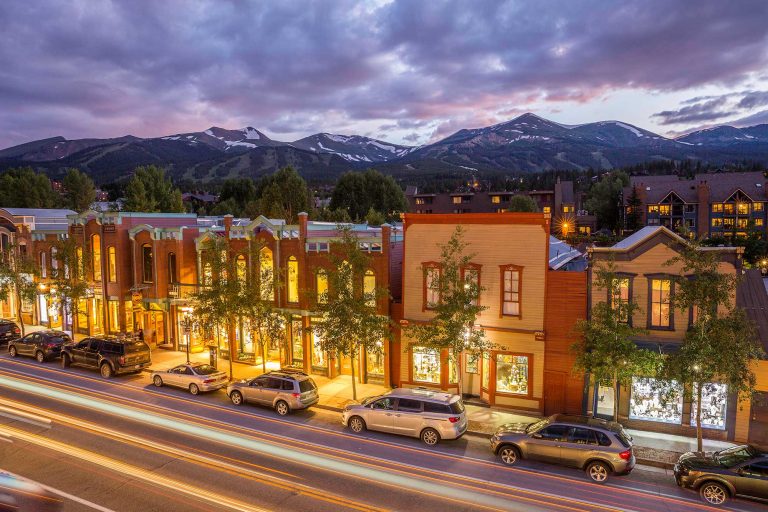 Embrace The Spirit
BLike Breckenridge™️ is a movement born of the spirit of our historic mountain town for those who call it home—whether for a weekend or a lifetime—to live by. It is a cause that connects us to each other, that we can all be a part of.