What to pack for a trip to Breckenridge
Breckenridge is a casual town, an adrenaline-seeker's paradise and a family-bonding favorite. Whatever scene you're seeking, these packing lists will take you comfortably from first chair to dinner out to last call.
The Basics
There are a few must-have essentials for any wintertime visit to the mountains. When your top goals are to stay warm, stay dry and be comfortable, the key element is a strong layer game.
Everyone needs a solid set of baselayers to wear under ski gear (or even jeans if you're out walking around town on a brisk day). Call on functional under-layers designed for winter sports. Always avoid cotton. Once cotton gets wet, it stays wet. Wool is a great go-to and anything with the words moisture-wicking is a smart option for activities where you might work up a sweat.
Snow pants are important to have even if you're not planning on hitting the slopes. They'll come in handy for snowshoeing, sledding and just exploring the rugged natural landscapes around Breckenridge.
For happy feet, pack polyester or wool socks and try to wear socks designed for the day's activities. It may sound a little high maintenance, but there's a science behind it. Thin socks made of synthetic fabric are best for ski boots; thicker socks tend to disagree with tight boots and constrict circulation, making feet colder in the end.
A fleece-lined winter hat will keep your head and ears toasty and waterproof gloves are essential for all winter sports and everyday walking around. Sunglasses, sunscreen and SPF lip balm are musts. Breckenridge sits closer to the sun than most vacation destinations and winter sunburns are the worst.
Insulate with a fleece jacket or vest for extra warmth. Seal it all in with a water- and wind-proof winter jacket. High collars and hoods are chief features. Remember, it's better to have to shed layers than to be chilled.
Last but not least on the essentials list: swimsuits! Because who doesn't like a good hot tub soak or heated pool swim at the end of an adventure-packed snow day? Bring slippers or flip-flops to walk from your room (or locker room if you're at the rec center) to the pools.
For the ultimate in winter bundling without the bulk, check out our Guide to Winter Layering.
Family Packing
Breckenridge winters are made for making family memories. The snow, the mountains, the festive events, all of the activities for your brood—you can't design a more wholesome vacation backdrop!
Think about how you'll spend your days. Will you be skiing, sledding and snowshoeing? Perhaps dog-sledding or going on a family sleigh ride to dinner? Maybe taking it easy in the pool, building a snowman and walking the dog to Carter Park is more your family's style?
Pack an extra layer or two to ensure kids are comfortable. An extra pair of socks, gloves and a fleece under layer can save the day. Spring for the good baselayers; it will keep them warmer and happier longer which translates to more adventure time outside.
Remember, mittens are warmer and easier to get tiny fingers into than gloves. Look for the kind that Velcro around their wrists or higher up on the arm.
Skiing families will want to remember hand warmers, hydration backpacks for the kids, pocket tissues for runny noses, and a ski harness or a pack with a handle on the back to assist the littlest ones with getting on and off the chairlift. Grab a map on the mountain so you can be sure to stay on appropriate runs for your family's skill level. And always bring or stop for plenty of healthy snacks to keep energy levels up.
Tip: Pull gloves, hats and ski bibs inside out and lay them by the fire or pop them into the dryer so they're nice and toasty for the next morning.
Don't forget the nice camera to document your family vacation and snap pics of Breckenridge's incredible mountains.
With lots of adrenaline flowing throughout the day, pencil in some crucial down time. Bring kids' favorite books or games to wind down with by the fireplace.
Sometimes skipping the stroller for a beefy-wheeled wagon works best for lugging kids, gear and extra layers down snow-packed streets or trails. You can even rent strollers in town.
Couples' Essentials
The key for couples packing is finding that sweet spot between comfort and style. Breckenridge is a laid-back mountain community, which means you can save space and leave your fancy clothes (and stilettos) at home. Forget fur. Forget suede. Go with waterproof and insulated.
The focus of your trip is likely going to be spending time together, exploring beautiful backdrops, indulging in tasty meals and luxurious spa treatments, and lounging in ample accommodations.
Wool, flannel, leggings, stocking hats, furry comfy boots (as long as they have solid traction), extra socks and cozy pajamas and slippers to snuggle up by the fire together are musts. Bring workout or lounge-around clothes in case you decide to take a yoga class together or to wear to the spa on your way to a couples massage.
Long puffy coats keep your bum warm on sleigh rides and leisurely strolls around town or along the beautiful Blue River. For nice dinners out, accessorize with scarfs, hats, gloves and jewelry. But don't go overboard. Remember, we're a casual crowd and even the most upscale restaurants in town won't frown upon jeans and a nice top.
For shoes, something comfortable for walking downtown, maybe hitting a scenic trail, are best. Think tread and traction. Don't have the best boots? Consider getting a set of grippy Yak Trax for longer walks or invest in rugged snow boots. It can get icy out there.
Adventurers' Cache
When going full throttle, catching air and pushing your limits sums up your dream visit, you need gear that can stand up to the elements. Major Breckenridge factors to consider include the altitude. We're at 9,600 feet above sea level and the high alpine environment means low humidity and year-round sunshine, plenty of fluffy snow and noticeably thinner air. Sunscreen, lip and eye protection and drinking tons of water should all be on your daily checklist.
Everyone should carry a reusable water bottle and plan to drink twice the amount of water here as you would at home. Electrolyte beverages are helpful for replenishing your system. Alcohol and caffeine slow down the body's ability to acclimate at elevation. Indulge minimally and always break up intake with pints of water between each beer and cocktail.
Ease into high-adrenaline activities like snowmobiling, backcountry skiing and fat biking with some light hiking or walking around town first. Acclimate and your body will thank you.
In addition to the obvious high-impact, tough-as-nails snow sport materials and latest techie styles (synthetic, waterproof, Gor-Tex, bibs), look for ski jacket features that include zippered ventilation, a hood that covers your helmet and a snug powder skirt.
Remember, helmets are crucial. Your head will be much warmer and safer cruising the mountain, skiing trees and hucking off cornices. Invest in a good-quality breathable neck gaiter to protect your nose, chin and cheeks against wind and snow.
When it's dumping, sunglasses just won't cut it. A nice pair of goggles with wide lenses and various lens options to swap out depending on sunlight and visibility will improve performance. Goggles are also great for dogsledding and snowmobiling. Carry a dry wiping cloth that won't scratch the lens.
Be ready for the pow with a fresh ski or snowboard wax. Boot heaters will also keep you going all day long. Even on the chilliest mid-winter days. Attach a GoPro or keep a camera handy to catch those sick face shots and terrain park rail slides. Remember energy bars or bites to refuel on the chairlift and the muscle relief cream for the end of the day.
Happy snow days! Have fun out there.
For warmer months, check out our Summer Packing Guide.
The Breckenridge Tourism Office works to enhance and promote the unique character and experience of Breckenridge as a world-renowned destination resort and to represent, serve and perpetuate the common interest and character of its membership and community. Lisa Blake is a regular contributor. The Breckenridge-based freelance writer, editor and mom enjoys researching and sharing stories on health, wellness, dining and the outdoors. Find her work in Breckenridge Magazine, The Purist, 5280.com, and at lisablakecreative.com.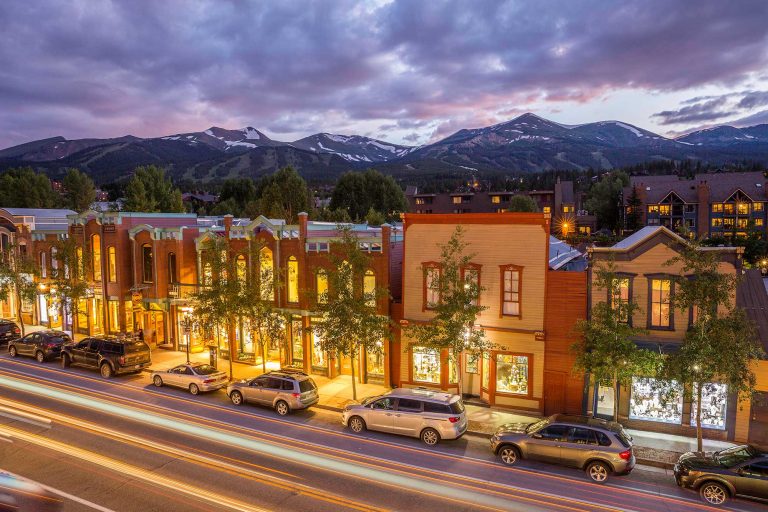 Embrace The Spirit
BLike Breckenridge™️ is a movement born of the spirit of our historic mountain town for those who call it home—whether for a weekend or a lifetime—to live by. It is a cause that connects us to each other, that we can all be a part of.