Breckenridge is world renowned for its skiing and riding, situated above a Victorian town with plenty of restaurants, bars and shopping. But not everyone thinks of Breckenridge as an arts and entertainment hub. In fact, the scene for arts and culture in Breckenridge is busy enough to fill a couple weeks of vacation without one day on the mountain. Here are a few places to start when it comes to art, theater and entertainment in Breckenridge.
7 Things to Do in Breckenridge for Art and Culture Lovers
Breckenridge Backstage Theatre
The award-winning Backstage Theatre has been around since 1974, and it just keeps getting better and better. It has physically expanded with more seating and a larger lobby in which to mingle with cocktails (yes, they even sell specialty drinks to match various productions) before the show and during intermission. That means the Backstage can produce more complex musicals, comedies and dramas, with stunning sets and larger casts. Spacious, cushy seats allow guests to sit back and enjoy the shows in luxury.
Recent shows include Broadway hits like "Chicago" and "Hairspray." And that's not all it holds in store; the intimate theater also screens films every so often and has a long season lineup; check the schedule for every production.
Breckenridge Arts District
The Town of Breckenridge has infused millions of dollars into its Arts District, and it just makes you want to quit your day job and become an artist. Luckily, they've created a schedule of art classes that fit in with a working person's time frame and budget. If you're in town for a few weeks, you can learn how to throw on the potter's wheel and then glaze your ceramics with Raku Firing class.
Those who love all that sparkle and shine can learn to make rings, necklaces and earrings in jewelry and metalsmith classes (and we're talking real silver, here, not just beads). Then there's figure drawing, glass work, creative writing, painting, printmaking, photography, textiles — nearly any class to fit your needs, and your kids', with special craft classes for the little ones.
As the epicenter for creativity, the Arts District merges renovated historical buildings from the gold rush period and beyond. Not only do they provide innovative classes, but they feature amazing festivals like WAVE: Light + Water + Sound, host concerts and bring together international acts ranging from aerials to traveling art installations.
Gallery Scene
Whether you're looking to buy or are just strolling through town, downtown Breckenridge has some amazing fine art galleries, boutiques and shops. From photography and painting galleries, sculpture and glass work or jewelry and everything in between, take a peek and you never know what you might find.
Check out local artists' work at Arts Alive! at 500 S. Main St. where local artists staff the gallery and are happy to show you around and tell you about our many talented residents. They produce stunning art pieces, from paintings to jewelry; it's a great way to bring an authentic piece of Breckenridge home. Don't miss Art Around Town, which are free, hour-long gallery walks that tour public art around the community.
Victorian Architecture
A sometimes overlooked aspect of art lies in the architecture of Breckenridge. Walk, bike or take the bus around town to view the mix of historic homes and multi-million-dollar second homes, or take a guided tour with Breckenridge Heritage Alliance or Breckenridge Tours to get the real stories of the people who lived there. The pros will take you through the Victorian town's nationally registered Historic District from the most humble cabins to beautiful Victorian homes. Feeling brave? Take a walking ghost tour by night to hear true spooky tales about Breckenridge's wild west past.
Other tours bring history to life in fun ways, like summer hikes that highlight mountain mining cabins and relics, the Country Boy Mine including gold panning or Breckenridge Heritage Alliance museums.
Outdoor Public Art Gallery
The Breckenridge public art collection engages passersby from all walks of life, inciting conversation around topics that are quintessentially Breckenridge, from the picturesque mountain environment to rich local history. Pieces in the permanent collection occupy carefully-selected public spaces throughout town, and are thoughtfully curated to enhance the collective aesthetic experience of locals and visitors alike. In addition to the permanent collection, temporary and ephemeral installations bolster the experience of Breckenridge as a haven for creativity high in the Colorado Rocky Mountains.
Snow Sculptures
You have to catch it quick, because it lasts less than two weeks: The International Snow Sculpture Championships are an incredible sight to behold, both day and night. Once the sun goes down, colored lights add new dimensions to the sculptures and make for a great activity with the whole family while waiting for a dinner reservation or a late night romantic date night.
Teams of four people from all over the world come to Breckenridge's Riverwalk Plaza to transform 2-ton, 12-foot tall blocks of snow into intricate works of art using only hand tools. This is definitely an event to revolve a trip to Breckenridge around.
Historic Hikes
Anywhere you hike around Breckenridge you are likely to stumble upon historic buildings, old mine workings and historic sites thanks to our rich mining history dating back to Breckenridge's beginnings in 1859. Explore one of our top historic hikes on your next trip.
So whether you like your art "on ice" in the form of snow sculptures, or prefer the warmth of an oil painting or intimate art class, the arts and culture scene in Breckenridge has something to keep your creative side alive.
The Breckenridge Tourism Office works to enhance and promote the unique character and experience of Breckenridge as a world-renowned destination resort and to represent, serve and perpetuate the common interest and character of its membership and community.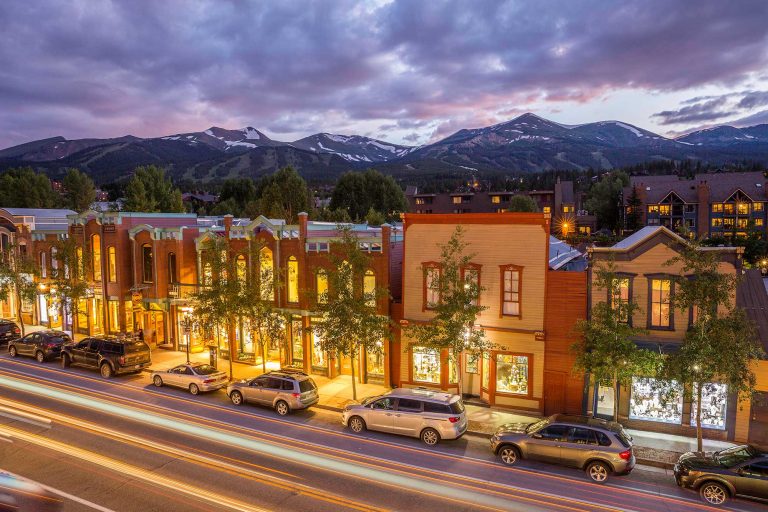 Embrace The Spirit
BLike Breckenridge™️ is a movement born of the spirit of our historic mountain town for those who call it home—whether for a weekend or a lifetime—to live by. It is a cause that connects us to each other, that we can all be a part of.