Breckenridge is known for superior skiing, but did you know that the area is also famous for world-class whitewater rafting? Each summer, roughly 250,000 people grab a paddle, buckle their PFDs – A.K.A. personal flotation device or a life jacket – and splash their way down rivers like the Colorado, Eagle, Blue and mighty Arkansas River.  Many local outfitters have been rafting commercially in Breckenridge for more than 30 years, and are eager to share fun facts and secrets of Breckenridge whitewater rafting.
Best Secrets of Breckenridge Whitewater Rafting:
Secret #1: The Arkansas River is one of the most popular rafting destinations in America.
The Arkansas River begins its journey not far from Breckenridge, in the Sawatch Mountain Range near Leadville, CO. It is 1,469 miles long and stretches east to Arkansas, traveling through Kansas and Oklahoma. The best whitewater rafting on the Ark (that's what locals call it!) is found closest to its source, and spans a 152-mile section of the river, passing through river towns like Buena Vista, Salida, and Canon City, Colorado. From Breckenridge, the best way to access the Arkansas is from Buena Vista – a scenic 1+ hr. drive south. Browns Canyon National Monument is the closest, most popular Breckenridge whitewater rafting trip, and is home to exciting, moderate class III rapids.
Secret #2: Rafting isn't just for thrill seekers… there are family friendly options!
From mild to wild, there are lots of river trip options for guests of all ages and abilities. Don't know how to swim? Not a problem! Opt for a mellow or moderate trip, let your guide know, and pay attention to the pre-river safety talk.
Mellow & Mild: Families with children as young as 4-years-old can enjoy small splashes and breathtaking scenery on the Mild and Scenic trip. Guests can relax and enjoy calm stretches of flat water and leave the paddling to the professionals.
Moderate: There's a reason Browns Canyon National Monument is so popular: because of the moderate class III rapids paired with stunning canyon scenery and frequent wildlife sightings. Seriously, this trip is amazing for first-timers and river-rats alike. We recommend doing this more than once, as it's a completely different experience at varying water levels. It's the perfect multi-generational trip for families with children 7-years-old and older.
Wet & Wild: The Numbers run will excite and satisfy the most daring thrill seeker! This trip requires rigorous paddling through technical and continuous class IV+ rapids, and is for guests 16 years+ – though at lower water levels some rafting companies will take adults as young as 14.
Secret #3: Weather is different on the river.
You know what they say about Colorado… "If you don't like the weather, just wait 10 minutes!" Well, the same is true for different areas in the mountains. At 60 miles south and 1,600 feet lower in elevation, the weather in Buena Vista can be very different from Breckenridge. Though it's always a good idea to check the forecast, guests can usually count on it being 10° warmer, and most of the time – sunny! With that said, the water in the river does come from snowmelt, so it can be colder in early season (May, June). If you're concerned about temperature, many rafting guests opt for a wetsuit, and are comfortable their entire trip.
Secret #4: Water levels are guaranteed through mid-August.
Arkansas River flows generally follow the same rules as most snow-fed, mountain rivers: higher flows in early summer when temperatures climb. Thanks to the Arkansas River Voluntary Flow Management Program, there are guaranteed flows for whitewater rafting well into August. In fact, most companies will raft through Labor Day weekend, after the river returns to its native flow, but it's a good idea to call and check river conditions. Don't listen to your wild friend that says rafting is only fun during the spring run-off – most rafting in Colorado takes place during the months of July and August when the rivers are experiencing average flows.
About the Author
Lauren Swanson
Marketing & Relations Manager for Performance Tours Breckenridge's first rafting company, has been offering incredible whitewater rafting trips in Breckenridge since 1986. They provide half day, full day and multi-day rafting adventures for all ages and abilities, and have 4 locations in Breckenridge, Frisco, Buena Vista and Canon City, CO.
Visit the Performance Tours Whitewater Rafting website for more information or to book a trip. Want the latest and greatest whitewater photos, videos and updates?
For more information on the best Breckenridge whitewater rafting companies and what to do during the summer, contact the Breckenridge Information Specialists at 877-864-0868.
The Breckenridge Tourism Office works to enhance and promote the unique character and experience of Breckenridge as a world-renowned destination resort and to represent, serve and perpetuate the common interest and character of its membership and community.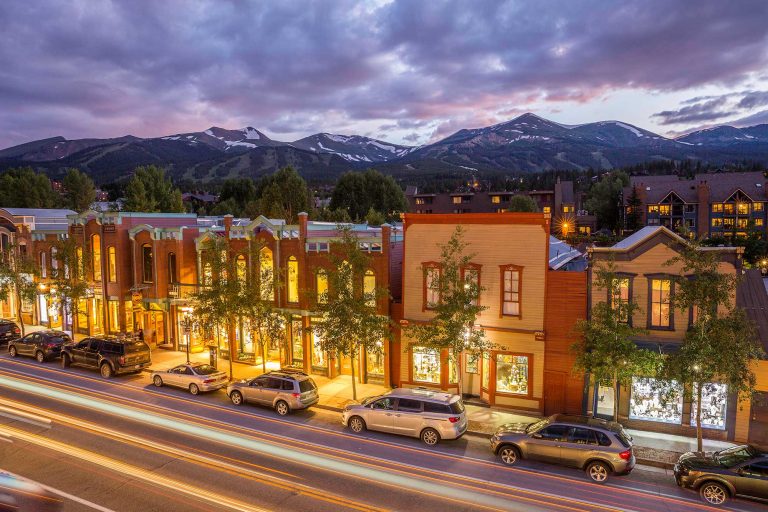 Embrace The Spirit
BLike Breckenridge™️ is a movement born of the spirit of our historic mountain town for those who call it home—whether for a weekend or a lifetime—to live by. It is a cause that connects us to each other, that we can all be a part of.