It's that time of year when the snow is almost gone, the sun is shining, and we try our hardest to break out the flip flops and hiking boots as soon as possible. But the snowier the winter, the longer we wait for the start of hiking season in Breckenridge.  Early season hikers will often encounter snow drifts, mud, and even temporary closures throughout May and half of June. While we wait for the snow to melt out in the High Country, here are some early season hiking trails to satisfy your urge to put boots on the ground!
Know Before You Go
Hiking and riding trails before they are ready can cause damage that will last through the season. Heed the Muddy Meter signs and website provided by the Town of Breckenridge Trails Department. Red means it's a "No Go" zone. But don't worry, there are still plenty of options when your first choice is closed.
Another thing to always remember is to always be prepared with proper equipment. A trail may start dry yet turn to deep snow drifts and thick mud as soon as it shifts to the shady side of the hill or climbs in elevation. Carry some snowshoes with you so you can keep hiking, and in addition to sturdy hiking boots with grippy soles, gaiters can help keep the snow and mud out of your boot tops.  Visit Mountain Outfitters on Ridge Street for all your hiking needs and snowshoe rentals.
Even though shortcuts can be tempting, please don't take them. A few extra strides on the path will protect native plants and the homes of the true furry locals. You can help us preserve and protect what we love by following Leave No Trace practices during your visit.  Learn more by taking the Tree-Hugger Challenge.

Early Season Hiking Trails
Blue River Trail
The sounds of spring are first heard along the Blue River, a babbling lifeway for birds, fish and other mountain dwellers.  Amble along the Blue River, soaking up the sun and the first signs of life after the snows melt away. Early season buttercup and bluebell wildflowers can be seen among the willow bushes.  A dirt path follows the river on the west side, opposite the bustle of the paved rec path.
Find It: Along the Blue River just north of Downtown. There are several options for accessing the Blue River Trail and free public transportation serves both ends of the path. Park at the Rec Center, head north on the Rec Path and pick up the dirt path adjacent to the Police Department. Another option is to drive north and park at Colorado Mountain College. This way you can walk upstream and return with an easy downstream ramble. The free Gray Route bus accesses the stops you'll need.
Mileage: 1.3 miles one way, allow an hour or so, easy
Discover more easy hikes from downtown Breckenridge.
Iowa Hill Interpretive Trail
This historical trail meanders past interesting mining artifacts and interpretive signage, so you might not even realize how much elevation you are gaining. Learn about the hydraulic mining innovations developed at Iowa Hill. Spur trails lead to interpretive sites like a blacksmith shop and huge water pipes. At the top is an 1879 log Boarding House. The Breckenridge Heritage Alliance offers a guided tour that includes entry into the historic building.
Find It: Free public transportation makes it easy to access Iowa Hill even without a car. Take the free Gray Route bus north to the Breckenridge Terrace stop, stay on the sidewalk heading north a short distance until you see the Iowa Hill Trailhead sign and cross the street. Follow the dirt road 100 yards north to the trailhead.
Mileage: .6 mile loop, allow 30 mins to an hour, moderate
Learn more about the Breckenridge Heritage Alliance tours and museums and historical hiking trails in the area.
Gold Hill Trail
You don't have to hike very far on the Gold Hill Trail to enjoy sweeping views of the Blue River Valley and meadows filled with wildflowers. That's a good thing if the upper reaches of the trail are covered with snow banks.  The Gold Hill trail is also part of the Colorado Trail, a state-wide path that attracts through-hikers from across the globe.
Find It: The Gold Hill Trail is located 4 miles north of Breckenridge immediately adjacent to Highway 9. Get there via the free Summit Stage bus and disembark at the Tiger Run stop.
Mileage: 1-6 miles round trip, allow 1-6 hours, moderate
Discover more wildflower hikes around Breckenridge to explore throughout the rest of summer!
Lower Cataract Lake
35 miles north of Breckenridge and a thousand feet lower, the hamlet of the town of Heeney serves as the gateway to the Eagles Nest Wilderness Area and Lower Cataract Lake. Located just inside the Wilderness Area boundary, Lower Cataract Lake is everything you'd expect from a great Colorado hike: a sizeable lake tucked up against huge mountains surrounded by forests and fields of wildflowers and fed by a cascading waterfall.  The lower elevation and south-facing hillsides provide habitat for wildflowers that start blooming in May. Walk the short distance to the lake and have a picnic at their provided picnic tables, or do the loop around the lake to get views from all angles,
Find It: To get there, take Highway 9 north 27 miles to County Road 30, turn left and follow it to Cataract Road. Take the dirt road to the bitter end, where you'll find the parking area for Lower Cataract Lake.
Mileage: 2.5 mile loop, allow 2-4 hours, moderate
Find more early season trails
Curious if other trails in and around Breckenridge are suitable for early season hiking? Check out the Town of Breckenridge's online Muddy Meter and remember these tips:
Stick close to town – Sitting in the valley bottom, the Town of Breckenridge is as low as you can go elevation-wise.  Trails near town melt out the soonest.
Face South – Our powerful sun melts the south-facing hillsides the quickest. Trails on aspects that get the most sun will be ready before anywhere else.
Go Lower- The farther north you go, the lower in elevation you drop. Head to nearby Frisco and Silverthorne for drier early season hiking trails.
Trail Etiquette & Local Tips
Anytime you are out enjoying nature, it's important to abide by Leave No Trace principles. Remember pack it in, pack it out always— this includes all trash, waste, gear etc. If you see trash along the trail, pick it up! It is best to leave the trail and the wilderness even more beautiful than when you arrived whenever possible. Stay on the trail and avoid the side trails or any shortcuts to preserve the natural environment as much as possible while avoiding erosion. You can help us preserve and protect what we love by following Leave No Trace practices during your visit.  Learn more ways you can B Like Breckenridge and protect what we all love. 

Basic Trail Etiquette
Follow these easy tips and guidelines while out on the trail to respect nature and other trail users.
A hiker going uphill has the right of way.  If you're on a flat section, just be courteous and move to the side allow others to pass.
Greet others with a simple "hello" or a smile when you pass.
Keep conversation volume down to respect nearby trail users and enjoy the quietude of nature around you.
Keep dogs within sight, under control and have a leash handy to avoid and unwanted interactions with other pets, wildlife or trail users.
Stay on the trail. Avoid shortcuts, unless they are official trails. This helps protect the fragile habit, plants and integrity of the natural area.
Yield to bikes and horses, livestock. Technically bikers are supposed to yield to hikers, but usually bikes are moving quickly and it's easy enough to stop and let them pass. When you see horses on the trail, just step to the side and let them pass.
Local's Tips
Want to make sure you've packed all the essentials? Check out our Summer Packing Guide or prepare for your hike with these handy tips and what to bring from the experts at REI.
Colorado Trail Explorer (COTrex) is a great place to start looking for hikes. Choose your location and all the trails for that area will show up. Star your favorites, get trail info and look at recent photos.
No car? No problem. Carpool or take the bus to many of the Breckenridge trailheads.
On busy days, trailheads can fill up by noon, so head out early- the trail will be less crowded too and you'll miss the afternoon thunderstorms that can roll in by the afternoon.
Know and follow trail etiquette and leave no trace principles. Please pack out your trash, leave the wildflowers for others to enjoy, and give a friendly wave to the other users sharing the trail with you.
New to hiking or mountain biking?  Consider going with a guide or taking a class.  Breckenridge Heritage Alliance offers guided hiking trails that add an educational component to your trip.  Colorado Adventure Guides offer a variety of mountain biking lessons and guided hikes for all skill levels.
With these handy tips, you're well on your way to choosing one or many hiking destinations perfect for you and your group, and you didn't even have to create a matrix diagram to make your decision.
Find out more things to do this summer in Breckenridge, and learn more about hiking in Breckenridge without a car!
The Breckenridge Tourism Office works to enhance and promote the unique character and experience of Breckenridge as a world-renowned destination resort and to represent, serve and perpetuate the common interest and character of its membership and community.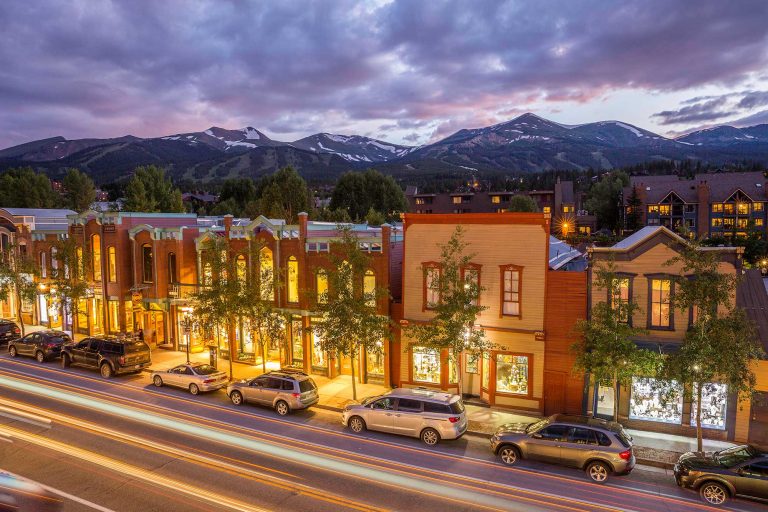 Embrace The Spirit
BLike Breckenridge™️ is a movement born of the spirit of our historic mountain town for those who call it home—whether for a weekend or a lifetime—to live by. It is a cause that connects us to each other, that we can all be a part of.