Nothing is as cozy as warming up next to a crackling fire after a long day on the mountain or a snowy stroll along historic Main Street. Breckenridge is filled with outdoor and indoor fireplaces, perfect for the whole family or a romantic nook to get away from the bustle of town. Grab some hot chocolate, warm up those fingers and find some of town's hidden gems. Here's our list of the best fireplaces in Breckenridge.
Cozy Fireplaces in Breckenridge
Blue Stag Saloon
This boutique bar has one of the coziest ambiances in Breckenridge. The Blue Stag Saloon features recycled beetle kill wood ceilings and barn wood walls that make for the perfect mountain atmosphere. But it doesn't stop there. Warm up by one of their fireplaces either inside their warm hygge inspired restaurant or outdoor as you people watch along historic Main Street.
The Gold Pan Saloon
In 1859, thousands of gold seekers flocked to Colorado taking part in one of the greatest gold rushes in North American history. The Gold Pan Saloon has stood for over 140 years playing host to gunfights, outlasting Prohibition, and boasting the longest continuous liquor license west of the Mississippi, not to mention, it's home to one of the coolest fireplaces in Breckenridge. Today, locals and visitors alike come for the camaraderie, to tell a few ski stories, listen to music, and enjoy some food and libations. Now, the Gold Pan adds another chapter with the addition of Carboy Winery, a unique Colorado winery offering a selection of select Carboy wines in bottle and on TAP! Warm up by their antique, one-of-a-kind stove inside the rustic bar, restaurant and winery we've all come to love.
Main Street Station
Take in views of the Maggie Pond and Peak 8 at the large fireplace at the center of the Main Street Station Plaza. Located next to Quandary Tequila Bistro, this is the perfect spot to wait for your table to open up, meet the crew before heading to the Quicksilver lift or just relax and recharge. Don't forget to grab a crepe while you're there at Breckenridge's second (and less crowded) crepe stand, the Main Street Trolley.
One Ski Hill Place
At the base of Peak 8 lies a luxurious ski-in, ski-out lodging experience. With easy access via BreckConnect gondola, that means you can warm up in the lobby by their beautiful stone fireplace after an exciting day in town or on mountain with no hassle. But it doesn't just stop there. Their private aquatics center and fitness facility features its own fire pit, along with two indoor swimming pools, two hot tubs, steam room and sauna so you can work out or rest up for a day on the slopes.
Ridge Street Wine, Cheese and Chocolate Alleyway
This hidden gem is the perfect spot for a romantic hideaway or just to take a break from the bustle of town. You'll find this alley right on Main Street directly across the red Marmot store. While you're there, swing into Ridge Street Wine featuring unique and affordable selection of wines from around the globe, and their sister store, Breckenridge Cheese and Chocolate has everything from small farm cheeses to small batch chocolates, crackers, jams and salami to share and pair.
Breckenridge Nordic Center
After your cross-country ski, snowshoe or snowcat adventure on the trails, take time to unwind in the Breckenridge Nordic Center's beautiful handcrafted log lodge. As you take in the stunning views from the cozy lodge, bask in the warmth of their family style lounge and large stone fireplace while enjoying food and drink specials. Don't miss Happy Hour with live music every Saturday starting December 21st from 3:30-6 pm!
Crepes a la Carte
It's a fan favorite, and for good reason! Crepes a la Cart is the perfect place to stop for a quick bite, sweet or savory. Keep strolling or take a seat by their outdoor fireplaces to get the full experience. Because lines can get long, we recommend going in the morning, late night or during transition seasons like May and October when town isn't as busy. They also offer a second location open on weekends at 309 South Ridge Street Alley.
Robbie's Tavern
Robbie's Tavern is a slopeside bistro housed within the luxurious Grand Colorado at the base of Peak 8. Take in views of the ski resort from their deck featuring a long, in-table fireplace. Try their hand-crafted hot cocktails like the Irish Winter (Irish Whiskey, Three Olives Espresso Vodka, coffee, topped with whipped cream and cocoa powder) or Mad Monk (Frangelico, Peppermint Schnapps, coffee, hot chocolate, topped with whipped cream and a sprinkle of crushed peppermint candy). Stop by to refuel between runs or take a scenic gondola ride from town straight to the Base of Peak 8.
Breckenridge Distillery
Breckenridge Distillery is known not only for being the "World's Highest Distillery," but also for their award-winning spirits and great atmosphere. Hang out on the patio year-round and enjoy appetizers and funky craft cocktails around the fire. Better yet, try the fat-bike beer and distillery tour, which takes you from town along the blue river recreation path and on to try craft brews at nearby Broken Compass Brewery, and then on to the Distillery for a quick bite and hot toddy by the fire to warm the fingers.
The Crown
If you're looking for a place to warm up with a cup of cocoa or for lunch, this is the place to do it! You'll get the true local feel here- it's a hot spot for morning Joe, lunch specials, ice cream and even boozy drinks. Stop in along your stroll of historic Main Street to warm up in their modern, yet cozy shop where the fireplace creates the ultimate winter cabin feel.
The Breckenridge Tourism Office works to enhance and promote the unique character and experience of Breckenridge as a world-renowned destination resort and to represent, serve and perpetuate the common interest and character of its membership and community.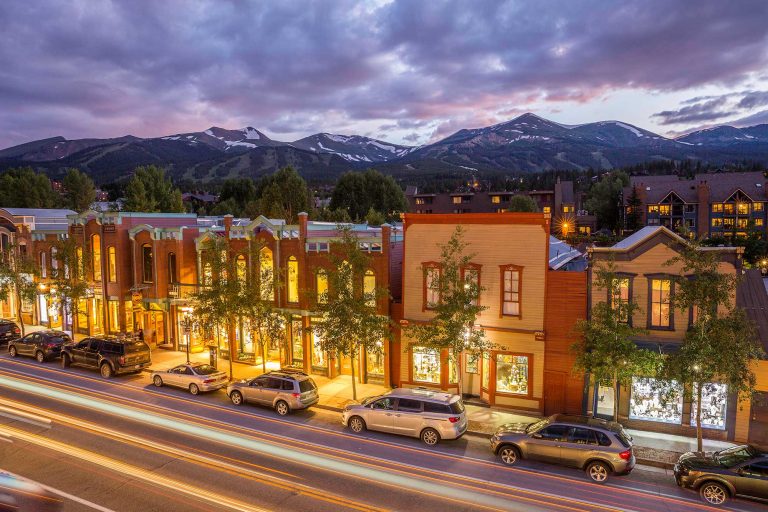 Embrace The Spirit
BLike Breckenridge™️ is a movement born of the spirit of our historic mountain town for those who call it home—whether for a weekend or a lifetime—to live by. It is a cause that connects us to each other, that we can all be a part of.