Bellying up to the bar in Breckenridge has come a long way since the rough n' tumble saloon days of the 1800s. While the historic charm of Breckenridge remains with hand-carved wooden bars and colorful Victorian buildings, Breckenridge has expertly mixed modernism with history. The craft cocktail movement continues to take root in Breckenridge with infused vodkas, cold-smoke cocktails, artisanal drinks and handcrafted libations. We don't need any more reasons to say cheers with our favorite liquid treats and best cocktails in Breckenridge.
Best Cocktails in Breckenridge:
Northern Lights – Modis 
What: Vodka drink topped with St. Germain foam is always changing. Ask your server what color it is today.
Like the Aurora Borealis, this drink flickers with color. What color? Good question. Ask your server. It changes daily depending on the bartender's mood and artistry of the day. Modis has become known as the spot for happy hour and creative cocktails right on Main Street.
The Sexy Woman – Ember 
What: Jalapeno-infused vodka, passion fruit. Lime. Sugared Rim
She's curvy and alluring and spicy. Hello there. Ember, the restaurant and bar known for experimentation, doesn't shy away from … well, anything. Neither should you. Head chef Scotty B. hopes to provide you with flavor combinations and textures of which you may have never seen paired together.
Pomegranate Mint Caipiroska – The Motherloaded Tavern 
What: House infused pomegranate mint vodka, fresh grown mint, fresh lime juice and a dash of mint infused simple syrup. Served in a mason jar.
Known for their home-cookin', the Motherloaded Tavern has one of the most diverse and creative cocktail menus. The MLT, as it's known by the locals, features 15-30 seasonal house infusions, live music and yummy fare that'll bring you back to childhood.
Walk in the Woods – Blue River Bistro
What: St. George's gin, grapefruit shrub, tarragon simple syrup and muddled shiso leaf
Blue River Bistro offers a bounty of alcohol infusions from vodka infused with strawberries, ginger, red beets and tequila infused with peaches. Don't miss their local's favorite late-night happy hour from 9pm-midnight featuring 2 for 1 martinis and appetizers.
Strawberry Serrano Mule – Hearthstone Restaurant
What: Spring44 vodka house infused with strawberries & serrano peppers, fresh squeezed lime juice and gosling's ginger beer.
Warmly decorated in victorian period style, the romantic Hearthstone Restaurant in the historic Kaiser Home home has great views across town to the Breckenridge ski resort and the majestic ten mile range. Their cocktails are rotating and seasonal- be sure to ask your server what's new for the season!
Mad Monk- Robbie's Tavern
What: Frangelico, Peppermint Schnapps, coffee, hot chocolate, topped with whipped cream and a sprinkle of crushed peppermint candy.
Sip on a hot boozy beverage and warm the toes after a long day on the mountain at Robbie's Tavern at the base of Peak 8. They specialize in upscale comfort food, craft beer, handcrafted cocktails, world-class wines and superior guest experience. Take in views of the resort and soak up some Colorado sunshine on the patio.
The Apple Manhattan – Briar Rose
What: Buffalo Trace Bourbon, Thatcher's Apple Spice Liqueur, Angostura Bitters, and House-Made Caramel Ice Cubes
The icing on the top of this drink is just that – the ice. The house-made caramel ice cubes look cool, keep your drink icy cold, and add a sweet lingering taste. "The whiskey with melting Carmel ice cubes is to die for," says Breckenridge local Brittany Leigh Mier Y Teran. Look for the historic pink building off of Lincoln and Main- the Briar Rose Chophouse and Saloon has been serving up some of the finest aged beef and fresh wild game in this landmark downtown restaurant for decades.
Mountain Butterfly – Après Handcrafted Libations
What: Watch as this magical mountain butterfly changes colors before your eyes! Rum, butterfly pea flower syrup, lemon juice and kombucha make this drink one to remember!
Après is a craft tasting room that brings the best in craft libations to Breckenridge. Their award-winning handcrafted cocktails are made from scratch using the finest craft spirits, house-made syrups, hand squeezed (…mostly) juices and of course their very own Après Handcrafted Bitters.
The Espicy – Rita's Specialty Margs and Taco Bar
What: Casa Noble Blanco, Patron Citronge, muddled cucumber and jalapenos. Fresh squeezed lime and a splash of agave nectar. Make it a Smokey Espicy with Mezcal Vago Espadin.
Rita's is a local favorite for a la carte tacos for cheap, house-made salsa and specialty hand-pressed Margaritas with a twist. From the fresh-squeezed lime to their homemade margartia mix, everything here gets a special loving touch. Try the Señor Rita containing only juice fresh from the juicer or the zany Bahama Pomma, the only Pomegranate Margarita that we know of!
Barrel Smoked Mai Tai – Breckenridge Distillery
What: Breckenridge Spiced Rum, in-house orange liqueur, in-house almond macadamia orgeat and fresh lime juice. Smoked in a barrel
Mai Tai means "very best" in Tahitian, and is one of the most interesting cocktails in history. Created by Victor Jules Bergeron (Trader Vic) in 1944, it's said it might have developed from a formula by Donn Beach. Their take on this iconic cocktail is sure to please! Swing by the tasting room and sample all of their Breckenridge-made spirits; you can even bring a bottle back home with you!
Of course, we can't fit all of our favorite cocktails into one blog. Try them all out for yourself and explore more Breckenridge restaurants and bars specializing in craft cocktails like Legends, Relish, Twist, the Canteen and more!
Don't miss the opportunity to raise a pint or two at local breweries – the Breckenridge Brewery and Broken Compass Brewing with rotating craft brews. Looking to experience more of the pubs and bars in town? Here's our guide to the ultimate pub crawl in Breckenridge.
Did we miss any? Share your favorite cocktails on social using the hashtag #BreckLife.
The Breckenridge Tourism Office works to enhance and promote the unique character and experience of Breckenridge as a world-renowned destination resort and to represent, serve and perpetuate the common interest and character of its membership and community.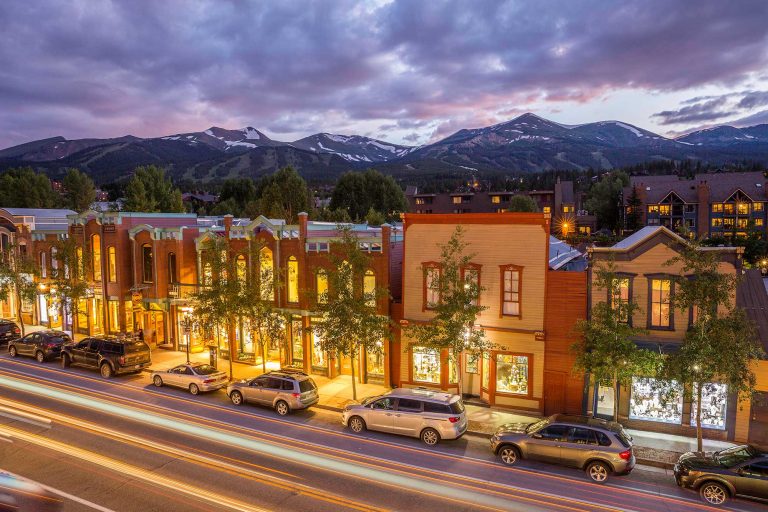 Embrace The Spirit
BLike Breckenridge™️ is a movement born of the spirit of our historic mountain town for those who call it home—whether for a weekend or a lifetime—to live by. It is a cause that connects us to each other, that we can all be a part of.