If you are new to biking, biking in the mountains or have children in tow, you'll be happy to hear that Breckenridge offers biking trails for every level of rider.  From paved paths to your first single track trail, our beginner biking guide will have you pedaling your way to fun through easy biking trails in Breckenridge.
Favorite Dirt Roads
Tiger Road
When there's still snow and mud at higher elevations, Tiger Road is a great place to start off your biking season. It's a smooth dirt road that offers scenic, easy cruising along the Swan River Valley and is a wonderful trail for beginners.  Higher up, the valley splits into three mountain drainages containing rugged jeep roads that explore remote meadows and remains of historic mining communities.   You can also access Summit County's renowned stretch of the Colorado Trail is also accessible from Tiger Road.
Distance: 6.5 miles out and back
Elevation Gain: 170 feet
Directions: You can get to Tiger Road from by riding the Breckenridge Rec Path Towards Frisco or driving there. From the intersection of Main Street and Ski Hill Road/Lincoln Avenue drive north on Highway 9 approximately 5 miles to Tiger Road. Turn right. Drive 2.6 miles and park on the left in the small parking area near a pond containing the remains of a historic dredge boat. The trail is Tiger Road beyond that point. Ride 3.3 miles to the intersection of the North Fork of the Swan Road. The trail gets much more difficult from here. This is the turnaround point for the ride.
Boreas Pass Road
Boreas Pass Road follows an abandoned narrow-gauge railroad to scenic views of the town and ski resort as well as a few historic remains from the mining days. The popular Bakers Tank Trail also can be accessed along this route.  This is a well-maintained dirt road with a gradual incline.  Keep an eye out for vehicle traffic especially while riding downhill.
Distance: 12.5 miles out and back
Elevation Gain: 1,120 feet
Directions: From the intersection of Main Street and Ski Hill Road/Lincoln Avenue drive south on Highway 9 approximately .6 miles to Boreas Pass Road (the last stoplight in town). Turn left and follow the road for 3.5 miles to the beginning of the dirt road. Park at the parking area on the left. Follow the dirt road to the top of Boreas Pass.
Favorite Easy Biking Trails in Breckenridge
Sallie Barber Trail
The Sallie Barber Trail is an out-and-back ride with an easy incline.  The road wide trail twists through forests and peaks at the Sallie Barber Mine. The Sallie Barber Mine Trail is one of the many historic mining roads that zigzag from the town of Breckenridge up toward Bald Mountain. The old Sally Barber Mill was last used in 1909, and all along the gulch you can see piles of smooth rocks left from gold boat dredging. A scenic loop that provides access to historic structures including the Sallie Barber mine above French Gulch.
Distance: 9.5 miles loop
Elevation Gain: 1,085 feet
Directions: From Highway 9 in north Breckenridge, take Huron Road (CR 450) east for .4 miles and bear right onto Reiling Road. Take Reiling Road through the subdivision for .7 miles and turn left onto French Gulch Road (please drive slowly and watch for playing children). Take French Gulch Road for 2.6 miles to the clearly marked French Gulch Road Trailhead and parking area on your right. Of note: French Gulch Road eventually turns into a packed dirt road on its way to the trailhead. While the road continues past the official trailhead, only official vehicles are allowed past the trailhead.
B&B Trail
B&B Trail is a relatively flat trail that offers a mix roots and rocks to keep the trail challenging for beginners.  This trail will take you to the Reiling Dredge which was built in 1908 and was the eighth dredge used in the Breckenridge area to mine gold. In 1922, it sank into a small pond known as French Gulch, while being moved up and down French Creek, extracting gold. Today you can hike up to see the ruins, which in an effort to prevent further collapse, are currently held up by cable anchors put in place in 2012. This trail and all the other easy biking trails in Breckenridge are well-marked and maintained, winding through pine tree forests on both doubletrack and singletrack segments.
Distance: 2.4 mile loop, easy to extend with connecting trails
Elevation Gain: 300 feet
Directions: From I70 drive south on highway 9 towards Breckenridge. Turn Left onto Wellington Road and travel approx. one mile. At the stop sign turn right onto French Gulch Road. Travel .5 miles and the road turns into gravel. Go an additional .7 miles and the B&B Trail Head will be marked by a small brown sign followed by a right turn into a parking lot.
Breckenridge Rec Path
The Town of Breckenridge is home to a seven-mile section of the Blue River Recreation path, known locally as the "Rec Path," a paved, mild path that follows the Blue River through town limits and beyond. The Rec Path sits in the shadow of the Ten Mile Range and is open to runners, hikers, dog walkers and bikers of all type. It's the perfect route for a family cruise.
For more information on what to do during the summer, contact the Breckenridge Information Specialists at 877-864-0868. While in town, stop by the Breckenridge Welcome Center at 203 S. Main Street. You can also fill out our activity request form to receive more information or view, download or order the Breckenridge Vacation Planner.
The Breckenridge Tourism Office works to enhance and promote the unique character and experience of Breckenridge as a world-renowned destination resort and to represent, serve and perpetuate the common interest and character of its membership and community.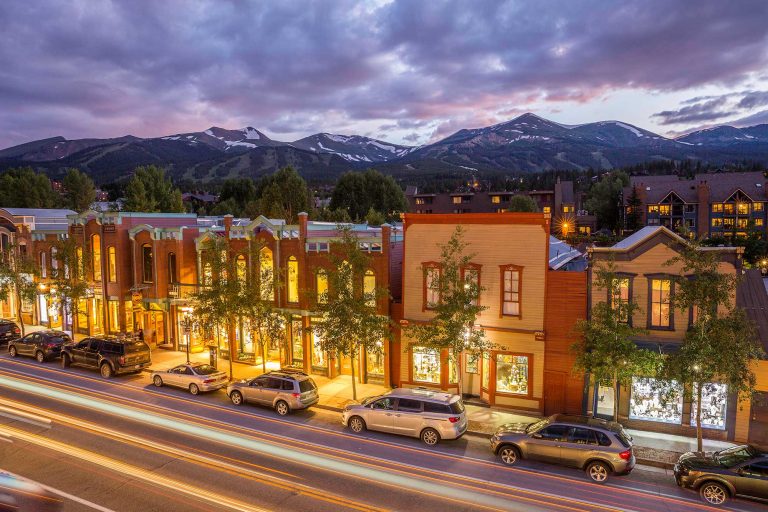 Embrace The Spirit
BLike Breckenridge™️ is a movement born of the spirit of our historic mountain town for those who call it home—whether for a weekend or a lifetime—to live by. It is a cause that connects us to each other, that we can all be a part of.