As the temps reach the high 90s around the country, Breckenridge, Colorado will max out at a few degrees below 80°F, making it the perfect temperature for just about anything.  Give your air conditioning a break and head to Breckenridge to experience the top 6 ways to beat the heat.
1. No Heat, No Humidity
July and August typically top the charts as the warmest months of the year in Breckenridge at around 70 degrees Fahrenheit on average. While these are our warmest months, it rarely gets above 80 degrees, so many flock here to escape the summer heat hitting the rest of the county. Combine that with our dry climate to create the perfect destination to log some solid hours outdoors.
From mid-July through August, you can expect quick afternoon thunderstorms, so be sure to start hiking and biking early in the day, keep an eye on the weather and always pack extra layers.
2. Rafting
There's no better way to beat the heat than heading to the river. Splashes of ice-cold water are guaranteed to keep you cool as your raft floats downstream. Several local companies offer whitewater rafting tours on rivers that are located within an hour of Breckenridge, including the Colorado, Arkansas, Blue and Eagle Rivers, as well as Clear Creek with even more options if you don't mind traveling a bit farther. Ranging from scenic float trips that are great for families with smaller children to excursions with heart-pounding Class IV and V rapids, there's a rafting trip for just about everyone.
3. Stand-Up Paddle Boarding
Stand-up paddle boarding (called SUP) may have started in the ocean, but we've fully embraced SUPing here in the mountains. The Maggie Pond is great for beginners and offers convenient walk-up rentals as well as SUP Yoga.  This just off Main Street location makes it easy to cool off after a hike or lunch in town.  For a longer tour, head to Lake Dillon to explore coves and miles of alpine shoreline.
4. Fly Fishing
Colorado is known for its fly fishing (and fly fishing fanatics), and Breckenridge is no different. With world-class fishing spots in town, it allows anglers to vie for both rainbow and brown trout as well as the occasional brook trout.  Even on the warmest days, the fresh mountain runoff that fills the river is guaranteed to be refreshingly chilly.  If you're a fly fishing novice, there are several great shops in town that can hook you up (no pun intended) with gear and a guide. Utilize a guide—they not only know the best spots, but they are also incredibly in tune with the taste buds of these local trout. Though there are plenty of good spots in town, there are also other opportunities to fish in the high alpine lakes or on a float trip on a nearby river.
5. Ghost Tour
Is there any better way to cool off than being chilled to the bone? Prepare to be haunted by Breckenridge's mining ghosts of the past on a ghost tour, or walk through Breckenridge's nationally recognized Historic District. History lovers will enjoy visiting original cabins and stately homes to learn about the people who lived here over 100 years ago.
6. Patio Season
Our Colorado mountain town is graced with 300+ days of glorious mood-boosting sunshine a year, and if there's anything locals love more than playing hard, it's logging solid lounge time on sun-soaked patios and decks in Breckenridge. So kick back, relax and raise a cold one to beating the heat in Breckenridge.
The Breckenridge Tourism Office works to enhance and promote the unique character and experience of Breckenridge as a world-renowned destination resort and to represent, serve and perpetuate the common interest and character of its membership and community.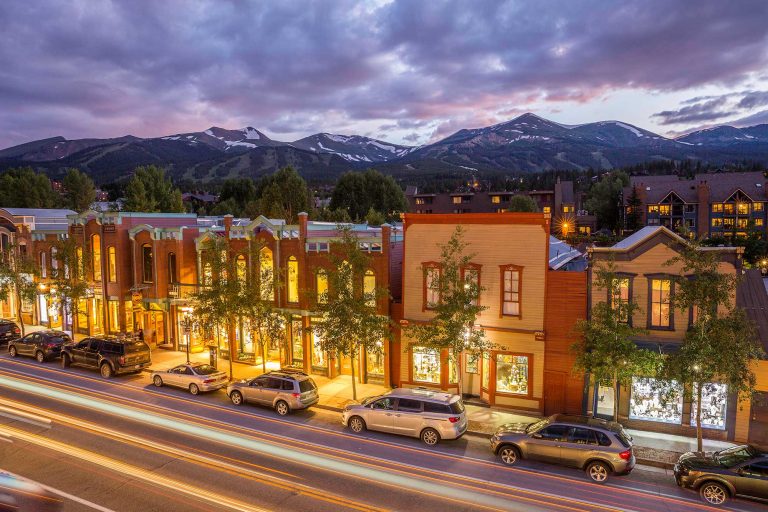 Embrace The Spirit
BLike Breckenridge™️ is a movement born of the spirit of our historic mountain town for those who call it home—whether for a weekend or a lifetime—to live by. It is a cause that connects us to each other, that we can all be a part of.