Let's be honest. You don't come to Breckenridge in the winter to twiddle your thumbs. You come for the snow-covered mountains to slide, glide or float through it. With five peaks of skiing and snowboarding from Peak 6 to Peak 10, there's a wide variety of Breckenridge Ski Trails for skiers and riders of all levels. To help you make the best of your time whether that means cruising down a groomer or digging into the go-go-glorious pow-pow, here are some of our favorite trails, along with tips to make your time in, on, or going through the snow (can you say "face shot" while smiling?) the best part of your day.
Best Breckenridge Ski Trails:
First Time Skiing or Riding?
First things first: If you've never skied or snowboarded before, your best bet is to consider a group lesson. Breckenridge Ski Resort offers classes for both kids and adults in skiing and snowboarding. Yes, you can try to learn from your friend or significant other, and hope that your friendship survives the experience, but why not learn from a professional who will shorten your learning curve and have you confidently out on the mountain in no time? Check out the  Breckenridge Ski & Ride School information and you'll be skiing or riding circles around….well, anything you want, and the envy of your less savvy and self-taught friends. Seriously.
Beginner Skiers & Riders:
Beginners: if you can typically get on and off a chairlift, and can perform snowplow stops and wedge turns on gentle inclines, then you may want to check out the "easiest trails" which are indicated on signs and trail maps with a green circle. Breckenridge has lots of green terrain for you to enjoy, so check out these green trails that are sure to make you smile:
Best Trail:

Trygve's – From the base of Peak 8, take Rip's Ride, and enjoy Trygve's (named after Trygve Berge who helped design Breckenridge Ski Resort and served as the first Ski School Director in 1961). This trail is gentle all the way down, and is adjacent to the learning area at the bottom of Peak 8. It's a great place to start for two reasons: the trail is gentle and short, which is perfect for beginners to build their confidence, and because it's near the learning area, there are lots of staff around that can point you in the right direction if needed.

Insider Tip:

If you're on Peak 9, take the Quicksilver Super Chair and try Frontier. Many novices will get off of a lift and take the trail right by the chair, resulting in more people on that particular trail. Instead, when you are exiting the Quicksilver, go to your left, past Ten Mile Restaurant, and look for the sign for Frontier. Follow that trail to the base and enjoy yourself without worrying about crowds, or your friends watching you from the chair above! Want some more insider tips? Click here for the top 10 green runs in Breck.
Intermediate Skiers & Riders:
Intermediates: if you typically ski or ride with more confidence and speed while linking turns on blue and green terrain, then you may want to try trails which are considered "more difficult" and marked with a blue square on signs and trail maps.
Best Trails:

Any blue trail on Peak 7 and Bliss (Peak 6) – the blue trails on Peak 7 are all fun, and there are lots of them! Accessed via the Independence Super Chair, Peak 7 incorporates natural terrain features to make gentle rollers on the trails that will remind you of an easy children's roller coaster…..not too steep, not too scary, and just plain fun. And Bliss will introduce you to a whole new world of bowl skiing. Bliss can be accessed via the Kensho Super Chair on Peak 6 and you can see what above tree line skiing really looks like, with views that are…..well….simply bliss-ful.

Insider Tip:

Crescendo (Peak 8) – If you think you might like to try some bumps (moguls), but you're not sure, Crescendo is the trail for you. Accessed from the Colorado Chair, a short ways down Springmeier, Crescendo typically has bumps that form on the skier's left, and does not have bumps and may even be groomed on the skier's right. You can check out the conditions from the top of the run, and still have the option to continue on Springmeier. Find more insider tips. 
Expert Skiers & Riders:
Experts: if you're confident making technically proficient linked turns on the fall line, in a variety of terrain, from steeps to moguls to trees, AND in a variety of conditions, then you may want to try trails that are marked "most difficult" with either one or two black diamonds. Those with two black diamonds will be more challenging.
Best Black Trails:

Shock (Peak 9) and Ore Bucket (Peak 7) – Shock is a great trail to find out if you really like steeps or not, as it's short, sweet, and…..STEEP! It's easy to access by taking Volunteer and staying left. If steeps aren't your thing and you enjoy skiing through the woods and tree skiing, then give Ore Bucket a try. The trees are a bit open spaced and it's rarely busy, so you can have that back country experience.

Black Insider Tip:

Pika (Peak 8) and Little Johnny's (Peak 8) – Pika is located at the top of the T-Bar and is typically groomed, which allows you to go higher on the mountain and see some incredible views. Little Johnny's incoprates a natural gully, which creates a gentle half pipe feeling, along with some bumps, making it a great two-for-one trail for skilled skiers and riders.

Best Double Black Trails:

the Windows (Peak 9) and Beyond Bowl (Peak 6) – The Windows (and there's more than one of them, but we're not telling how many!) are a series of tight tree runs accessed at the top of E-Chair. Simply look for a small sign at the side of the trail when exiting to the right. And Beyond Bowl, part of the newer Peak 6 terrain, has wide-open views that are simply stunning. Ya gotta see it! If adrenaline is your thing, check out these terrain tips from Alpine Instructor, Fred Zapp and explore all the bowls and steeps that Breckenridge Ski Resort has to offer.

Double Black Insider Tip:

If you're not an expert, you shouldn't be on any of these trails. There's a reason they're marked as double black and there are an abundance of trails at Breckenridge that you'll like better. Remember: safety is the first component of the Skier/Rider Responsibility Code. 'Nuff said about that.
Whatever your level and whatever you ride, ski, slide, glide or descend on, you're sure to have a great day on the Breckenridge ski trails. So get out there and soak up some rays while enjoying everything from the groomers to the pow-pow-powder. See you on the slopes! And share your favorite Breckenridge ski trails and tips on social media with the #UnitedByBreck hashtag.
The Breckenridge Tourism Office works to enhance and promote the unique character and experience of Breckenridge as a world-renowned destination resort and to represent, serve and perpetuate the common interest and character of its membership and community.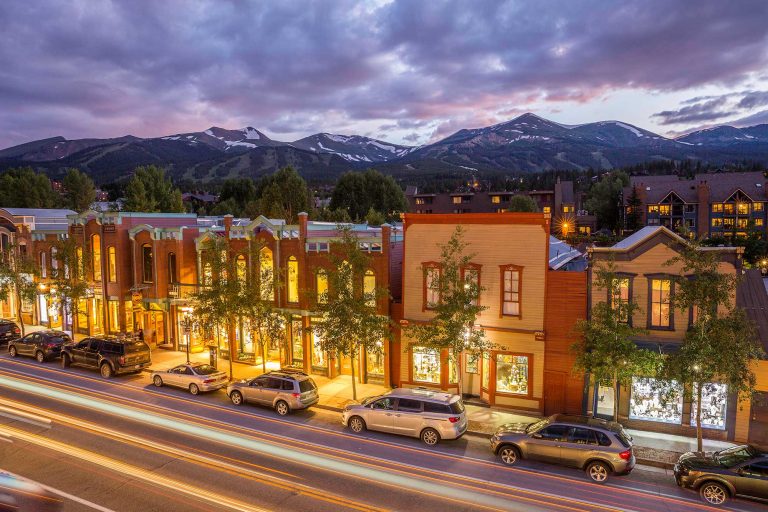 Embrace The Spirit
BLike Breckenridge™️ is a movement born of the spirit of our historic mountain town for those who call it home—whether for a weekend or a lifetime—to live by. It is a cause that connects us to each other, that we can all be a part of.