Breckenridge Ski Resort is a world-renowned winter destination for skiers and riders, but it wasn't always that way. Breckenridge's humbling beginnings make its transformation into the mecca that is today all the more interesting. Learn about the Breckenridge Ski Resort History:
Turning dreams into plans
Late 1950s – The conception of building a ski resort in Breckenridge began when Bill Rounds of the Porter and Rounds Lumber Company became interested in bringing skiing to the valley. He created an organization called the Summit County Development Corporation led by Claude Martin and Bill Starks.
1960 ( Summer) – Bill Rounds with Rounds & Porter Lumber Company hired Hans Brucker from Aspen to build Antrim Lumber (the old Breckenridge Building Center). Hans had Sigurd Rockne, Trygve Berge, Magne Nosdahl and Arne Martinson build the lumber yard. They all slept at the Colorado House (now Fatty's) during the week and then went back to Aspen on the weekends. It was during this time that the ski area on Peak 8 in Breckenridge was being tossed around.
Mid-January, 1961 – Bill Rounds and his family skied with Sigurd Rockne at Aspen Highlands, as they did quite often. It was family ski days that led to Bill and Sigurd became great friends. Bill's family, who owned Rounds and Porter Lumber Co, was already in Breckenridge building small cabins during the summer months, so Bill was familiar with the town. Bill asked Sigurd to join him in Breckenridge to snoop on a possible ski area while it was the winter season. Trygve Berge was a ski instructor for Stein Eriksen in Boyne Mountain for this winter season. Trygve returned at the beginning of the summer of 1961.
A friend of Bill and Sigurd's, Harold Woods, took Bill and Sigurd up to the top of Peak 8 on a military weasel with their ski gear in tow and he dropped them off right where the Vista Haus sits today. From there, they both skied down Blue Spruce ( named today) and met in town afterwards for a couple of cocktails. There, they discussed how Peak 8 would be a great spot for a ski area.
End of January, 1961 – Bill Rounds returned home to Witchita, KS from his vacation in Aspen. He went to a Board meeting of Rounds & Porter Lumber and presented the idea of a ski area in Breckenridge. After minimal discussion, the Board decided to move forward and do ski area on Peak 8. The Board then sent Malcolm Miller, Rounds & Porter Lumber Co and the Round's family attorney to Washington DC and he presented the idea of a ski area in Breckenridge. Vail objected highly to Breckenridge's permit as they were also in the permit process to open a ski area in Vail. Their objection didn't matter as Rounds and Porter was issued a permit 90 days after the attorney's visit to DC.
Building a ski area
Beginning of May, 1961 – They started to clear the road up to the base of Peak 8.
Summer, 1961 – All of the ski runs were being laid out by Sigurd Rockne and Trygve Berge. The first runs were named Rounders, Callie's Alley, Eagle Lane, Springmeier and Spruce, to name a few. The Heron chair was installed a little to the left of the Bergenhof and the drop off point was a little above and to the right of where the Vista Haus sits today.
Breckenridge Ski Resort opens
December 16, 1961 – Peak 8 ski area opened and Sigurd and Trygve owned and ran the Peak 8 Ski School for the first ten years. TThe Peak 8 Ski Area opened on Dec. 16, 1961, with one Heron double chair and a midway unloading station and one short learners T-bar ticket prices were $4 for adults and $2.50 for children. You could add an instructor for the day for an additional $10. Not too shabby of a price to have an Olympian be your personal instructor.
1961/1962 ( First Season) – Attendance ranged in the neighborhood of 17,000 skiers.
1962 – A T-Bar was installed to the left of the Heron chair and unloaded skiers at the top of were 5 chair ends today.
1965 – Chair 2 was installed by Heron, which terminated near the top of the current Colorado SuperChair. A base lodge was completed on Peak 8, but the structure was short lived. An explosion destroyed the building shortly after completion. While an exact cause was never determined, a gas leak was suspected.
1962/1963 Season – skier visits, 32,000
1963 – Ullr Finds his home in Breckenridge
1963 – A 375 foot double chair was installed up the " Mach One" trail and was nicknamed the 7-Up chair.   This season also marked the first Ullr Dag festival, created by Trygve and Sigurd. The festival included a ski parade, competitions and aerial tricks demonstrated by ski school instructors.  There were two booths, one at each end of Main Street, which cars had to stop and could buy Ullr Coins which gave them discounts in certain shops in town. The first crowned King and Queen for Ullr was Governor John Love and his wife Ann Love. To kick the parade off, there were four jets that flew 500 feet above Main Street. After the parade there was a bonfire. The festival came about because the majority of the ski school instructors were Norwegian and had a long tradition of celebrating Ullr, the Norwegian snow god.
1963/1964 Season – skier visits, 64,000
1965 – Chair 2 was installed by the Heron, which terminated near the top of the current Colorado Super Chair.
1964/1965 Season – skier visits 72,000
1967 – Harry Baum from Arapahoe Basin was in charge of operations at the ski area and he later leased the ski area from the Rounds family with an option to buy. But, he decided against a purchase and sold his option to Aspen Ski Corp. A base lodge was completed on Peak 8, but the structure was short-lived. An explosion destroyed the building shortly after completion. While an exact cause was never determined, a gas leak was suspected. This same year, a poma lift was installed near the summit of Chair 2 to what is now the summit of Chair 6- serving high-alpine bowl terrain.
1966/1967 Season – skier visits 80,000
Aspen Skiing Company Acquires Breckenridge Ski Resort
1970 – Aspen Skiing Company purchased Breckenridge and Baum was retained as the manager.
1971 – Peak 9 opens. During the summer, two new double chairs were installed along with multiple ski runs. Cost of the expansion was $4.5 million.
1972 – The popular C Chair was built with runs Union, Minnie and Silverthorn Cutoff. Ticket prices topped $6 per day with skier visits at 271,000 people.
Summer on-mountain activities added
1978 – A, # 4, and D Chair were all installed providing access on Peak 9. That same year, Aspen Skiing Company was sold to 20th Century Fox, which had vast profits from the hit movie Star Wars. During the late 1970s, the alpine slide was constructed providing summer on-mountain activities. Chair 6 was installed in 1979, which provided easier access to some of Breck's bowls. New runs included Quandry, Too Much, Steilhung and Frosty's Freeway.
1980/81 – The season marked a big drought for Breckenridge when only 86 inches of natural snow fell. Skier numbers fell to 195,000. Almost half the previous season. The following summer, Breckenridge heavily invested in snowmaking operations to prevent poor conditions seen the previous year. The world's first high-speed quad was installed at the base of Peak 9 during the same year. The Doppelmayr Lift Company from Austria constructed the quad.
1981 – Breckenridge becomes first ski resort in North America to install a high-speed quad.
1983 – Lift ticket prices reached $19 per day, with skier visits at 673,000 people. The E Chair was installed, providing better access to some of Breck's more challenging mogul runs off Peak 9. The following season, the infamous T-bar made its debut up the Horseshoe Bowl.
Snowboarders Welcomed
1984 – Breckenridge becomes the first Colorado resort to allow snowboarding. The following year, it hosts the first snowboard World Cup and has hosted major winter events every year since.
1985 – Peak 10 opens
1986 – A large avalanche occurs on the Peak 7 Bowl, killing four skiers. Rescue efforts take days and news of the incident spreads across news stations. The terrain was considered out of bounds
1987/88 – Skier visits top 1 million people for the first time
1993 – Breckenridge was purchased by Ralston-Purina, which already owned Keystone Resort and Arapahoe Basin. The three ski resorts logged a combined 2.6 million skier visits.
1996 – Vail Resorts (VR) purchased Breckenridge along with Keystone. At this time Vail Resorts owns Beaver Creek, Vail, Arrowhead, Breckenridge and Keystone.
2002 – The long-awaited Peak 7 terrain was developed. The Peak 8 SuperConnect was also installed this year by Poma.
Highest Chairlift in North America
2005 – Breckenridge Ski Resort opens the Imperial Express chairlift — the highest lift in North America at 12,840 feet. The Imperial Express took the crown from Chair #9 at Loveland Ski Area.
2006 – The BreckConnect Gondola is built to facilitate development at Peak 7, Shock Hill, and Peak 8. It also eliminates transport buses from the downtown parking areas to the ski area. To better integrate with the new developments, the Independence Express on Peak 7 was lowered to the midway station of the gondola, providing skiers quick access to Peak 7 terrain.
2007/08 – Breckenridge Ski Resort boasts an astounding 1.63 million skier visits, making it the most popular ski area in North America that year.
2013 – Breckenridge Ski Resort opens Peak 6, increasing the resort's skiable acreage by 23 percent.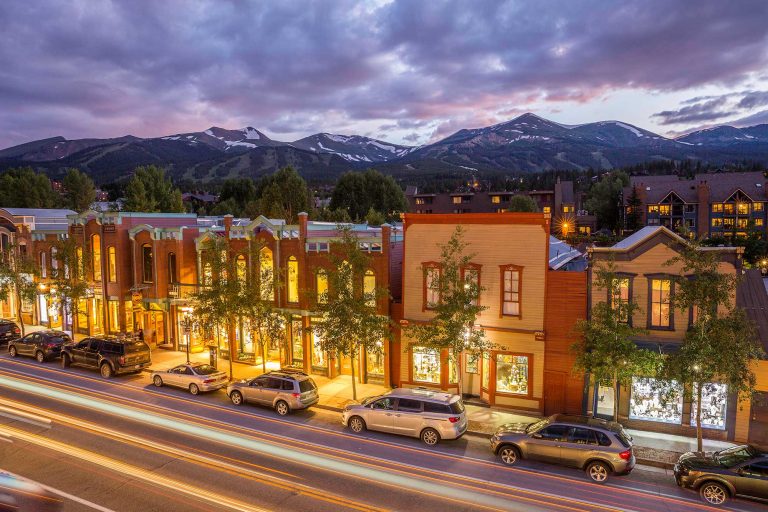 Embrace The Spirit
BLike Breckenridge™️ is a movement born of the spirit of our historic mountain town for those who call it home—whether for a weekend or a lifetime—to live by. It is a cause that connects us to each other, that we can all be a part of.