It's probably no surprise that Breckenridge is one of the top mountain bike destinations in North America.  Fat tire enthusiasts flock to this small mountain town because of the accessibility and variety of trails that seem to magically appear from Town of Breckenridge trail posts all over town. But what might surprise you is how many of those trails offer kid-friendly mountain biking options too. These easily accessibility trails offer both local and visiting parents a chance to get their kids out on bikes and playing on dirt right from town!
Wellington Bike Park
First stop for kids is the Wellington Bike Park, a popular family hangout. This kid-friendly mountain biking park was designed for riders of all ages and abilities, and features multiple pump tracks, wooden features and jump lines. The highlight for the young kids is the smaller pump track at the front of the park, which keeps kids circling for hours, and unknowingly practicing their bike skills.  The shaded picnic bench offers a nice spot to congregate, so don't forget to bring snacks and plenty of water. Once the kids have mastered the small pump track, they can move on to the bigger features of the park or perhaps a bonafide mountain bike trail. The Wellington Trail connects the Bike Park to Breck's greater trail network, so your kids can take their skills on to the trail!
River Trail
If your little shredder is ready to check out a real mountain bike trail, head downtown to the River Trail, which is a dirt singletrack that follows the paved bike path and the upper stretch of the Blue River from the Breckenridge Recreation Center to Colorado Mountain College (approx. 2 miles). There is limited elevation gain, which means young/beginner bikers can get their skills and confidence on dirt without challenge of climbing or descending hills for the first time. For easy access, you can park at the Breckenridge Recreation Center and access the trail adjacent to the skate park. This is an out-and-back trail, so ride as long as your kids hold out, and don't be afraid to take the paved path back for an easier return. There are pleasant little picnic spots along the river, and I recommend bringing a treat for the kids to keep the energy and stoke level high! This is a popular stretch of trail for many trail users, like dog walkers, fly fisherman and road bikers, so be courteous, share the trail, and take the opportunity to teach your kids about trail etiquette.
B&B / Turke's Trail
Mountain biking is challenging because it requires the fitness to pedal uphill and the skills and confidence to go downhill over variable terrain. In order for young riders to gain confidence and minimize frustration, I recommend giving kids plenty of practice on beginner trails. But once your kids seem ready to tackle more advanced riding, head to the kid-friendly mountain biking trails, B&B & Turke's Trail, for the perfect intermediate mountain bike loop, featuring rocks and roots, wooden bridges, mining relics, and the option to link up to other trails in the French Gulch area. This hilly, rocky terrain is best suited for kids who have graduated to 20" or 26"-wheeled-bikes with hand brakes (rather than coaster brakes) as this will be necessary to successful climb and descend intermediate trails. The trails connect in a way that allows for a nice loop, either clockwise or counter-clockwise, and brings you back to the B&B Parking lot with minimal route-finding. The B&B Trailhead is about 2 miles from Main Street and many cyclists ride from town. However, you may benefit from loading up the bikes and driving the kids to the trailhead in order to conserve energy for the actual mountain bike ride.
How to get there
For a better understanding of how all these trails connect, take at the online 3D Map of Breckenridge trails or pick up a waterproof hard copy at the Breckenridge Welcome Center (203 S. Main Street). The trails are well marked with Town of Breckenridge markers, so look for the wooden posts at each intersection. Have fun exploring Kid-Friendly Mountain Biking Trails!
The Breckenridge Tourism Office works to enhance and promote the unique character and experience of Breckenridge as a world-renowned destination resort and to represent, serve and perpetuate the common interest and character of its membership and community.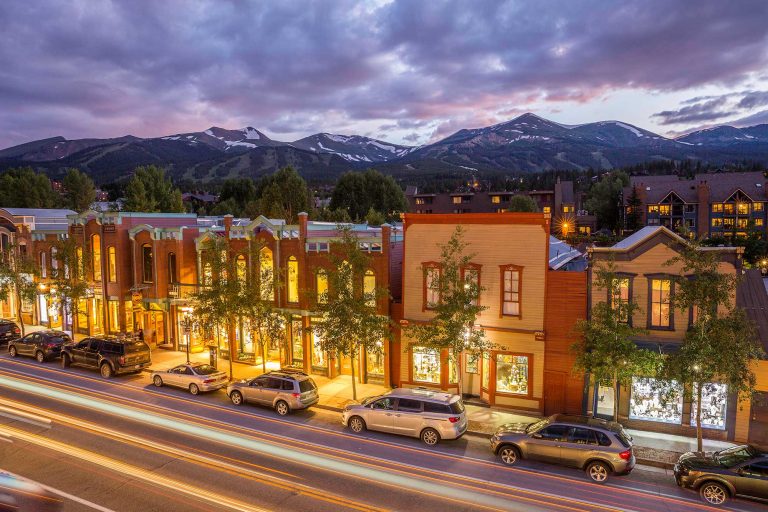 Embrace The Spirit
BLike Breckenridge™️ is a movement born of the spirit of our historic mountain town for those who call it home—whether for a weekend or a lifetime—to live by. It is a cause that connects us to each other, that we can all be a part of.